On Thursday, Bruins rookie defenseman Charlie McAvoy netted a shootout winner on his 20th birthday, propelling the B's to their sixth win in eight games. In a few short months, the young D-man has already begun proving that the hype surrounding his name is well-deserved. The former Boston University standout has stepped into a top defensive role with the Bruins, demonstrating offensive prowess as well as a strong defensive game.
Back in October, I previewed McAvoy's season, looking specifically at what the then-teenager would need to do in order to take home the Calder Trophy as the NHL's top rookie. Two months later, McAvoy has shown the league that he deserves to be in that conversation.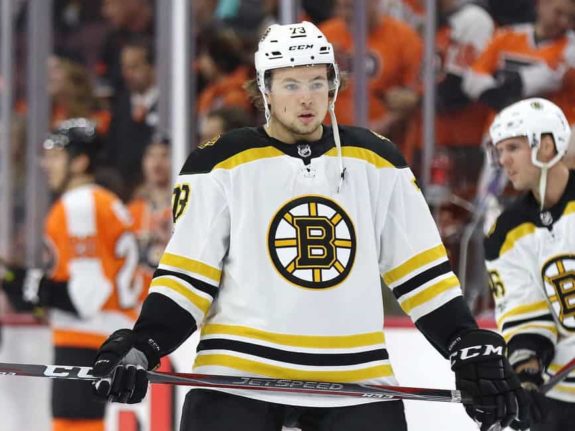 McAvoy's Impact for Boston
As we approach the midpoint of the season, it's pretty remarkable to look at the impact that McAvoy has had on the Bruins. In 34 games, McAvoy has already registered 19 points – the second-most among B's defenseman (behind only Torey Krug), and the sixth-most of any Bruins skater.
But, McAvoy's breakout start to the season extends beyond the point column. Across the board, McAvoy has not only lived up to expectations – he's exceeded them. Given how high the bar was set, that's extremely impressive.
So far, McAvoy has averaged 23:17 of ice time per game. As a point of comparison, Bruins captain and number one defenseman Zdeno Chara is averaging 23:30 – just 13 more seconds per game.
In the period-plus that McAvoy is averaging, he's handled his new responsibilities like a veteran. The stats show a player who belongs in the NHL, and the eye test backs that up. On both ends of the ice, McAvoy looks calm and collected. Very rarely does he display the rookie jitters that so commonly hold back youngsters.
In fact, McAvoy has excelled in high-stress situations. When the game is on the line, the youngster seems to step up his game even more, as he did with Thursday's shootout winner.
He's helped run a strong Bruins power play (he's potted two goals on the man advantage on his own), and the skating abilities that got him so much praise before his time in the NHL have translated over to the professional game. And, he's made good use of his six-foot, 208-pound frame, cementing himself as a powerful body in the back end.
It's easy to see why McAvoy is winning over the hearts of Bruins fans. He's a tremendous talent with a remarkably-bright future. But does he have what it takes to be the first B's defenseman to win the Calder since the legendary Ray Bourque did so in 1980?
How McAvoy Stacks Up
When it comes to Calder Trophy voting, McAvoy is at a disadvantage to begin with due to his position. As a defenseman, it's tougher to make a case for the award, since forwards tend to have sexier stat lines. But, it's not an impossible feat. In the last 20 years, four defensemen have won the award (Bryan Berard, 1996-97, Barret Jackman, 2002-03, Tyler Myers, 2009-10, Aaron Ekblad, 2013-14). The fact that there aren't any obvious generational talents (your Connor McDavids or Auston Matthews of the world) making their debut this season gives McAvoy a better shot, but it'll still be a difficult task.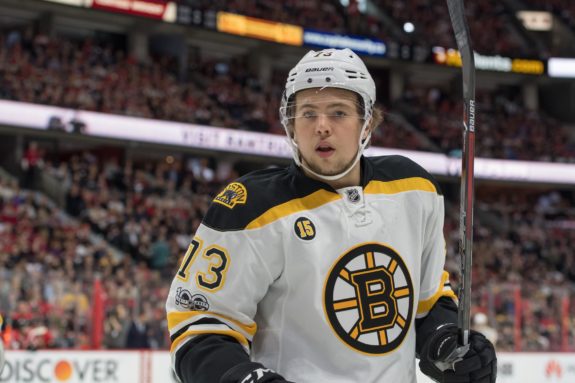 Right now, Charlie McAvoy sits 13th in rookie scoring, and second among defensemen. But, he's taken on the largest workload of any rookie by a longshot. He sits first in ice time among rookies by a large margin (he logs 4:08 more of ice time per game than the Flyers defenseman Robert Hagg, who sits second among rookies in ice time per game).
McAvoy's competition includes a number of very talented forwards, including Islanders center Matthew Barzal, who leads rookies in scoring with 35 points. Right behind Barzal sits Vancouver's Brock Boeser, whose point-per-game rate has him at 33 points already, as well as Arizona's Clayton Keller, who has registered 28 points so far this season.
The only defenseman who looks like they could give McAvoy a run for his money is Tampa Bay's Mikhail Sergachev, who has notched 23 points (including ten on the powerplay), complemented by a strong plus-12 rating. But, Sergachev is only averaging 15:10 of ice per game. In other words, Sergachev has a much lighter workload on a nightly basis, which could tip the ice in favor of McAvoy.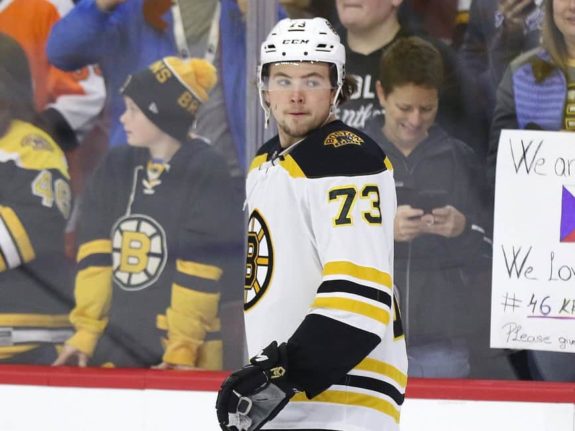 This early in the season, there may still be a few rookies who could emerge with strong second-halves to put themselves in the Calder conversation, but the aforementioned players appear to be the front-runners as of now. Right now, McAvoy has himself in the Calder conversation, and he seems to be settling in more and more with every game. The Ray Bourque comparisons are nothing new – but being the first B's D-man to take home the Calder trophy since the great No. 77 would be a tangible step towards fulfilling those prophecies.