Maxime Comtois
2016-17 Team: Victoriaville Tigres (QMJHL)
Date of Birth: January 8, 1999
Place of Birth: Longueuil, Quebec
Ht: 6'1" Wt: 195 lbs.
Position: Left Wing
NHL Draft Eligibility: 2017 first-year eligible
Twitter: @comtois20
Rankings
THW Alternate Rankings: 19th (March)
Future Considerations: 21st (Spring)
ISS: 25th (April)
Bob McKenzie: 22nd (Mid-season)
Craig Button: 48th (March)
Jeff Marek: 19th (March)
It's a dream for any young hockey player to be drafted by a NHL franchise and compete for a Stanley Cup title. Maxime Comtois is soon going to live this dream as he's expected to be selected in the first round of this summer's NHL Entry Draft.
Comtois was born into a hockey family that regularly attended Montreal Canadiens games as the patriarch, Stephane, shared his love of the sport with all. Unfortunately, his own dream of a hockey career was cut short due to injuries.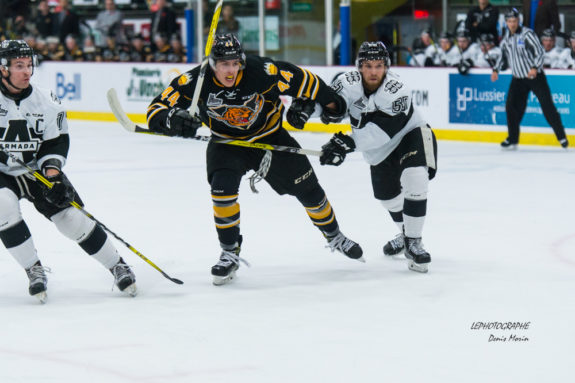 High expectations have been apart of his hockey career as Comtois was the third overall pick by the Victoriaville Tigres in the 2015 QMJHL Draft. He responded to the pressure of being a high draft pick with an exceptional rookie (26 goals and 60 points in 62 games) campaign, but this past season hasn't been perfect.
Comtois struggled putting the puck (22 goals and 29 assists for 51 points) in the net as NHL scouts were impressed that he didn't become frustrated and trusted his skill set would get him out of the scoring slump. One thing is for certain, Comtois isn't afraid to put the work in to improve his overall game each day.
"I go to the rink, and I want to work," said Comtois in an interview with NHL.com, "I like to go to the net and make a difference each and every game."
NHL scouts began considering him as a legitimate prospect after Comtois was selected to play for Team QMJHL against Russia in a two game super series that took place in Quebec City last summer. He took full advantage of his opportunity by scoring two goals in the two game series. Comtois had another eye-opening performance for Team Canada at the Ivan Hlinka Memorial Cup prior to the regular season by scoring four goals in five games. Clearly, Comtois had momentum on his side to move up in the prospect rankings, which makes it more baffling how he struggled to begin his year.
NHL Draft Projection
Comtois is a talented left-winger who can play all three forward positions and is best at creating his own space in front of the net. He plays with a bit of an edge that is appreciated by his teammates, but not so much by the opposition. Comtois is physical and will drop the gloves from time-to-time to settle an on-ice dispute.
However, the decline in scoring numbers has raised some concerns that Comtois might have reached his plateau as a hockey player. NHL teams will have to do their due diligence to get the right answers for the sudden decline in his production before considering him a legit first-round pick. He isn't an explosive skater, but Comtois is fast enough to separate himself from defenders while moving towards the net.
Quotables
"Maxime Comtois is highly skilled and highly competitive in a positive sense, which is a good thing for any team that has him on the ice." — Dan Marr, Director of NHL Central Scouting
Statistics
Strengths
Amazing hockey IQ
Great wrist shot
Loves winning battles in front of the net
Under Construction (Improvements to Make)
Not a fast skater
Must develop his offensive game
NHL Potential
Right now, Comtois is projected to be drafted between the 20-25 overall pick in the first round. It wouldn't surprise anyone if he were selected by a playoff contender that can afford the patience for him to develop his overall game in the minors. They'll be gaining a prototypical power forward that delivers bone-crunching checks and rarely gets caught out of position on the ice.
First, Comtois must gain confidence in his own offensive game because he has a quick wrist shot that will beat goaltenders on their glove side. Comtois must stop relying on his teammates to create his scoring chances, and become more aggressive on rushes toward the net after creating a turnover in the neutral zone.
Risk-Reward Analysis
Risk – 3/5, Reward – 4/5
Fantasy Hockey Potential
Offense – 6.5/10, Defense – 7.5/10
Awards/Achievements
Coming out Midget Hockey, Comtois was one of the top prospects heading into the 2015 QMJHL season. In January of his rookie season, Comtois was named CHL Player of the Week honors after scoring six goals in three games with a plus-minus rating of plus-6.
Interviews/Profile Links
Videos
Thomas Conroy covers the Vegas Golden Knights for The Hockey Writers Network He has been writing about sports since 2007, first as a contributor for Bleacher Report and Football Nation. Recently, Conroy was a co-editor for the Bolts Beat website on Fansided. To read more his work, please him on Twitter @tsconroy