Season after season, the Montreal Canadiens lack offensive firepower. They always leave fans wanting more. It's now been five years with Marc Bergevin at the helm and it continues to be the same story. Have goaltender Carey Price stand on his head to deliver a tight 2-1 victory.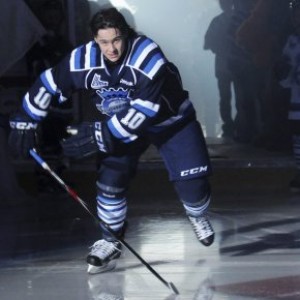 I don't know about you, but I'm tired of it. You can't expect to get by with minimal offense. I don't care how good your goaltender is. Canadiens management owes it to Price and the fans to inject some offense into the lineup.
Although I expect Bergevin to find solutions outside of the organization, he does have one attractive internal option. That player would be Charles Hudon. He's been a consistent offensive force in the American Hockey League with the affiliate St. John's IceCaps for the past three seasons.
Oddly, Bergevin has kept him in the minors despite his success. He recently even went as far as saying there are no National Hockey League-ready centermen in the system right now. It was a questionable comment considering Hudon is seen by some to be a centerman. Despite that, it's time for Bergevin to give the young player a true shot at an NHL job.
American Hockey League Dominance
The whole point of having the AHL is to develop your players. Sadly, the Canadiens have had a mountain of problems when it comes to that department. Other than this past season which saw the IceCaps reach the playoffs, they've struggled overall. The last time they made the playoffs was in 2010-11, when the team was in Hamilton.
When you consistently can't make the playoffs, especially under relatively the same coaching staff, it hinders development. However, that hasn't applied to Hudon, and the lack of opportunity makes me scratch my head.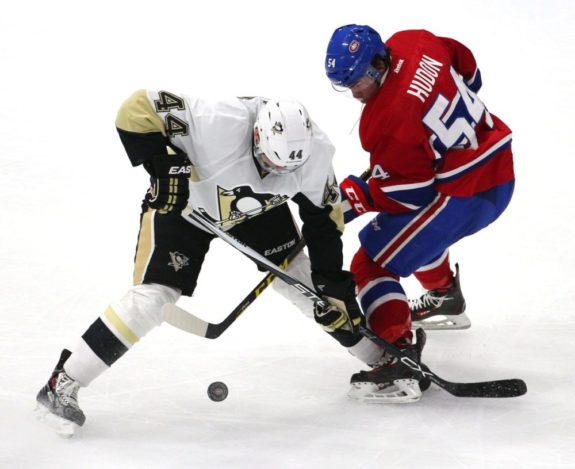 I understand AHL point production and NHL point production are two different things. With that in mind, Hudon has put up 162 points in 207 AHL games and four points in six NHL contests. That can't be a fluke, right? He's outperformed his expectations and still hasn't been given a fair opportunity.
I'm not saying to book him for 20 goals in his rookie season, but come on; I think it's safe to say he'll provide more offensive opportunities than Dwight King would.
The Modern NHL
As the NHL moves through the years, it changes. We're seeing fewer and fewer typical fourth-line players. As far as the Canadiens go, Steve Ott is likely the last true "enforcer" you're going to see. The game is becoming faster, which creates a bigger need for skill players.
Most teams in the league are now running four skill lines. That means that they have players on all four lines that have a legitimate chance to create offense. The Habs did the opposite this year and of course, got burned. They ran with a rotation of players that included King and Ott.
Instead of that, Bergevin needs to create four lines that have an offensive threat. They need to navigate away from the obsolete line structure. That begins by replacing guys such as King and Ott with players like Hudon. The game is changing and the Habs have to adapt.
Make the Call, Marc
At this point, I don't know what else Bergevin needs to see. His teams have lacked scoring throughout his five seasons, and unless he's able to make some significant changes, that will continue to be the case. Calling up Hudon would be a low-risk, high-reward move.
He doesn't cost much against the cap and he's a proven goal scorer. If he doesn't work out at the NHL level, then he can be sent down or traded. The Habs are notorious for holding on to prospects for too long; see Jarred Tinordi. If that's where this situation is heading, it's best to find out what you have rather than letting it sit in the minors.
I get the gut feeling this management team isn't too high on the young forward. In the midst of all his minor-league success, he's only suited up for six NHL games. Regardless of the reasoning, it's time to give him a real shot to see what he can bring to the lineup.
Nick Guido is a Montreal Canadiens Contributor for The Hockey Writers. You can Follow him on Twitter @nickguidoTHW for his articles, opinions and general Habs talk.