While a Buffalo City Court judge dismissed charges against forward Evander Kane on Tuesday, the verdict regarding what role he plays in the Sabres' future is still in question.
In two seasons with Buffalo, Kane has 78 points in 135 games. The Vancouver, British Columbia native has one year left on his contract, paying him $5.25 million, before he becomes an unrestricted free agent on July 1, 2018.
Then and Now
Selected in the first round (fourth overall) by the Atlanta Thrashers in the 2009 NHL Entry Draft, Kane has averaged 19 goals per season during his eight-year career. He's lit the lamp 157 times, along with 143 assists in 496 games. Still, the left winger has yet to see postseason action in the NHL.
Kane's had a history of controversy and social media blunders, dating back to his days in Winnipeg. Is he finally capable of carrying himself in a professional manner, representing the NHL, the Buffalo Sabres organization and the city of Buffalo in a positive way, both on and off the ice? If not, is his on-ice production enough to look the other way and stomach it?
Kane had the worst plus/minus rating of any Sabres forward last year. He's often guilty of extending his shifts, loitering in the offensive zone and taking careless penalties by not controlling his stick. He led the team in penalty minutes (113), despite only dropping the gloves once.
On the flip side, this past season, Kane led the team in goals (28), while his shooting percentage (10.8), was the second highest in his career, no doubt helped by taking fewer low-quality shots from the perimeter. He also played well on the penalty kill unit and dramatically improved his 200-foot game.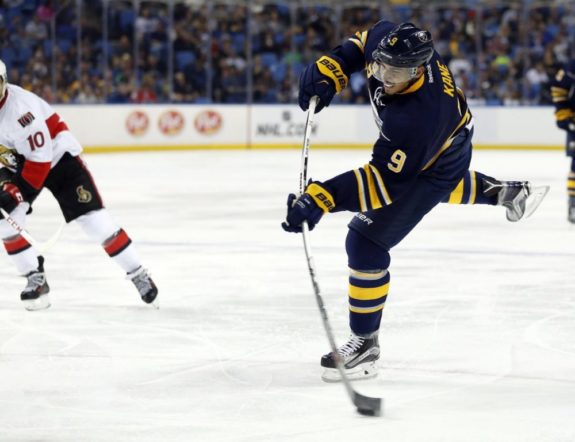 Three options
Try to Sign Him Now
After returning from broken ribs sustained during a horrible crash into the boards last year, Kane was an absolute beast. He was near the league lead in 5-on-5 scoring, in the second half of the season. Who in their right mind would give that up that kind of production?
The key will be finding the right mix of term and salary cap to make a fair deal — $6-$8 million likely — for Kane to stay in Buffalo and help see the Sabres rebuild.
That said, it's a two-way street — does he want to? Maybe he would rather wait for free agency so he can basically write his own check. Odds are some teams will trip over themselves to offer him stupid money ($9 million+).
Kane's one of the best offensive weapons the Sabres have and has proven to be a much-needed power forward who's not afraid to crash the net. If you get rid of him, it only means you then need to find someone just like him. And they're not exactly easy to find. It would be a step backward in the rebuild. Sign him now.
Try to Trade Him Now
A few weeks ago, after dismissing Murray and Bylsma, Pegula hammered home the new mantra of building the Sabres: structure, discipline, character and communication. Kane isn't exactly a shiny example of them.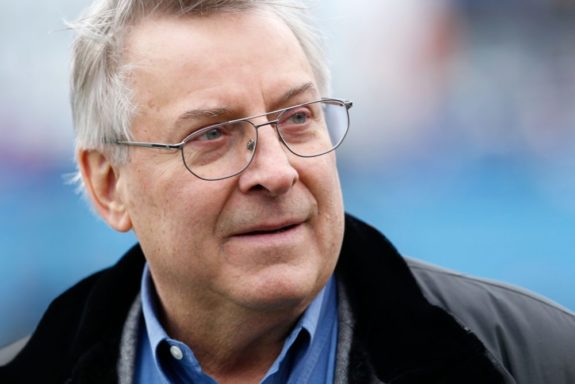 The Sabres already have almost $19 million tied up in contracts with Ryan O'Reilly, Kyle Okposo and Rasmus Ristolainen for the next five years. Plus, Eichel and Reinhart's entry level contracts will be due at the end of next season, which means they'll also be backing up their Brink's trucks for their paydays.
In the new general manager's eyes, if Kane isn't part of the team's long-term plans, he'd best get something for him in return now, when his trade value is high. Swing a deal at the draft for NHL ready player(s).
Wait it Out
If, at the trade deadline, Kane has a great season and the team is playoff bound, he holds all the cards. No general manager could risk not signing him for fear of him walking away for nothing in return. However, if he's having a mediocre year (and fails to stay healthy) and the team is out of the playoff chase, he'll likely be flipped for prospects and picks, much less than what he could fetch now. Or he could be signed for less money.
Decisions, Decisions
Of course, there are several other factors to consider. Fans and media have chattered about the merits of keeping Kane vs. keeping Reinhart. Is it conceivable to keep both long-term? Which one can be flipped to help land a top-pair defenseman? There are so many scenarios that could play out. With new front office soon to be installed, it'll be interesting to see what unfolds.
Jeff has been covering the NHL for over a decade for various sites. He's been with The Hockey Writers as a lead Sabres writer three years, while also writing a satire column called "Off the Crossbar."