Everything seems to be falling into place for the Nashville Predators. After Tuesday night's impressive 2-1 victory over the St. Louis Blues, it finally seems the puzzle pieces have come together just in time. This is a confident Predators team that's on a roll with a 3-1 series lead and a chance to put away an outmatched Blues team for good. It's a confidence that has been missing in recent years past; a confidence that almost wills a shot like James Neal's second goal to go in.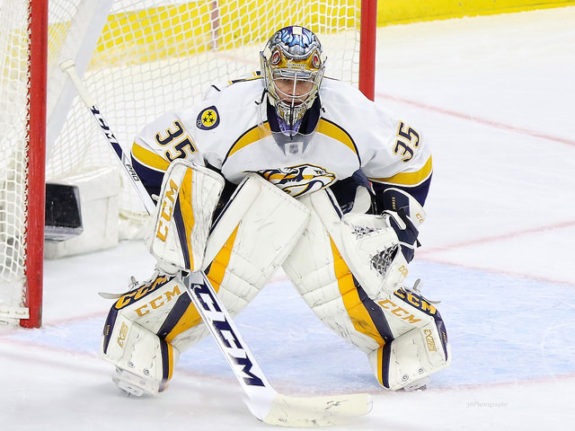 What sparks a confidence like this? What allows the Nashville defense to contribute offensively? What allows a four-line offensive attack to grind out every shift? With all the talk about the Predators' blue line, the physical offensive attack, and all the fanfare in and around Bridgestone Arena, it's been easy to forget the one constant that has led the Preds to this point: Pekka Rinne.
Back in the High Life Again
In case you haven't noticed, Rinne, the Nashville Predators' 34-year-old goaltender, has been absolutely stellar this postseason, and his solid play in net is one of the main reasons why his team has a good chance to move on to the Western Conference Final before the weekend begins.
Rinne has been the stoic presence in net this Nashville team has needed. Rinne's always kind of been a goaltending enigma. The Finnish goaltender is a tall, athletic goalie whose athleticism can sometimes get the best of him, leaving him out of position and vulnerable. He isn't a stats crowd's dream, but this year, the Predators have been successful because of his play in net.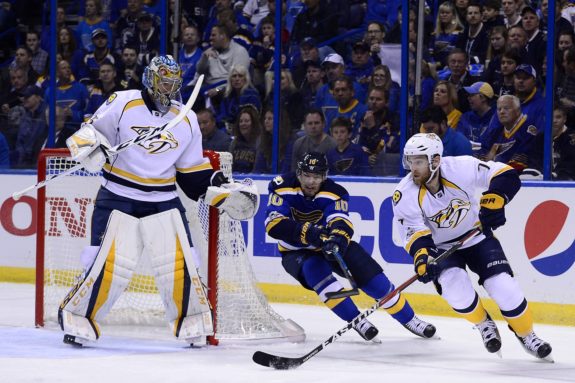 At 34, it's safe to argue that Rinne's prime years might be reaching their end. Like his fellow veteran goaltender in New York, Henrik Lundqvist, the questions begin: will he or won't he? You only get so many shots at Lord Stanley.
But with age comes the knowledge of learning from mistakes. It's about adjusting and playing to your abilities, and so far in these 2016-17 playoffs, Rinne has done just that. He's played hungry and has been the cool, collected backstop this Nashville team needs. Actually, he's been more than that. He's been flat-out dominant.
In Round 1, against a dangerous Chicago Blackhawks team, Rinne put up an unbelievable performance. He recorded two shutouts in Chicago, stopped 123 of 126 shots, and sported a 0.70 goals-against average, all of which to give him a save percentage of .976.
Read that again. Let it sink in.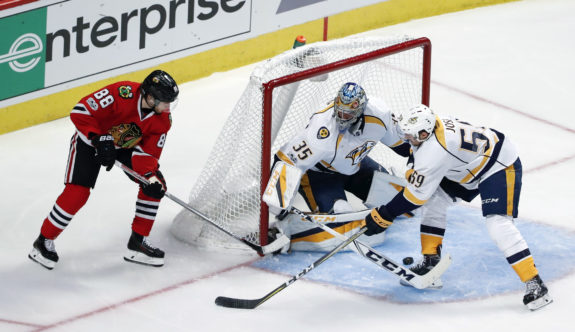 Those are ridiculous numbers! After smashing his stick to smithereens in San Jose this time last year, it was hard to expect a 34-year-old Rinne to reach his former heights, let alone a comeback performance like this. Today, Rinne has defied the expectations, as well as the decline of age in 2017. In the span of a week, he has become an elite goaltender again.
Steady as He Goes
After impressive Predator wins in Games 1 and 3, Game 4 was bound to be a crucial game for a frustrated Blues team. For 40 minutes on Tuesday, Rinne and the rest of the Predators stood strong, withstanding anything St. Louis threw at them. Both teams exchanged both chances and punches, with the Blues sending pucks and players to the net, trying to get Rinne off balance. Vladimir Tarasenko, who has been quiet for the Blues so far this series, had two early chances on Rinne, but Rinne's excellent positioning made his saves look easy.
And that's the thing: Rinne hasn't had to be spectacular or flashy in these playoffs, but all a team really needs is some insurance in front of the net. Sure, the defense in front of him has been dominant, but they haven't really had to bail him out in their seven wins thus far.
In the third period on Tuesday, the game got nasty really quick. Despite the chaos around him, Rinne remained poised. He controlled his rebounds and was smart with the puck. As bodies from both friend and foe came crashing into the net around him, he came up with key stops to keep the game in Nashville's control, especially when it was only 1-0. When the pressure mounted, Rinne took care of business.
It's clear that Rinne is comfortable in net, and his confidence is rubbing off on both his teammates and his fans. With their goaltender locked in and the Blues on the ropes, the Predators now have chance at their own piece of history.