After falling to the Ottawa Senators in the first round of the 2017 Playoffs, the Bruins have a number of adjustments to make during the offseason. Looking at the Bruins' current roster, however, there are a couple of youngsters that need to step up if the team wants to become a contender next year.
Frank Vatrano
Massachusetts-native Frank Vatrano has an incredible wrist shot. Sadly, Boston fans have not seen a lot of it.
Vatrano, who was expected to play in his first full NHL season last year, was injured in training camp and missed the first three months of the 2016-17 campaign. In 44 games last season, Vatrano netted 10 pucks while dishing out eight others for assists. One has to wonder how Vatrano's foot has healed or if he's been feeling any pain or stiffness, affecting his productivity.
During his rookie season, the 23-year-old winger registered eight goals and three assists in 39 games.
Though he'll already be motivated to have a good showing this year after missing the first half of the 2016-17 season, Vatrano is entering the last year of his contract. As it stands, Vatrano won't get a big payday come 2018. That is if he doesn't make a big impact this year.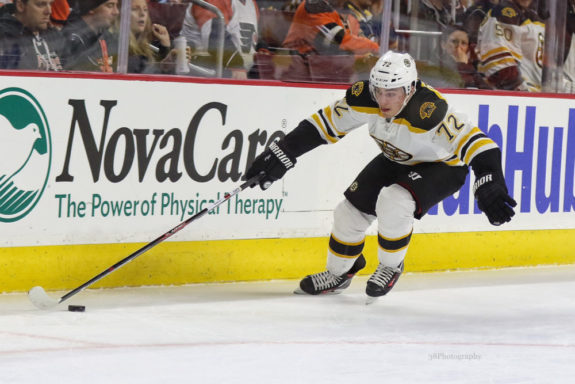 Four of Vatrano's 10 goals last year were on the power play, making the special teams unit a likely home for him come the 2017-18 season. The Bruins should also expect an abundance of offense to be generated by Vatrano's speed and shot. Heck, they need it.
For example, David Pastrnak is expected to land a big contract due to his 70 points last season, good enough for second place on the team following Brad Marchand's 85 points. The next big point producers were David Krejci (54). Ptrice Bergeron (53) and Torey Krug (51) (trailing only Marchand with 43 assists). After that, the production simply drops off.
No matter the outcome, the 2017-18 season will be a big one for Vatrano. Either he will meet expectations or he'll fall short, and may fall to the rank of a third-line winger. The Bruins do have plenty of prospects coming up the pike, including Jake DeBrusk and Jakob Frosbacka Karlsson. Knowing GM Don Sweeney and coach Bruce Cassidy, they will likely jump at the opportunity to bring up Providence's finest to replace guys who aren't pulling their weight. Obviously, the management in Boston has higher hopes for a small, speedy forward with a wicked wrist shot.
Vatrano by the Numbers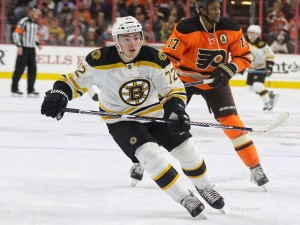 Vatrano started his professional hockey career with the Boston Jr. Bruins, totaling 51 points in the 2008-09 season. The following year, Vatrano scored 38 goals and 41 assists in just 37 games.
During the 2014-15 season, Vatrano played with the University of Massachusetts Lowell, scoring 28 points in 36 games. Through 36 games with the Providence Bruins in the 2015-16 season, Vatrano scored 36 goals and 19 assists, worthy of a spot on the American Hockey League's All-Rookie Team.
Excluding David Pastrnak and Brandon Carlo, Vatrano is the most established Bruins youngster. With that said if he wants to continue playing with the big boys, he'll have to earn it, and that means earning it on the scoreboard.
Austin Czarnik
The undrafted rookie signed with the Bruins in 2015, putting up 61 points in 68 games with the Providence Bruins during the 2015-16 season. Though his 49 games with Boston last season only resulted in 13 points, the 24-year-old center has a history playing alongside Frank Vatrano.
"We know where each other is at all times pretty much. I think we have a lot of chemistry," said Czarnik of Vatrano, according to the Boston Herald. "It started when we both signed that first year; we were put together right away. We had the chemistry. He knows how to find the areas where to shoot and I'm just able to feed him. It's been our goal from Day 1 to get him goals and it's been good so far."
Though they did appear together from time to time last season, Czarnik and Vatrano have moved up and down the line sheet quite a bit. The only consistencies for Czarnik were beside Dominic Moore and Matt Beleskey while Vatrano bounced between the Bruins' top three lines throughout his abbreviated season.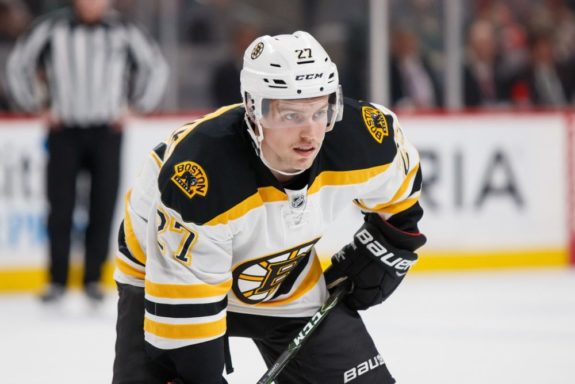 As diehard hockey fans know you can be the best in the league, but without line chemistry, you are going to find production to be an issue. The Bruins don't have that scoring touch because they are invested in their prospects.  This may bode well for the future, but it did not help come April when multiple players were making their NHL Playoff debuts.
If Czarnik and Vatrano were constantly on the ice together, with another fixed linemate, some magic could happen in Boston.
This is especially possible if Ryan Spooner gets the boot, which has been rumored after the center was a healthy scratch during Boston's final two playoff games against the Senators.
Czarnik by the Numbers
Throughout his college career with Miami University in Ohio, Czarnik was a point-a-game player. During the 2012-13 season, he notched 40 points in 42 games. In the following years, he registered 47 points in 37 games and 45 points in 40 games.
After playing more than half of the season in Boston, Czarnik was shipped back down to Providence where he was again a point-a-game player with 23 points in 22 games.
Like Vatrano, Czarnik was named to the AHL All-Rookie Team during the 2015-16 season. That same year, he registered the most points in the AHL by any rookie.
Whether or not Bruce Cassidy decides to put the two players together, both Czarnik and Vatrano will be entering the 2017-18 season with something to prove.