The Minnesota Wild's season came to a heartbreaking end last weekend with a 4-3 overtime loss to the St. Louis Blues in the first round of the 2017 Stanley Cup Playoffs. Despite this, the 2016-17 reason can be viewed as a success.
One of the reasons for that success is the incredible play of many Wild players, leaving the team with no shortage of candidates for the Hart Trophy.
According to NHL.com, the Hart Trophy is awarded to the player judged to be the most valuable to his team. Of course, what makes a player the best on his team is often subjective.  It could be defined as either the best overall player on the team or the player who contributes the most to a team's success. There are many potential candidates for the Wild's MVP this season. Mikael Granlund could be considered for his explosive breakout this season in which he led the Wild in scoring. Eric Staal resurrected his career and finally solidified the center position that the Wild have needed for awhile.
However, I think there's one candidate who is above the rest that fits both of these definitions: Devan Dubnyk.
Yes, you read that correctly; I still believe this despite the fact that his play dipped quite low during the month of March. It was Dubnyk's elite play for the rest of the season that made him an early favorite for the Vezina trophy, allowed the Wild to challenge for a divisional title and ensured they made the playoffs.
The Man Behind the Mask
From October to February, Dubnyk's save percentage by month were as follows: .952, .942, .934, .917, .917. In March, his numbers took a dive to a ghastly .889.
While his numbers did dip progressively over the course of the season, Dubnyk's scorching start allowed the Wild to accumulate vital standings points early. They ended up desperately needing these during their month-long slump. Without those points, it's fair to question if the team would have made the playoffs.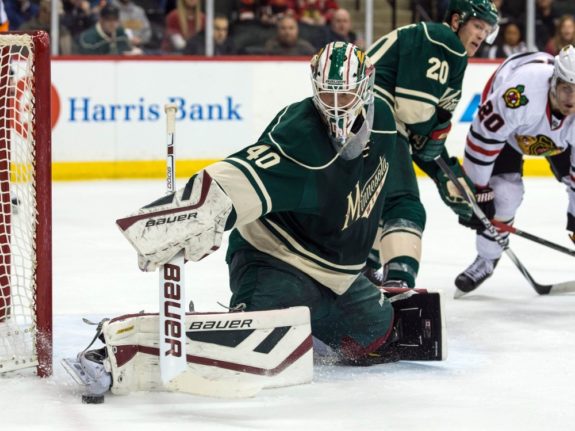 Without Dubnyk's elite play in the first half, the team probably would have managed to make it into the postseason with league-average goaltending. However, they definitely would not have gone on the 13-game win streak that they did and be considered one of the top contenders in the Western Conference.
For detractors who would say Dubnyk's poor play at the end of the season sunk him, he still managed to finish the season with a save percentage of .923, which is tied with both Carey Price (a Vezina nominee) and Matt Murray. Not bad company to be in.
Past, Present, and Future
Another angle to consider is that he had a better season than 2015-16 (32-26-6, 2.33 GAA, .918 SV%) and continues to stabilize the Wild's goaltending. Prior to the team acquiring him in January 2014, the position was a major concern for several seasons. They tried aging goalies, youngsters, and stopgap goaltenders, none of whom could truly get the job done between the pipes.
That all changed when Dubnyk was brought in from Arizona for a third-round pick.
Dubnyk pitched a shutout in his first game and proceeded to tear up the league. Over the final 39 games of the season, Dubnyk posted a 1.78 GAA and .936 SV %, and went 27-9-2, single-handedly dragging the Wild into the playoffs. He finished third in Vezina voting and fourth for the Hart, but was unable to beat Carey Price for either award, as Price posted a record-breaking season.
After his incredible first season, Dubnyk was expected to fall back to earth. The Wild signed him to a 6 year, $26 million contract which generated quite a bit of criticism and concern. Understandably, fans weren't sure which goalie they were getting. Would they get the Dubnyk who failed to impress in Edmonton and Nashville, or the resurrected goaltender of the previous half-season?
However, since signing that contract, Dubnyk has answered that question with his elite play and rewarded the Wild brass. According to Puckalytics, of all active goalies in the last 3 seasons who have played at least 70 games, Dubnyk has the second-best save percentage at .9332, second only to Carey Price's .9395, and that accounts for the fact that Price has played 50 fewer games.
Having Dubnyk between the pipes gives the players in front of him confidence, allowing them to play their game knowing they have an elite goaltender ready to compensate for any mistakes.
No Backup
The argument for Dubnyk carrying the Wild this season becomes even stronger considering the performance of backup Darcy Kuemper.
This season, Kuemper only made 17 starts and compiled an 8-5-3 record with a 3.13 GAA and .902 SV%. To quote Randy Carlyle, those numbers are "just okay," and clearly not very inspiring.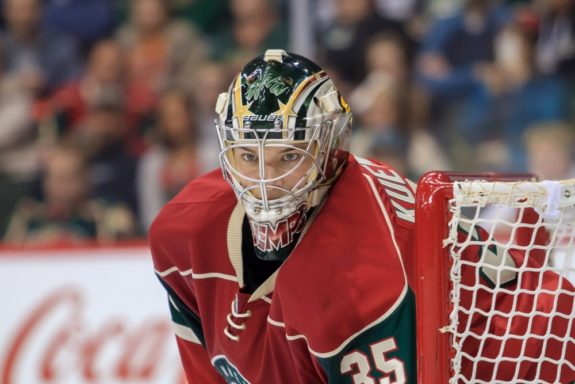 This means that, without a reliable backup, Dubnyk was even more important to his team this season since he started most nights. This may indicate that coach Bruce Boudreau didn't have a lot of faith in Kuemper, so he was forced to lean on Dubnyk.
Ultimately, it's not really fair to judge Dubnyk's entire season just based on his terrible month of March. Taking a look at all the evidence, it's pretty clear that he was the Wild's most important player once again this season, just like he has been since he arrived, and will continue to be for the duration of his contract.
I'm a journalism graduate from Ryerson University in Toronto with a passion for telling stories. Hockey is my favorite sport and I've been following for more than 7 years. I bring a blend of research, passion, dedication and hard work to each and every piece that I write. I'm currently working on keeping you up to date on all Minesota Wild news, prospects and information!