Eddie Lack is one of the most amicable characters in all of hockey. Unfortunately for him, amicability-per-60 isn't a viable hockey statistic.
One viable statistic is save percentage, an area where Lack finished 49th among 54 goaltenders who played more than 20 games.
Between that, getting concussed, straining his neck, and getting called out publicly by his coach, it wasn't a great season for Lack.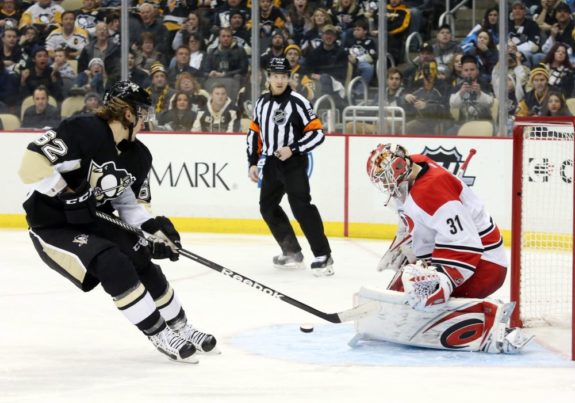 His season took another twist when general manager Ron Francis traded the Ottawa Senators' 2017 third-round pick in order to acquire Scott Darling. The Chicago Blackhawks' backup was one of the best bargains in the league over the last three seasons. His cap hit was $587,500 for the last two years. He also made $570,000 during his rookie season.
Darling will earn a substantial raise in Carolina, where he will compete for the starting role in net. The trade comes after the Hurricanes' tandem of Lack and Cam Ward posted the second-worst even-strength save percentage, ahead of only the Colorado Avalanche.
Lack of Success
Once upon a time, Francis traded a third-round pick and a seventh-round pick so that Lack could compete for the starting job in Carolina. At the time, most Canucks fans weren't pleased with the deal, especially after Martin Jones, Cam Talbot, and Robin Lehner fetched more on the trade market.
It turns out Lack was the cheapest option for a reason. Those three netminders were all able to establish themselves as starters, while Lack never grasped that opportunity in Carolina.
His career in Raleigh started off poorly. He only registered three wins in his first 10 starts as a Hurricane. Lack's save percentage in those games was only above .900 twice.
After starting only 31 games in 2015-16, he ended up playing in only 20 this season. Lack suffered a concussion early in the season, and he was never able to find his footing. It didn't help that he suffered a second concussion during practice while recovering from his first concussion.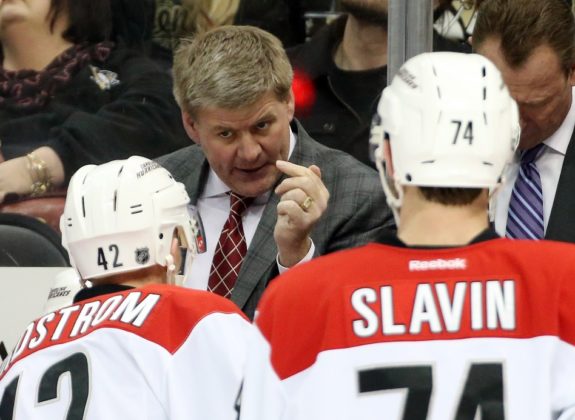 It all came to a boil when head coach Bill Peters publicly ripped Lack for his mediocre play in net. At the time, Lack was 60th out of 60 goaltenders to play at least 10 games, with an .873 save percentage.
Instead of wilting under the pressure, Lack posted a .925 save percentage over the final month of the season. It was more of the form Lack had in 2014-15, before the Hurricanes traded for the Swedish netminder. In that season, Lack posted a .921 save percentage in 41 games while Ryan Miller was injured.
This doesn't bode well for Eddie Lack. Let's save us Ryan Miller six-million and bring him back, @Canucks. https://t.co/ek6bJimAul

— Angry Canuck (@canuckjc) April 29, 2017
Was it enough to save his job? The trade for Darling suggests no, and that one of the goaltenders must be pushed out of Carolina. Both Lack and Ward have one year left on their current deals. While Francis could look to cut ties with Ward in order to save cap space, chances are he stays loyal to the former Conn Smythe winner and looks to move Lack elsewhere.
A Reunion in the Works?
So the Hurricanes are probably looking to unload a goaltender, and the Canucks could be looking to add a backup, or a 1B option behind Jacob Markstrom. Could this lead to a reunion between the Canucks and Lack?
For a team that won't compete for the playoffs next year, there might not be a need for a veteran goaltender like Miller. The Canucks would be better off saving that cap space for future signings and transactions. The most notable ones they have this summer are Bo Horvat and Erik Gudbranson.
https://twitter.com/BunjeeDesigns/status/858196047352311810
Lack did have the best success of his career in the Canucks organization, although most of that was under the tutelage of Rollie Melanson. Under David Marcoux in Carolina, Lack was unable to replicate the same success. From watching him play, Marcoux had him playing more aggressively, which contrasted with the conservative style Melanson had taught him.
Melanson is no longer with the big club in Vancouver, but that doesn't mean Lack won't be able to rediscover his game. He should have confidence if he comes back to the team where he had the most success in the NHL.
Lack Still a Fan Favourite
If Lack were still in Vancouver, he would immediately become a fan favourite once again.
He was one of the most liked players in the Canucks organization during his time there, and this team could use the positivity in what's sure to be a trying year next season. Not that the Canucks should make moves to boost their PR (see: Jake Virtanen), but if they think Lack is capable of bouncing back, acquiring him should come cheap.
Lack would surely be open to a reunion in Vancouver. Although Jim Benning was the person who traded him away, he still has many Swedish connections in the locker room. He and Markstrom even played together with Brynas IF Gavle of the Swedish Elite League.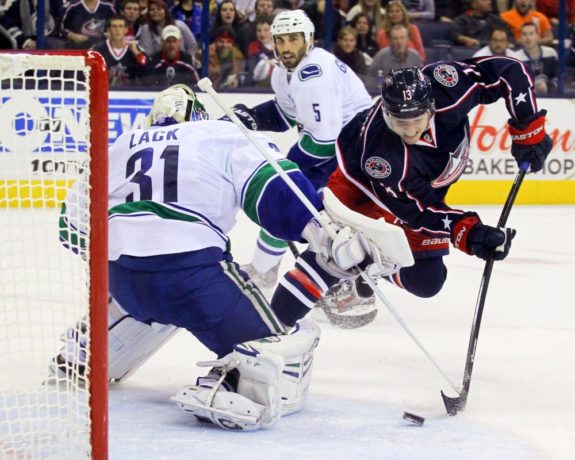 No one will give up much to acquire Lack after two mediocre seasons. Heck, there's a chance he could even hit the waiver wire in the fall if the Hurricanes can't sort out a deal for Lack or Ward.
The question becomes, what would the Canucks have to give up to acquire Lack? Would Benning consider trading for a goalie he once traded away? Benning was in a similar position to Francis in 2015, where he had to deal one of his three goalies.
Perhaps Lack could be had for a mid-to-late-round pick or a middling prospect. The idea of the Canucks trading away young assets isn't a great one, but the cost of acquiring Lack wouldn't be severe.
Canucks fans sure could use something to cheer for next seasons. There's no doubt that they would welcome back fan-favourite Lack with open arms.