Today, we are going to continue to look at the top 2017 NHL Draft prospects from some of the lesser-known leagues. The focus here is on the Canadian Junior Hockey League, which is comprised of 10 Jr. A leagues across Canada, with a few teams from the U.S.A..
Each year, the NHL Draft is dominated by players drafted from a few select leagues from each country. For Canada, it's the Canadian Hockey League, which is made up of three major junior leagues, the OHL, WHL, and QMJHL. In U.S.A, the team of choice is the USNTDP, where players not only get 60-plus games with the U-18 team, but also a majority of games in the USHL with the USNTDP Juniors team. In Europe, most countries have their own development leagues for draft eligible players.
The CJHL is primarily used as a reservoir for Canadian prospects looking to go the NCAA route, or for CHL prospects who need some more time before making the jump to major junior. But, each year, a few studs come out of Canadian Jr. A. Take Tyson Jost, Dante Fabbro, and Dennis Cholowski for example. All three players were first round selections in 2016, straight from the CJHL.
The following is a list of the top 5 2017 NHL Draft prospects from across the CJHL.
1: Cale Makar – D – Brooks Bandits (AJHL)
Ranked 9th by NHL CSS; 15th by ISS
Cale Makar is an elite offensive defenceman who is primed to become the highest drafted player in AJHL history, where Joe Colborne currently holds the title, drafted 16th overall by Boston in 2008. Makar has a trio of essential tools to make the jump to the NCAA and eventually, the NHL; hockey IQ, skating, and poise.
As a member of the Brooks Bandits, Makar gained amazing experience as a 17-year-old with the opportunity to play in both the Western Canada Cup and the RBC Cup. It was in that tournament that Makar really began to turn heads, as he went on the lead the tournament in scoring on route to being named the RBC Cup MVP. This year, Makar has continued along a trend of substantial improvements in his all-around game, namely nailing down the defensive aspects.
Thus far, Makar has led his Bandits to a second consecutive AJHL championship and another spot in the Western Canada Cup, where they looked primed for another spot in the RBC Cup. He finished the season with a remarkable 24 goals and 75 points in 54 games, and was named both the AJHL regular season MVP and Playoff MVP. He also participated in the World Jr. A Challenge, where he put in an outstanding performance with the spotlight on his back, potting four goals and eights points in just four games.
Makar will attend UMass-Amherst in the NCAA for 2017-18 and forecasts to be a two-way defenceman who can read plays extremely well and often pinch in offensively as well. He plays a similar style to Anaheim Ducks' defenceman, Brandon Montour, but with better instincts and skating ability.
2: Ian Mitchell – D – Spruce Grove Saints (AJHL)
Ranked 35 by NHL CSS; 100th by Future Considerations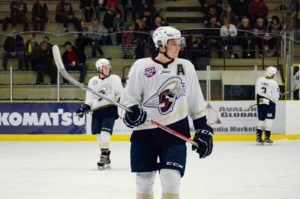 Ian Mitchell is a very solid, two-way defenceman playing out of Spruce Grove, Alberta. He is a mobile kid who moves the puck up ice quickly and plays a smart transition game. Despite standing at 5'11", 170 pounds, Mitchell doesn't shy away from physical play, and has the strength to effectively box-out opponents.
In his second year in the AJHL, Mitchell improved his offensive totals from 27 points in 2016-17, to 37 points in '17-18. He has gained invaluable international experience over the past two years, representing Canada in the World Under-17 Hockey Challenge in 2016 and the World Under-18 Championship in 2017.
Mitchell is committed to Denver University, beginning in 2018-19, and projects to be a solid all-around defenceman with smart decision-making abilities. While he can create some offence, that's not his primary objective. Mitchell thrives through smart, safe plays in his own end, defending with tight gaps and a good stick.
3: Nicholas Campoli – C – North York Rangers (OJHL)
Ranked 111th in NHL CSS Midterm; 73rd in Final
Nick Campoli is a smart, skilled player who skates well and has a nose for the net. Unfortunately, injuries shortened what would've been a noteworthy season for the 5'11", 174-pound centerman. In just 20 games, Campoli potted nine goals and 32 points, a point per game rate that ranked him third in the OJHL.
Campoli's strengths come from tremendous vision of the ice, which he uses to set up scoring chances, as well as a quick release and drive to the dirty areas to put pucks in the net. He also has the poise to quarterback North York's power play.
Campoli is a Clarkson University commit, where he is slated to make his debut in 2017-18. He is certainly a project prospect but has the raw talent and hockey IQ to be molded into a true NHL prospect by Casey Jones and his staff at Clarkson.
4: Matthew Kellenberger – D – Oakville Blades (OJHL)
Ranked 165th in NHL CSS Midterm; 74th in Final
Matthew Kellenberger is an extremely smart, two-way defender who skates effortlessly. He remains cool and calm under pressure, using his strengths to buy himself time to make the best available play. Kellenberger has some offensive edge as well, often throwing long breakout passes, as well as a smart shot through screens from the blue-line.
In his OJHL rookie campaign, Kellenberger was named to the First Team All-Prospects, while scoring 10 goals and 28 points in 51 games. He is admired for a smart, puck-moving style, while having the strength at 6'1″, 174 pounds to drive opponents to the outside. He also has a natural ability to pick opponents' pockets and quickly transition the play to the offensive.
Kellenberger is a Princeton University commit for 2018-19, and projects to be an intelligent two-way defenceman with off-the-charts hockey IQ. He is a perfect example of a kid who simply needs a little more time and experience to iron out the imperfections of his game, while becoming quicker and stronger.
5: Bryce Misley – C – Oakville Blades (OJHL)
Ranked 101st in NHL CSS Midterm; 85th in Final
Bryce Misley is a smooth skating, skilled center who excels in the face-off circle. He's a smart player who can read a developing play one step ahead, and uses that vision to make smart plays that often seem impossible. He has a quick release and loves to use a curl-and-drag to change up angles on opposing goaltenders.
In his sophomore OJHL season, Misley improved upon his offensive totals, potting 26 goals and 62 points in 46 games, on his way to being named to the First Team All-Prospects alongside his teammate, Kellenberger. He was also offered the opportunity to play in the World Jr. A Challenge, where he showcased his ability to play a responsible two-way game as well.
Misley is committed to the University of Vermont, where he will debut in 2018-19. Misley undoubtedly has the tools to find success in the NCAA and NHL down the road, with an innate ability to play the necessary role in any given situation. His biggest strengths are his skating ability, shot and smarts, three invaluable tools for any young prospect.
Contributor for the Toronto Maple Leafs and Prospects. Scout with the Oakville Blades of the OJHL. For questions, concerns, or comments, contact me at devinslawson123@hotmail.com or on twitter @SlawsonTHW.