Carolina Hurricanes head coach Bill Peters laid the smack on Eddie Lack after the team's Friday morning skate in advance of their tilt with the visiting Arizona Coyotes. Peters was meeting with the media in what is normally a cordial back and forth. This gathering, however, had a little something extra.
The Smackdown
Peters was asked about Lack and starting goalie Cam Ward potentially being in "competition" over the remaining 20 or so games. Peters unloaded in a moment of brutal honesty. Peters said, "Well, you gotta push. One guy's played 10 games. Eddie's played 10 games and was poor in his last outing, let's not kid ourselves, right? There's 16 shots and four went in. Not good enough."
The reference was to last Wednesday night's 4-3 overtime loss to the Tampa Bay Lightning.
https://youtu.be/ck3gNuuNRCc
Peters was not done, and continued with his analysis of Lack's performance. Peters said, "You look at his numbers in the league. They're not good enough. So, I don't think it's much of a competition, I think we gotta guy who's well ahead of the other guy. That's what I see. And the numbers back that up."
Peters continued saying, "So, when he gets in again he better play. You better earn some respect from your teammates. Your teammates are out there working their bag off, you better get some saves, and a timely save at the right time wouldn't hurt."
Response on social media was varied, with some consensus that Lack did not deserve Peters' shredding:
I'm still pretty heated about this Eddie Lack thing. I love him and he doesn't deserve that kind of disrespect from his coach.

— Master Shake 🇺🇲🇭🇳 (@cowgirl_bebop) March 4, 2017
Bad Luck for Lack
This has been a very challenging season for the Hurricanes in general and for Lack especially. He was out two different times due to concussions, the second occurred while he was practicing in preparation for his return after the first concussion.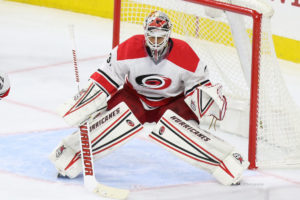 Believe it or not, Lack only has 10 games on the board this season. Of those 10, only eight were starts. His record looks rough at 2-4-0-2. His goals against average is 3.33, and his save percentage is .873. It really has been a season so far that Lack would love to forget.
Cam Ward has been the Hurricanes' workhorse all season.  He has started 49 games this season, putting up a record of 21-19-0-8, with a goals against average of 2.63 and a save percentage of .905.
While he has not put up "elite" numbers, he has been reliable for the Hurricanes in a season where they have a significant number of disappointing outcomes.
More Smack for Lack
After Friday night's loss to the Coyotes, Peters was asked if he regretted making the comments about Lack. Peters said, "No. I was just being honest. You guys want it to be a competition for starts. You gotta have competition to be a competition. Correct? You know what I mean? I can't just give people stuff for free. In pro sports that's not how it works."
Peters has drawn a line in the sand for Lack and it does not appear that he is going to move that line unless Lack comes out and stands on his head in his next start. This is reminiscent of Peters' calling out of Alexander Semin a few years back.  He's calling things like he sees them and in some ways that is refreshing.
Don't understand why there's such an issue with what Bill Peters said about Lack. He's been bad. Spoke honestly. Nothing wrong with that.

— Jon Stout (@JonStout89) March 4, 2017
The fact is that Lack was not an elite goalie when he came to Raleigh. At times he has looked sharp, and at times he looks like he belongs in the AHL. He would argue that he has not gotten enough starts to get into a groove of consistency, and there may be some validity to that argument.
The bottom line is that the Hurricanes are a mess, likely missing the playoffs again and needing several pieces if they want to be competitive next season. If Lack wants to stay with the team going forward, it might be in his best interest to heed his coach's suggestion and, "Make a save."