Cam Ward, goalie for the Carolina Hurricanes, appears to have found the fountain of youth. Last Friday's game in Raleigh against the visiting Buffalo Sabres was his 600th in the NHL. Ward has been the workhouse for the 'Canes, partly by design and partly by necessity, making it seem like the bulk of his career games were played this season.
Raleigh's PNC Arena had 11,992 in attendance watching Ward make 36 saves in the Hurricanes' 5-2 win over the Sabres. His effort was stout, with the exception of a couple of Buffalo goals that made armchair goalies say, "He shoulda had it." For example, this Brian Gionta shorty:
Obviously, neither Ward nor any other goalie is going to stop every shot, and that sort of goal is very tough to handle. Aside from the couple that got away, Ward was brilliant throughout and the 'Canes came away with the win.
After the game against the Columbus Blue Jackets last Tuesday night, Hurricanes head coach Bill Peters deflected concerns about Ward playing night after night by saying:
It's just about managing him properly right now. You know everyone's talking about the fountain of youth or whatever it may be, he [Ward] drank out of the fountain of youth all summer with our strength coach. He worked hard. He had a great summer.
My colleagues in the media remarked in jest that Carolina only has one goaltender. Obviously, they have Eddie Lack, who is hoping to come back soon from a concussion, and they have Michael Leighton and Alex Nedeljkovic rotating from the Charlotte Checkers in the role of backup. But, make no mistake, Peters is going to ride Ward until he absolutely has to rest.
[irp]
You Know Cam Ward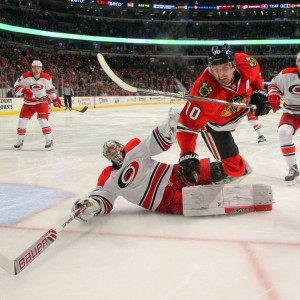 Hurricanes fans know Ward intimately well. He is the rookie who carried the team on his back in the 2006 Stanley Cup Playoffs and helped bring the Stanley Cup to Raleigh. They know Ward as the goalie that has battled through injuries, seemingly at times approaching the end of his career. But, Ward has proven repeatedly that he is nothing if not resilient.
Fans know him affectionately as 'Wardo'. He is the veteran presence in the 'Canes locker room. On a team full of 'young guns' the work ethic Ward displays sends the message, "Yeah, I've won a Stanley Cup, but that's not enough." Ward could have rested on his achievements a long time ago and gone down in Hurricanes lore with his reputation intact. But, even after 600 games, Ward is hungry to get back into the playoffs and rekindle the 2006 magic.
Back-to-Back
On Saturday night, 16,640 "Caniacs" and New York Islanders fans were at Raleigh's PNC Arena to watch the 'Canes try to complete their homestand and extend their winning streak to five games. In the second of back-to-back games, Ward showed that he still has excellent reflexes:
Make no mistake, Ward is still a top-tier NHL goalie. He makes mistakes the same as any other top goalie in the NHL does. But he is not showing signs of rust or age or slowing down. He still has the instincts and reflexes to compete at a high level and keep his team in games every night. He even uses his mask at times for making saves:
Saturday night's game against the Islanders was wild and crazy, with the 'Canes getting the 7-4 win. Ward gave up four goals, and that is a cause for some concern. But, his team is growing to the point where they can stay in games and even win when the scoring goes wild.
[irp]
On any number of statistics and analytics websites, Ward only breaks the top 10 goalie lists once — with 18 games won. His goals against average of 2.34 and 0.915 save percentage are pedestrian and won't be winning any Vezina or Hart trophies.
Is Ward elite? Most would say no — but he is top-tier in my opinion and is good enough to take the team deep into the playoffs if the other pieces continue to gel and come together. However, for that to happen, Peters may want to find a real fountain of youth or give this guy a night off soon.
Or not.