With half of the 82-game schedule in the books, the chase for the Vezina Trophy looks to be a two goalie race. Looking at the statistics and the impact each has had on their squad, Minnesota Wild netminder Devan Dubnyk and the Columbus Blue Jackets' Sergei Bobrovsky have been equally phenomenal.
Statistically Speaking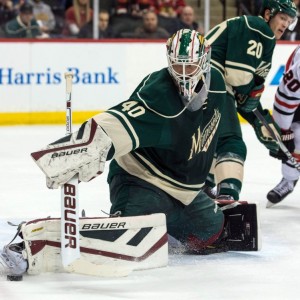 When Dubnyk was acquired from the Arizona Coyotes at the midpoint of the 2014-15 season, few thought he'd be a permanent fix. Given his lackluster career to that point, he resembled a temporary bandage for the Wild.
What Dubnyk proceeded to do with the remainder of that season was nothing short of magnificent. A 27-9-2 record accompanied by a .936 SV% and 1.78 GAA propelled the Wild into the playoffs and Dubnyk into the league spotlight. In a few months, he was vaulted into third place in Vezina voting and fourth place for Hart Trophy voting.
His 2016-17 stat line has been eerily similar. In 33 games played, Dubnyk is sporting a 23-7-3 record and slightly better .940 SV% and an equal 1.78 GAA. His performance has been one of the catalysts contributing to the Wild's best start ever.
#mnwild now 26-9-5 – its 57 points are most through 40 games in franchise history. 2nd in Central (2 pts behind CHI with 4 games in hand).

— Minnesota Wild PR (@mnwildPR) January 13, 2017
Off another outstanding performance by Dubnyk, the Wild beat the Blackhawks 3-2 on Sunday night and leapfrogged Chicago in the standings.
Realistically, it is unlikely that Dubnyk's current pace can hold up. If it does, he'll be on pace for one of the best goaltending seasons in modern history. If that doesn't earn him the Vezina, either Bobrovsky went bonkers for the remainder of the season or there is a conspiracy.
Even if Dubnyk's play drops off a tad down the stretch, he's still in a great position to claim his first trophy as the league's top goalie. Alongside spectacular defensive play, which has aided the Wild in allowing a mere 2.14 goals per game, Dubnyk is primed for continued success.
[irp]
As for the Hart
This could be an odd year when it comes time to hand out the season's awards. When I say odd, I mean something that has never been done before. According to NHL.com's Dan Rosen, the Hart Trophy is Sidney Crosby's to lose. After Crosby, Connor McDavid is the consensus runner-up with a league-leading 50 points. As insanely productive as those two players have been, there is a legitimate argument that Bobrovsky deserves the accolade when you consider what he has accomplished with the Blue Jackets.
Looking back on the predictions that were made in early-October, nobody expected the Blue Jackets to contend for a playoff spot. An eighth place finish in the Metropolitan Division last year gave little hope that this season would be different. A lot of last season's failures can be blamed on goaltending as they gave up a hideous 248 goals while Bobrovsky was on the mend for much of the season with nagging groin injuries.
This season has been a complete turnaround with Bobrovsky healthy. He has been the linchpin in guiding the Blue Jackets to second place in the NHL standings with 62 points. His 26 victories lead the league and his goaltending vitals of .931 SV% and 2.00 GAA are in the top five. With that in mind, Bobrovsky fits the definition of a candidate for the Hart as the "player judged most valuable to his team."
In a league first, it's possible the Hart and Vezina could go to separate goaltenders. Bobrovsky's season thus far aligns closely with the Hart Trophy, but better statistics from Dubnyk and other netminders could see him concede the Vezina Trophy.
[irp]
Other Contenders
Braden Holtby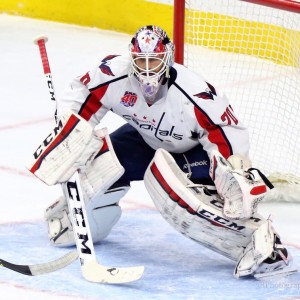 The reigning Vezina winner has found his stride and the Capitals are cruising. Holtby has christened the New Year with a .959 SV% and three shutouts in seven games. If Washington continues to play at this pace, Holtby will be the beneficiary of many more wins in the second half of the season.
Tuukka Rask
When Rask isn't in the net for the Bruins, they struggle, plain and simple. Boston is 22-9-3 when Rask gets the decision and 1-9-2 when it goes to anyone else. Like the other goalies mentioned, his GAA is under 2.00 and he's top five with a .925 SV%. Boston needs him to stay healthy or they are in huge trouble.
Previous blog experience on GonePuckWild and ISportsWeb.
Winter in Minnesota would be awful without hockey.