Flash back to a month ago and things were clicking on all cylinders for the Philadelphia Flyers. The Flyers had just won their tenth straight game, they were scoring goals at a tremendous clip, Steve Mason was playing stellar hockey and the team sat fifth in the NHL.
Those days seem long gone for the fans and players who wear the orange and black.
Since that winning streak, the Flyers have gone 3-8-3. To make matters worse, just one of those wins came in regulation, the other two were via the shootout. It has left a majority of fans in Philadelphia scratching their heads and looking for answers. So where do the problems lie?
For one, it's hard to blame the coach because he isn't on the ice. However, some of his decisions aren't putting the Flyers in a position to win games.
Wearing Down the Starter
There was a point at the beginning of the season when some of the team's losses could be directly attributed to the poor play of goalies Michal Neuvirth or Steve Mason. But during the Flyers' 10-game winning streak Mason was outstanding and stopped more than 40 shots on multiple occasions.
Today, blame cannot be placed on Steve Mason, it rests on the shoulders of the coach.
Rewind back to the end of November when Flyers goaltending prospect Anthony Stolarz made his NHL debut at home against the Calgary Flames. He played exceptionally well during that game, and in his second start in the league, he posted a shutout.
That would be his only game before being sent back down to the minors. To be fair, Mason was playing very well but was overused. In fact, when Neuvirth was injured in early November, Mason went on a stretch of starting 26 of 28 games for the Orange and Black. That was bound to catch up to him, and it did.
Mason has become noticeably fatigued, and it is starting to cost the Flyers points. One of the most glaring instances of that was a few weeks ago when Mason let in an inexcusable goal to cap off Ryan Kesler's hat trick.
[irp]
The Flyers lost the game in a shootout, but more importantly, if Mason hadn't let the puck trickle in, the Flyers would have probably won the game 3-2 in regulation.
The problems didn't end there, they became worse.
With the exception of the second goal, all of the goals were stoppable, telltale signs of an exhausted goalie. Things haven't improved since then. Mason was pulled in two out of the Flyers' last three appearances.
Hakstol will have to rely on a goaltending tandem the rest of this season and not just on Mason. And to get themselves rolling again, the Flyers are going to have to improve their goaltending.
Scratch-Induced Slump?
If questions have been raised about Hakstol's decision making, they have been about who he plays and who he sits.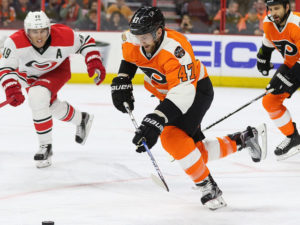 For one, Andrew MacDonald has proven that he cannot play first line minutes on defense at the NHL level. Despite this, he led all Flyers players in time on the penalty kill and was second in even strength time on ice in Saturday's debacle in Boston. A game in which Shayne Gostisbehere was benched again for no apparent reason.
Speaking of Gostisbehere, why has he become Hakstol's scapegoat? There's really no concrete reason.
Gostisbehere was running along very smoothly at the start of the season. His offensive numbers were down by a small margin, but his defensive numbers and possession metrics had significantly improved since last season. Then, out of nowhere, he was scratched by Hakstol.
It might have been to send a message to the team that no one was exempt from the team's problems, however, scratching a sophomore player to send a message to the entire team is probably not a viable course of action.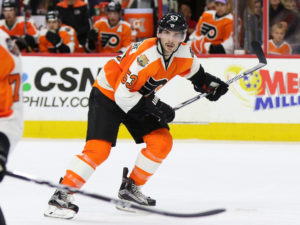 Prior to being scratched, Gostisbehere had 10 points in his first 17 games, good enough to earn a spot in the top 5 scoring among defensemen and put him on pace for a 49 point season. That would have been the third most by any Flyers defensemen in the last 10 years.
In the 26 games he's appeared in since, he has 9 points and one goal, evidence that benching him sent his confidence in the wrong direction.
Gostisbehere was touted as an offensive defenseman who can create plays and score goals. Part of his game is taking risks, and that holds true with any offensive defensemen. Messing with that is the wrong way to go about business.
Despite his defensive 'liabilities', Gostisbehere still has the best relative-Corsi on the team by a fairly large margin, at 5.7%. That means he's still spending a lot more time in the offensive zone when he's on the ice. Hakstol shouldn't have benched him when the Flyers have other problems on the blueline.
[irp]
Benching the Wrong Players
You might think that Gostisbehere is in Hakstol's doghouse, but that isn't the case. Travis Konecny suffered the same fate despite bringing ample energy and speed to the lineup and that decision was almost as puzzling as benching Gostisbehere.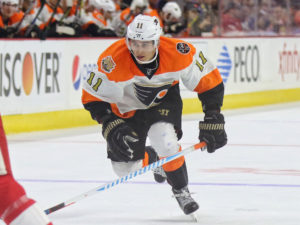 Konecny was going through a rough spot but was fresh off a two-point performance when he was scratched. The Flyers have plenty of other forwards who could be scratched. Chris VandeVelde and Pierre-Édouard Bellemare are proven defensive liabilities, especially given their possession metrics.
Then there's Dale Weise.
Weise was the Flyers' "big" off-season signing, who has failed to live up to expectations. Aside from an injury, he hasn't been benched at all this season. Through 41 games, he has five points. That's less than half of the points that R.J. Umberger had through fewer games last season (11 P, 39 GP).
Hakstol needs to take a long look at who he's leaving on the bench. He's playing with fire by benching his young guys especially when there are several guys on this team who are underperforming.
Matt is a contributor for the Philadelphia Flyers at The Hockey Writers. He has previously covered the Flyers for GrandstandU. He enjoys playing hockey and making music in his spare time.