Shortly before Christmas, the Czech Republic will be whittling down their preliminary roster for the 2018 World Junior Championships from 27 players to 23. As it stands right now, the preliminary group assembled comprises eight players from their 2017 squad. It also consists of nine players who are property of NHL clubs. With this year's tournament less than 20 days away, THW takes a look at how the Czech squad appears to be taking shape.
WATCH LIVE: 2017 IIHF World Junior Hockey Championship – Czech Republic vs. Switzerland, right now on TSN1, TSN3 & TSN4. #WorldJuniors pic.twitter.com/2HtoyOFkKd

— TSN (@TSN_Sports) December 27, 2016
This particular grouping will look to forge their way to the top of Group B. That will by no means be a walk in the park – the Czechs certainly have their hands full with the likes of Sweden, Russia, Switzerland and even a feisty Belarus all in the same alignment.
Goaltending
The Czechs seem decisive on who their goaltenders will be. Only two were named to the preliminary roster. San Jose Sharks fans will want to keep a keen eye on one of them. In July 2017 the Sharks signed Czech goaltender Josek Korenar to an entry-level contract. During the 2016-17 USHL season, Korenar posted 14 wins for the Lincoln Stars. Additionally, he had a 2.22 goals-against average and a .925 save percentage. He is currently playing this season in the Czech Republic with HC Benatky nad Jizerou, in the Czech 2nd League. In 19 games with the team, Korenar has a .915 save percentage. Despite this, it's too early to tell as to how much time between the pipes he will see. This is partially due to the other netminder already having WJC experience.
Jakub Skarek, the other goaltender listed on the preliminary roster, is a plus-sized netminder at that. Standing at 6-feet-3 and 196 pounds, he takes up a lot of space in goal. Skarek is currently playing for HC Dukla Jihlava in the Czech Elite League. He has a 2.60 GAA and .900 SV% in 17 games. Skarek manned the nets in three of the Czechs' five games in last year's tournament. He defeated Finland 2-1 making 22 saves in the process. However, he would lose his other two games—4-3 in OT to the Swiss, and then in the quarterfinal 5-3 against Canada. In the quarterfinal loss, however, Skarek stopped 36 of 41 shots.
Jediným juniorem, který se dnes zapsal do statistik, byl Jakub Škarek, který 27 zákroky přispěl k výhře Jihlavy 4:3 po prodloužení. #TELH pic.twitter.com/Tjivi7o5D6

— Juniorský hokej (@juniorskyhokej) September 8, 2017
Look for the two Czech goalies to split the duties in net, much like Skarek and Daniel Vladar did in 2017.
Defense
Ten defenders are on the Czech's preliminary roster. One defender who will stand out to the hometown Buffalo crowd is Vojtech Budik. The 6-foot-2 native of Holice was the Sabres' fifth-round selection in 2016. He has already forged a standout junior career in the Western Hockey League with the Prince Albert Raiders. Budik's best season with the Raiders is arguably 2016-17 when he posted 25 assists in only 56 games. Like Skarek, Budik was on the '17 WJC Czech team but only appeared in two games as the team's extra defender. Frantisek Hrdinka, David Kvasnicka, and the Dallas Stars' Ondrej Vala were also among the Czech defense corps last year. Vala and Hrdinka went pointless in all five tournament games, while Kvasnicka made a single game appearance.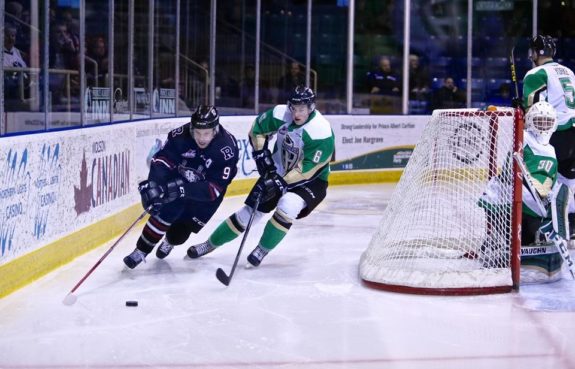 Vala may be the Czechs' most robust defender for the 2018 tournament, too. At 6-foot-4 and around 210 pounds, he adds some nice size to the Czech blueline. Playing junior with the Kamloops Blazers, Vala was second on the team in penalty minutes with 89 of them in 60 games. No question that he will be relied upon to bring a physical element to this particular lineup. Of the four returning defenders, Vala adds the most size and the most experience. Prior to preparations for the '18 WJC getting underway, he was also carving out an excellent season with Kamloops. In 28 games during the 2017-18 season, the sizable defender has potted seven goals and 11 assists. Vala should certainly be a shoo-in to make the squad.
Chicago Blackhawks draftee Jakub Galvas and Tampa Bay's selection Libor Hajek are also in preliminary consideration for defense. As are Radim Salda, Lukas Doudera, Filip Haman, and Filip Kral. Hajek was a second-round selection of the Bolts in the 2016 draft and plays for the Saskatoon Blades in the WHL too. Galvas was just drafted this past summer by Chicago 150th overall. Kral (WHL) and Salda (QMJHL) also play junior hockey in Canada.
The crux of the Czech defense should still be Vala and Budik no matter what.
Forwards
There are only three forwards who could make a possible return from the '17 team. One of them is the Red Deer Rebels' fiery forward Kristian Reichel. While Reichel went pointless in the Czech's five games last year, he is lighting up the lamp for Red Deer this current WHL season. In 29 games, he has scored 13 goals and 10 assists. Already known to be the case, this young man invokes shades of his NHL father Robert who scored over 600 career points himself. This year, the Czechs are going to need Reichel to score in order for them to make any sort of improvement or headway from last year. The other two returning forwards, Daniel Kurovsky and Martin Necas (Carolina Hurricanes), are going to need to produce as well.
Necas had a decent showing last year. In the five tournament games, he scored a goal and two assists. The 12th selection in the 2017 draft by Carolina was also one of only seven of the 20 Czech skaters to be a plus player by tournament's end. Necas currently has one NHL game under his belt and that came during this current 2017-18 season. Kurovsky is a beast, and if he is able to step up, he can be an imposing power-forward for the Czechs. At 6-foot-4 and 214 pounds, he is incredibly strong with the puck. Playing for the various Czech U16 and U18 teams in his younger years, Kurovsky was routinely a 20-plus goal scorer in only 20-30 games a season. While he may have only had an assist at last year's tourney, he led all Czechs in plus/minus with a plus-three.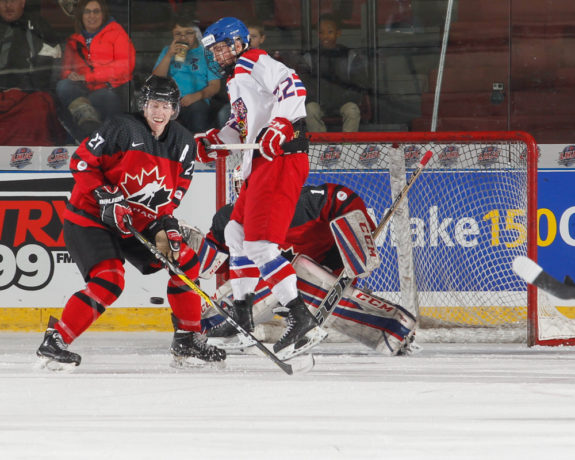 Ondrej Machala, Filip Helt (St. Louis Blues), Petr Kodytek, Martin Kaut, Radovan Pavlik, Marek Zachar, Albert Michnac, Ostap Safin (Edmonton Oilers), Filip Chytil (New York Rangers), Filip Zadina, Krystof Hrabik, and Jakub Lauko are the other forwards who have a shot to make the final roster. Machala might be an interesting choice to come to Buffalo because he plays junior hockey just over the border with the OHL's Niagara Ice Dogs. Should Kodytek be selected, he will easily be one of the smallest players at the tournament at only 5'6″ and 154 pounds. Zachar has 13 goals and 13 assists in 28 games for the Sherbrooke Phoenix (QMJHL) this season. Michnac has scored 15 goals and 19 assists of his own in 28 games Mississauga Steelheads (OHL).
The most obvious forward choice to make this roster is the high-scoring Zadina. This player, who just turned 18 at the end of November, is simply lighting it up for the Halifax Moosehead (QMJHL). In 29 games Zadina has already scored 22 goals and 21 assists. The Czechs are desperate for that kind of firepower.
The Bottom Line
It would seem unlikely that the Czech Republic will have a legitimate shot at a medal in Buffalo. It is more probable that they will finish in the middle of the pack, as was the case last year. They are a good team but are not one of the elite. The Czechs also do not have enough firepower. Zadina, Necas, Kurovsky, and Zachar will need to be firing on cylinders. No matter what, Reichel must produce. As a veteran player now on the squad, he cannot have another tournament of no points in five games. The most enjoyable players to watch for the Czechs ought to be Zadina and Vala. Keep an eye on Kurovsky too.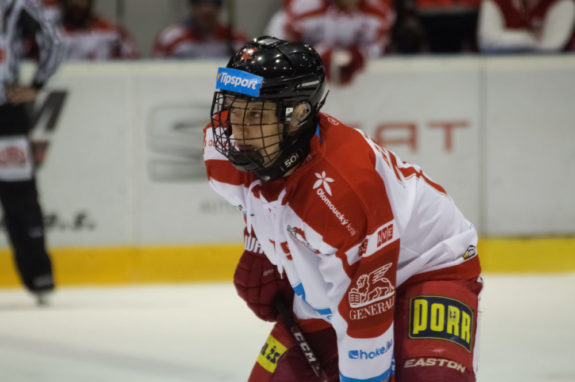 Here is THW's prediction as to who makes the final roster:
Goaltenders: Josef Korenar, Jakub Skarek
Defense: Frantisek Hrdinka, David Kvasnicka, Jakub Galvas, Vojtech Budik, Ondrej Vala, Libor Hajek, Filip Kral. 
Forwards: Ondrej Machala, Filip Helt, Daniel Kurovsky, Martin Necas, Kristian Reichel, Filip Zadina, Albert Michnac, Marek Zachar, Petr Kodytek, Filip Chytil, Martin Kaut, Ostap Safin, Krystof Hrabik, Jakob Lauko.
---
All the 2018 World Junior Championship Team Information:
Czech Republic — Team Preview — Roster
USA — Team Preview — Roster
Russia — Team Preview — Roster
Belarus — Team Preview — Roster
Canada — Team Preview — Roster
Denmark — Team Preview — Roster
Finland — Team Preview — Roster
Switzerland — Team Preview — Roster
Slovakia — Team Preview — Roster
Sweden — Team Preview — Roster