It is December and a quarter of the NHL season has come and gone. With that, just over two months remain until the trade deadline on Feb. 26, and teams are beginning to separate themselves into buyers and sellers. This allows us to gain a clearer picture of which players will be moved at the deadline as teams attempt to strengthen their rosters for a playoff push.
Instead of only using traditional counting stats to project deadline deals, I find it more important to measure a player's value and the impact he will have on a new team. Measuring a player's value includes stats such as goals and assists but also factors in shot metrics and puck possession. Focusing on players with strong possession stats and an ability to drive play represents a higher chance that the player will jell together quickly with his new team.
Evander Kane Having a Career Season in Contract Year
In what has been a disappointing season for Buffalo, Evander Kane is one of the few bright spots, and the Sabres are looking to cash in on it. He leads the team with 12 goals and 24 points and is putting together one of his best seasons. Putting aside his counting stats projecting to career highs, Kane is thriving in all situations.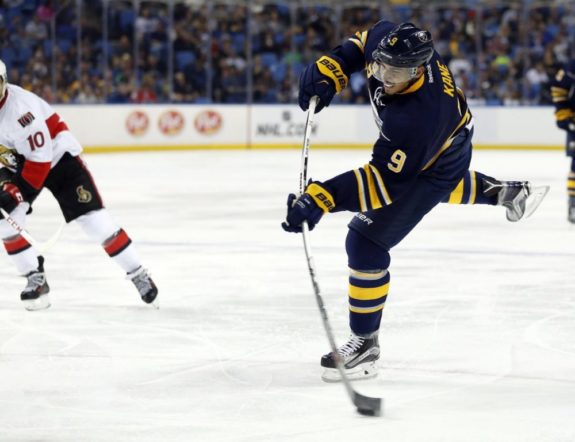 Although he has been used as a penalty killer in the past, he is generating more offense shorthanded than ever before. Using his speed and strong puck-handling skills, he leads the league with three shorthanded goals. When deployed on the penalty kill, Kane's unit is doing a good job at controlling play, and his 41.18 percent Fenwick is best in the league among penalty killers with at least 20 minutes of ice time.
At 5-on-5, Kane is better at generating offense than any other Buffalo player, with 67 individual scoring chances. Offense creation aside, it is Kane's ability to be a possession driver as a winger. His line with Jack Eichel and Jason Pominville has been the team's most dominant at 58.97 percent Fenwick but without Kane, it is just 31.25 percent.
Adding Kane to San Jose or Edmonton, two teams in need of help on the wing, would bring an instant boost offensively to either club. The Sabres, with questionable goaltending and bad defense, have controlled 51.61 percent of goals when he has been on the ice, so he wouldn't hurt his new team defensively. Although sometimes an off-ice distraction, Kane can bring a team value even with a high asking price.
Colton Sceviour an NHL Trade Deadline Bargain
When thinking of players moved at the deadline, bottom-six forwards like Colton Sceviour aren't what come to mind. However, in this case, Sceviour may be one of the most valuable players on the trading block. In 21 games, he has five goals and three assists, both high scoring rates for him. With Sceviour, it's not his offensive production that makes him worth acquiring, but his ability to provide a strong two-way game.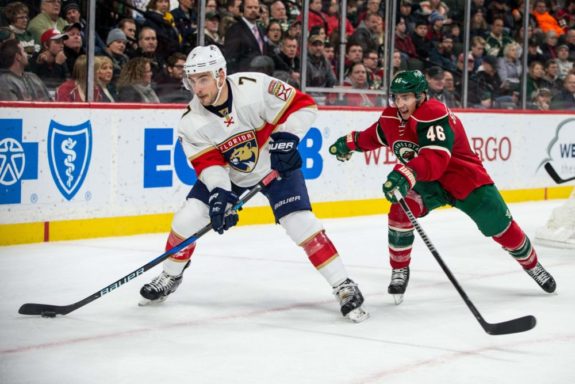 In Sceviour's 215 minutes at 5-on-5, the Panthers have only given up eight goals and have a 52.06 percent Fenwick. Compare it to Florida's team Fenwick of 49.92 percent at 5-on-5, and Sceviour's value is evident. He also has a plus-five turnover margin while starting in the defensive zone 56 percent of the time. He won't generate the same level of offense as others but he is a safe option and won't cost much.
Ian Cole a Cheap Blue-line Option
Veteran defenseman Ian Cole is in the final year of his contract with the Penguins. He has been on the outs with coach Mike Sullivan and has been a healthy scratch at times this season. That hasn't been the result of ineffectiveness, though, as he has a 53.9 percent Fenwick at 5-on-5, second-highest among Pittsburgh defensemen. He isn't having the offensive success that he typically does, but has been playing the role of stay-at-home defenseman on a pair with Justin Schultz. Schultz's negative impact on Cole is real, as Schultz has a 50.0 percent Fenwick with Cole and 49.77 percent without Cole.
Cole proved last season in the playoffs that he is a reliable defenseman, with the highest 5-on-5 Fenwick of all regular Pittsburgh blueliners. Considering he is an unrestricted free agent at season's end, he could be acquired for a depth center on an expiring deal. Cole would be an upgrade to many teams' second pairing and works well on a pair with an offensive-minded partner.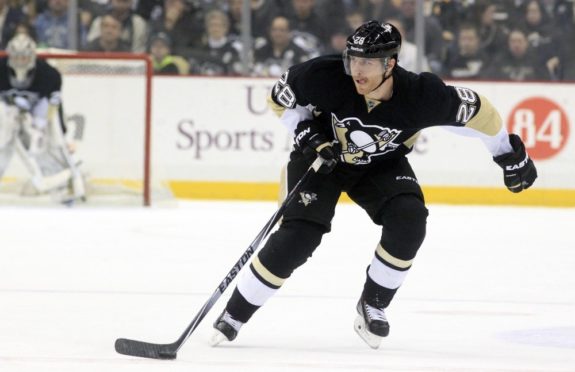 James Neal Could Bring Vegas Its Biggest Return
Don't let Vegas's strong showing in the standings fool you: this is a franchise that is still be building for the future and I doubt James Neal is a part of it. He is having a nice rebound season with 12 goals and seven assists after only netting 23 goals a season ago. He is continuing his ability to score goals at even strength, with nine of them.
Like other top goal scorers, Neal's puck metrics are solid, typically the result of high shot totals. Throughout his career, Neal's teams have had a 53.05 percent Fenwick at 5-on-5 with him on the ice. His current 49.79 percent Fenwick is just the third time out of 11 seasons that this metric is below 50 percent.
A big reason for the possession drop is due to his linemates. Neal has generally played on a line with David Perron on the opposite wing and either Erik Haula or Cody Eakin at center. With just Neal and Perron together, they have a 5-on-5 Fenwick of 52.17 percent. However, when Eakin is at center, this drops to 46.63 percent. With Haula, it rebounds to 53.1 percent despite Haula not being a natural center.
Neal should be traded because he could bring a large return to Vegas. There are numerous teams looking to upgrade scoring that will pay a big price for Neal. There is even reason to project more output from him with an upgrade in linemates. Of course, keeping him for the remainder of the season makes sense if the Golden Knights' goal is to reach the playoffs. However, at 30 years old, there is no reason to sign him to an extension with a diminishing return. Either way, Vegas GM George McPhee has a tough decision to make.
A New Take on the Trade Deadline
These four players represent the types of players who could be future deadline targets. All four have more than one skill and play a strong possession game. It makes sense for teams to turn their focus from an elite goal scorer to a two-way player when seeking an upgrade. Every year, high-end goalscorers or offensive defensemen are moved at the deadline and too often they are letdowns for their new teams.
Thomas Vanek was an example of this when he was traded from Detroit to Florida at last year's deadline after scoring 15 goals in 48 games with the Red Wings. After the trade, he only scored two goals in 20 games with the Panthers. His struggles in Florida could have been predicted given his 49.6 percent Fenwick with Detroit. That metric regressed further 44.9 percent after the trade as he struggled to take off.
However, when a player with a strong two-way game is moved, he tends to make the transition easier than others. Last year, Patrick Eaves, with a career 52.8 percent Fenwick, was traded from Dallas to Anaheim and excelled with a 59.32 percent Fenwick in 20 games with the Ducks.
This year, Vanek will likely be available again at the deadline and I don't expect different results if moved. Another player likely to be traded is defenseman Mike Green. Green is exclusively an offensive defenseman at this point in his career and struggles at suppressing offense with just a 47.3 percent Fenwick this season. I would anticipate a result for Green if traded similar to that of Vanek last season.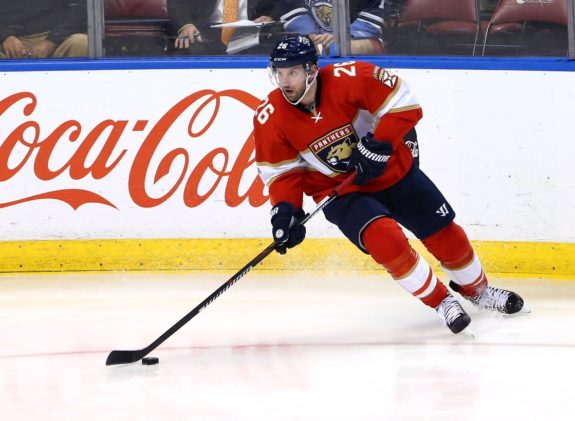 Instead of pursuing a player with one great skillset, teams should pursue players like Evander Kane, Colton Sceviour, Ian Cole, and James Neal. These players have value with and without the puck and proven themselves to be well-rounded players. Like Eaves at last year's deadline, I anticipate that these players yield a high return for their new teams if dealt by February 26th.
*All stats came from Hockey-Reference, Corsica Hockey, and Natural Stat Trick
My name is Kyle, and I'm the managing editor of The Hockey Writers. I joined THW in Oct. 2017 and am always striving to bring you the best hockey coverage possible. You can email me directly at kyle@thehockeywriters.com.