Word on the street is that the Pittsburgh Penguins are actively shopping defenseman Ian Cole. It's no secret the Edmonton Oilers are looking to address their blue line as well. Naturally, there's a fit between the two, and this could be a more appropriate deal than some of the rumored suggestions that would see Ryan Nugent-Hopkins traded. As you've probably read from me in the past, whether it's here at THW or on Twitter, I'm largely against moving Nugent-Hopkins.
Yes, RNH probably has the best trade value – in fact, it's never been higher. Heading into last night's game, he had nine goals and 18 points in 25 games. He's consistently been one of, if not the best forward in Edmonton's lineup on a nightly basis. He's arguably Edmonton's most well-rounded player, and you don't give up players like that for a short-term solution.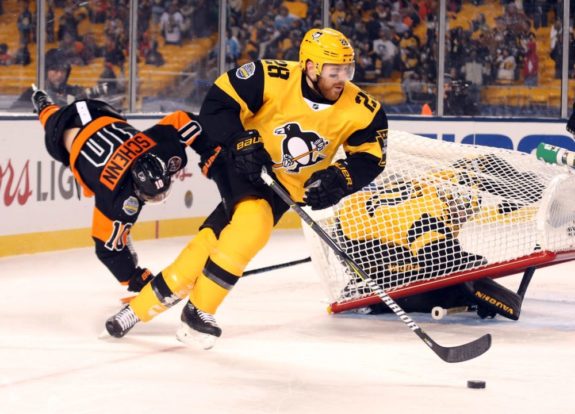 For a solution that would stabilize the No. 4-5 spot on Edmonton's defense, Cole could be a reliable addition. He's an improvement on guys like Yohann Auvitu or Eric Gryba who are currently suiting up in the third-pairing. Best of all, this is a scenario where you wouldn't have to move an RNH-type player to improve your roster. Naturally, I'm all for it. According to Jason Mackey of the Pittsburgh Post-Gazette, several teams have inquired about the Penguins defender.
The 28-year-old is also a pending unrestricted free agent (UFA) this summer with an expiring $2.1 million cap hit. It's a reasonably digestible number for general manager Peter Chiarelli to take on. Cole's been a solid blueliner for Pittsburgh, but this season he hasn't had a good start. That's part of the reason he's been a frequent healthy scratch.
Can Ian Cole Help the Oilers Defense?
Last year he ranked third in the NHL for blocked shots (194), evidently enough just behind Kris Russell (213). His Corsi-For (CF%) last season (49.3) put him fourth on the Penguins defense among regulars, ahead of former eighth-overall pick Olli Maatta (49.2). The Penguins are currently fourth in the ultra-tight Metropolitan division and have a minus-12 goal differential.
Is it possible to think a team with Sidney Crosby, Evgeni Malkin, and Phil Kessel might need scoring help? Whether you believe it or not, it's true. Getting a guy like Cole, however, might not be the cheap move you might think it should be. According to TSN's Darren Dreger, the Penguins still value Cole and aren't willing to give him up.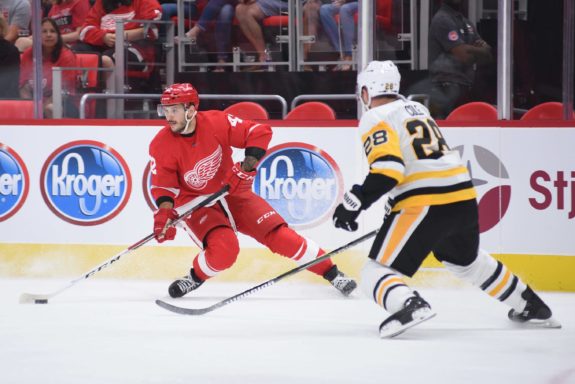 There's been a suggestion that his agent, with the player in his contract year, may have spoken to Rutherford in an attempt to get his client playing. Playing will mean more eyes on the player and thus more money in free agency this summer. So we know the Penguins look like a team that needs scoring help but is there an appropriate addition from Edmonton that helps Pittsburgh?
The easy answer is that Edmonton sweetens any pot with a mid-range selection in the upcoming NHL Draft in June. But that doesn't help the Penguins today. Rutherford will want a scoring forward in their attempt to make it a three-peat this spring.
Pittsburgh Penguins in Search of Scoring Depth
So what are some possible candidates to dangle? Drake Caggiula had a slow start to the year but has come on as of late. He recently had a three-game point streak (three goals, one assist) and has six points in 18 games. He's on pace for 24 points this season. Anton Slepyshev has been cold all season and has just two points in 13 games. When you factor in that guys like Caggiula and Slepyshev were supposed to take a step forward this year, this is an obvious disappointment.
The question now becomes, how much value do these guys have? Would the Penguins be interested in one of these two guys who likely needs a change of scenery, like Cole, to get going? Slepyshev, like Cole, has also been healthy scratched a few times this season. His nagging injuries are part of the reason for his slow start. He also missed nearly all of training camp with a high-ankle sprain. The pitfall is that both of these players bring a certain amount of speed that's not oozing from Edmonton's lineup.
Either way, neither are providing the offense Todd McLellan needs to balance his lineup. Who else do we have to consider? There's not much. Edmonton and Chiarelli would have to bank on the fact that Rutherford might find intrigue in Slepyshev or Caggiula. Both aren't off to great starts, but there's also no reason for them to be as bad as they have been all year. At this point in their careers, both have shown versatility to move up and down the lineup. They're just not scoring right now.
They've also shown an ability to play both wings. They might not be the sexiest names for Pittsburgh, but the cap savings could help the Penguins land a bigger fish near the trade deadline. Having Cole in and out of the lineup gives them an asset that loses value daily. Moving him for some help up front might have to happen sooner or later. If they come calling, you know there's cards on the table. It's just a matter if those cards are interesting enough to entertain, even more so if the Oilers throw a draft pick in.
Let me know your thoughts in the comments below.