Through the first half of November, the Washington Capitals were unable to string together wins, let alone goals. They couldn't find true chemistry throughout their lineup, making it easy for head coach Barry Trotz to make some changes to the forward lines.
"I've been thinking about [line shuffling] for a while," Trotz said. "I said I needed to get back to our identity in terms of everybody can pull their own weight."
To ignite a spark, Trotz shuffled the forward lines, reuniting Alex Ovechkin and Nicklas Backstrom, one of the NHL's most dangerous duos over the last decade. While this change has been the most significant, given the increased scoring from that top unit, there was another unlikely addition that has proven to work for the Caps: Tom Wilson, Washington's designated tough guy and known fighter, has joined that top trio.
"We needed a continuous kind of wave of momentum throughout the game," Wilson said of the line changes. "We didn't really have that early. Lines would have spurts where they were skating and playing hard and there would be a little bit of a lull. I think that brings an element to that line of energy and a little bit of physicality, and [Ovechkin and Backstrom] take care of the rest."
Wilson's Top-Line Role
The 23-year-old winger has just two goals and eight points through 22 games so far this season, but over the last four games, Wilson is not only taking on more responsibility, skating 16-18 minutes a night, but he is improving as well. Since joining Ovechkin and Backstrom on the first line, Wilson has registered an assist and two shots on goal, and he is a plus-3.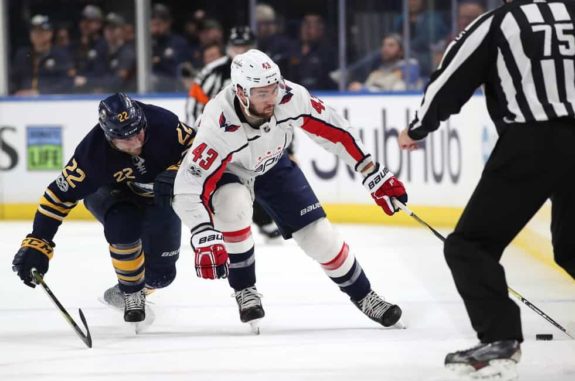 "Both of those guys, Ovi and Nick, they're world-class talent, so it's exciting to kind of get up there," Wilson said. "They complement each other very well, so it's kind of my job to get in there, try and fit in and bring whatever I can to the table to try and help that line."
Backstrom also believes that the line changes were necessary, and ultimately, it worked out or the best.
"We need that," Backstrom said. "It wasn't working the way we played, so I'm sure the coaching staff felt that way, they wanted to switch things up."
Wilson's playing style resembles that of an enforcer — he is best known for hard hits and bringing physicality to the ice. When it comes to the top line, he brings many different factors to the table, but bringing energy and fighting for pucks are among his top priorities.
"It's just keeping my feet moving, creating energy, creating an element that's hard to play against for that line, getting in on the forecheck and winning puck battles," Wilson said. "When I can win my battles and get the puck to [Ovechkin and Backstrom], it's in good hands and so far it's been pretty good and we just gotta keep that going."
Wilson Fitting In
While Ovechkin and Backstrom both have a unique bond, Wilson brings a different style of play to the table — he doesn't rely on fancy stickhandling and quick shooting. Instead, his physicality and ability to win battles for the puck and create space for his linemates is what makes him a strong asset to the first line.
Ovechkin said "toughness," is perhaps the biggest thing that Wilson provides on the ice, and that he is a player that "knows what he have to do."
"It's a different role for him right now," Ovechkin said. "He's playing top-six, and it's different hockey."
Not only does Wilson provide physicality and a more aggressive style of hockey, but Ovechkin also said that he has seen the former 2012 first-round pick impress and show a lot of skill in practice, as well as in games. In fact, one excellent play came on Friday against Tampa Bay, where he made an impressive cross-ice pass that landed right on Ovechkin's stick, leading him to a one-time goal for the captain.
"He have a skill to make those pass, make those plays," Ovechkin added.
Trotz agreed, saying that Wilson's physicality is something that truly brings a lot to the first line and helps create more chemistry on that unit.
"He frees pucks for [Ovechkin and Backstrom] both of them are very good once they get the puck, and he frees pucks for them," Trotz said. "He's got a defensive mindset as well, and then you have the physicality he brings to that line… you got three very unique skill-sets on one line. It's worked so far."
Adjusting to the First Line
Overall, Wilson is excited that he is getting the chance to play on the top line, and he feels he is learning a lot and adjusting well to more ice time and increased responsibility.
"It's a great opportunity to play more minutes," Wilson said. "It was tough, so you get a little more used to it, you get more responsibility, you more time on the ice, you get more chance, you get more opportunity, so it's good and I just gotta continue to kind of work with it and keep improving."
During games, Wilson said that he learns a lot and gets feedback from his linemates and that they all communicate well during their shifts, despite their different playing styles.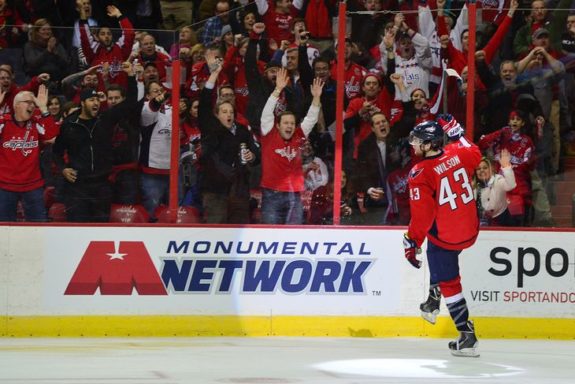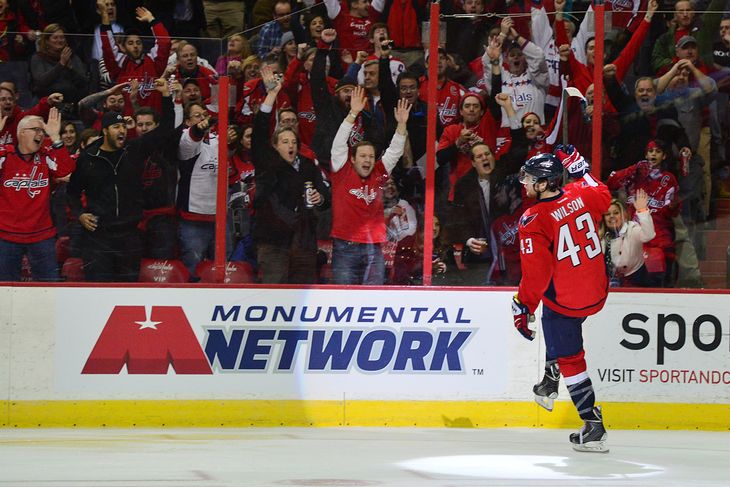 "They definitely have tips for me on how I can be better, and I think when we're on the ice, Nicky's a very, kind of a quiet presence but he's always in the right areas, and I mean, Ovi's a little more vocal, he'll call for it when he wants it," Wilson said. "So I think everyone kind of knows where we're going to be and we talk about it after a little bit on the bench, but I think mostly it's going out there and playing."
As he looks to keep his spot on the top line and continue to spark offense and consistency throughout the lineup, Wilson plans to keep elevating his level of play.
"I just try to keep the energy high and keep my feet moving and get in on the forecheck to go into the dirty areas and make a play when it needs to be made," Wilson said.
Sammi Silber covers the Capitals beat for The Hockey Writers and is an NHL contributor with Sporting News. She has also contributed to USA TODAY College, Huffington Post, FanSided and the Nation Network. Silber has written four books and recently worked on graphics for the film, The California Golden Seals Movie.