When Team Sweden takes to the ice in Buffalo, they will be loaded for bear and with some of the finest talent. That stems from the goaltending position on out.
The Swedes still have a bad taste in their mouths from a fourth-place finish at last year's World Juniors. This still has not subsided, and understandably so. After losing to Canada in the semifinals, Sweden lost a gut-wrenching overtime decision to Russia for the bronze. It took all of 33 seconds to have the medal snatched from their grasp. Disappointment such as that can last a lifetime for some players, and is certainly fresh a year later.
There will not be a repeat performance this time around. By gosh, they could very well win it all. Sweden is comprised of a slew of NHL draft picks and prospects. There is even some discussion that the Buffalo Sabres organization shall allow their first-rounder from 2016, Alexander Nylander, to temporarily forgo play with their AHL affiliate Rochester Americans and be able to represent his homeland for a third and final WJC. Separate from all of that – Sweden has the player expected to be the top overall pick in the 2018 NHL draft, and basically, other teams…well, they don't.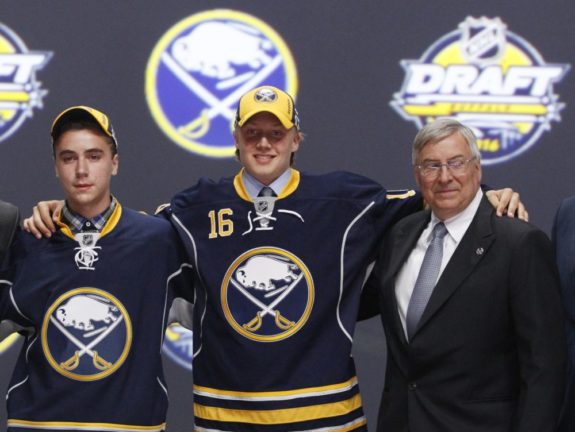 THW breaks down how Sweden's roster ought to take shape.
Goaltending
All three of Sweden's goaltenders have been drafted by NHL teams. That tells you something about how good they truly are. Each fits in quite nicely with how talented the rest of the roster is.
Let's begin first with Olle Eriksson Ek. The 6-foot-2 netminder was drafted by the Anaheim Ducks in the fifth round of the draft this past summer. Eriksson Ek has had two similarly solid seasons playing U20 with Färjestad BK's junior squad. Last year he played 30 games for the club and had himself a 2.16 goals-against average and a .924 save percentage in 30 games. In his 17 games this season, he has replicated that exact same save percentage number and has a minuscule 2.01 goals-against average. Eriksson Ek is a sizable goalie who can stop a lot of pucks.
Filip Larsson is one of the best goaltenders in the USHL. The Detroit Red Wings selected him as the 167th pick in the 2016 NHL draft. Just a few days ago, Larsson announced his commitment to play NCAA hockey at the University of Denver. In the meantime, he has been stonewalling opposing teams in the USHL. Manning the nets for the Tri-City Storm, Larsson has an incredible 1.45 goals-against. He accomplished that while playing in 18 games. Certainly nothing to sniff at. He also has a .946 save percentage.
The only returning goaltender from Sweden's 2017 team is Filip Gustavsson. In his lone tournament game last year on New Year's Eve against the Czech Republic, he turned aside 36 of 38 shots. Gustavsson has been playing with Luleå HF this year in the Swedish Elite League and has been above average.
Top ranked European goalie Filip Gustavsson is today's @SportChek Prospect Profile.

READ: https://t.co/79NQHw0674 pic.twitter.com/B63462DsxK

— Ottawa Senators (@Senators) June 7, 2016
Though he does not have the same experience, it would not be a surprise if Larsson got the nod as the starter.
Defense
The Vegas Golden Knights took a highly-coveted defenseman with the 15th overall selection at this summer's draft.  Erik Brännström is a remarkably productive blueliner. Throughout his international career he has served as a captain and an alternate captain for Sweden at U16, U17, and U18 world championships and tournaments. Brännström has had two outstanding seasons in Sweden's top junior league. In total, he has 17 goals and 36 assists for 53 points in all of 61 games from the back end. Brännström's finest characteristic is easily his skating. Catlike and elusive which leads to production, he will be one of the best defenders at the tournament and could be named team captain.
Like Brännström, Timothy Liljegren is an opening-round draft choice as well. In fact, he was picked just two spots later by the Toronto Maple Leafs. The two Swedes play a very similar game. Liljegren loves to seek out offensive opportunities coming out of his own zone and possesses a sometimes captivating blend of speed, strength and creativity. In 16 games for the AHL's Toronto Marlies, Liljegren has a goal and eight assists. That is third-best on the team for D-men, and he has played fewer games than the two players slightly ahead of him in points.
When the 2018 NHL Draft comes around, Sweden's Rasmus Dahlin will be the top overall selection. Guaranteed. No team in Buffalo is likely to have a better defender on its roster. Dahlin has drawn comparisons to Brian Leetch and Nicklas Lidstrom. There is nothing that he cannot do on the ice. Dahlin skates with the best of them, possesses an explosive shot, can deliver the big hit, and is most sound in his own zone. This season with Frölunda HC in the Swedish Elite League, he has five goals and six assists in 26 games. Enjoy every opportunity there is to watch Dahlin play in Buffalo.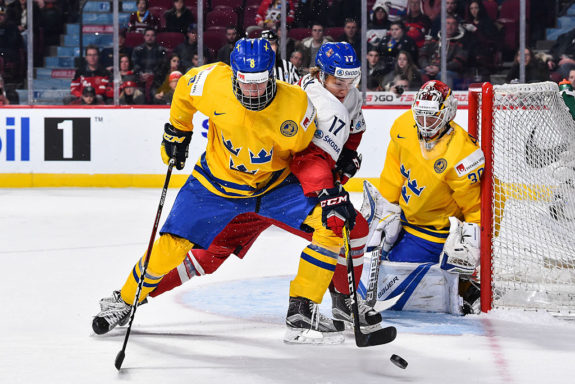 The other possible selections on defense for Sweden are Jacob Moverare, Gustav Lindström, Linus Högberg, Jesper Sellgren, and Filip Westerlund.
Forwards
New Jersey Devils prospect Jesper Boqvist can score and score big. Capable of highlight reel-goals, he was consequently taken 36th overall in 2017. During Boqvist's 2015-16 season with Brynäs IF's under-20 squad, he exploded for 23 goals and 35 assists in only 38 games. He has picked up a goal and an assist in four games with Brynäs IF's top team this season and will be a highly dangerous scoring threat for Sweden all tournament long.
Should Alexander Nylander be permitted to play for Sweden, it will surely entice the fan base in the vicinity of this year's tournament. More than anything else, it would be a godsend for Sweden. Nylander was his country's leading scorer at last year's World Juniors. He scored five goals and seven assists for 12 points in seven games. Nylander was also a plus-7 by tournament's end. Having his production and immense amount of skill here on the '18 team could be something that seals the golden deal for the Swedes.
The Vancouver Canucks made Elias Pettersson the fifth overall selection this past summer. He is two-way forward who is always willing to go the extra mile. Playing this season for Växjö Lakers HC in the Swedish Elite League, he has been superb. Eleven goals and 24 assists in 26 games is proof enough of that. Pettersson is a player who can keep Sweden defensively responsible while also being able to rip open scoring chances. He can simply be utilized in every possible situation.
#Canucks Prospect @_EPettersson has had a stellar start to the season in Sweden and is expected to play in the upcoming #WorldJuniors. pic.twitter.com/KP0gPRdgqg

— Vancouver #Canucks (@Canucks) December 15, 2017
The other possible choices at forward for Sweden are Tim Söderlund, Lukas Elvenes, Fredrik Karlström, David Gustafsson, Jacob Olofsson, Lias Andersson, Glenn Gustafsson, Fabian Zetterlund, Linus Lindström, Isac Lundeström, Marcus Davidsson, Axel Jonsson Fjällby, and Oskar Steen.
The Bottom Line
With the exception of Canada (maybe) it seems there is no team at the tournament that will have more talent than Sweden. Say that the World Junior Championships are the National Hockey League. Sweden would be an All-Star team, or at the very least the Pittsburgh Penguins. Every indication is that this will be Dahlin's tournament too. In the same way that Lidstrom and Leetch approached the game, Dahlin is just as cool and calm, and just that good.
What makes Sweden such a prime candidate for the gold medal is that they are equally well-rounded as they are talented. Sure, they have the scoring and the speed. But with players like Pettersson, Dahlin, Davidson, Söderlund and others, they are a well-oiled machine extremely capable of playing both ways. They have a check mark beside every category of what comprises an elite hockey team.
Here is THW's prediction as to who makes the final 23-man roster for Sweden:
Goaltenders: Kasper Krog, Mads Søgaard, Emil Gransøe
Defense: Timothy Liljegren, Rasmus Dahlin, Erik Brännström, Jacob Moverare, Gustav Lindström, Jesper Sellgren, Filip Westerlund.
Forwards: Alexander Nylander, Jesper Boqvist, Elias Pettersson, Tim Söderlund, Oskar Steen, Marcus Davidsson, Isac Lundeström, Lias Andersson, Lukas Elvenes, Fredrik Karlström, Fabian Zetterlund, Linus Lindström, Jacob Olofsson.
---
All the 2018 World Junior Championship Team Information:
Czech Republic — Team Preview — Roster
USA — Team Preview — Roster
Russia — Team Preview — Roster
Belarus — Team Preview — Roster
Canada — Team Preview — Roster
Denmark — Team Preview — Roster
Finland — Team Preview — Roster
Switzerland — Team Preview — Roster
Slovakia — Team Preview — Roster
Sweden — Team Preview — Roster