Sweden has been placing top defensemen in the NHL for decades and will keep doing so for many years to come. Meanwhile, in Sweden, we are witnessing the embryo of the next big superstar evolving at the age of 17-years old in the Swedish Hockey League — at least that's what everyone who has seen him play thinks.
His name is Rasmus Dahlin. Last year, the defenseman became the first player born in the 21st century to make an appearance in the Swedish Hockey League (SHL), playing for Frölunda HC, and since then he has charmed the whole hockey world with his dazzling skill and talent. Because Dahlin is no ordinary 17-year-old kid who just happens to be good at the game of hockey. What he has exhibited so far in the top league in Sweden, no one has ever really seen here before.
Dahlin played 26 games during the 2016–17 regular season. That was his first year playing against men, and he went on to contribute with 5 points (3+2) in 14 games during the SHL playoffs. It's safe to say he got everyone's hopes up for more leading up to the 2017–18 season. At the same time, the 2018 NHL Entry Draft is up ahead, in which he's projected to be a top pick.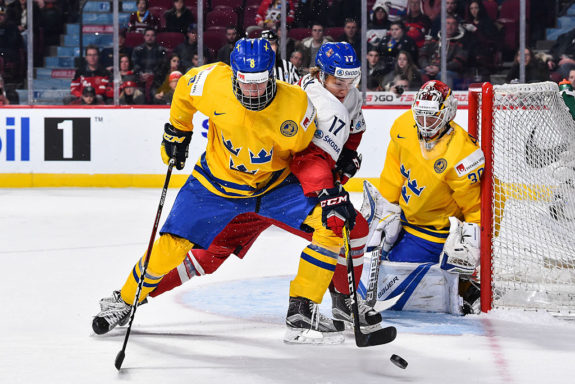 It may sound exaggerated — I'm aware of that — and generally, I try to avoid to use overly big words when describing and discussing a young player like Dahlin. I mean, he's only halfway through his teenage years. He's just a kid!
However, it's an exciting guessing game to ponder the future of Dahlin, with respect for his young age. If he continues to follow the trail he has entered by now, how good can he be? To rephrase that: What level of potential are we talking about here?
Rasmus Dahlin – Erik Karlsson Comparisons
Swedish hockey reporter Dusan Umicevic, with recognized insight in the Swedish league teams, tweeted in 2016: (translated from tweet below) "Rasmus Dahlin is being described by those I've talked to as a player with bigger potential than world's greatest Erik Karlsson. The future of Swedish hockey."
…å Rasmus Dahlin beskrivs av de jag pratat med som en spelare med större potential än världens bäste Erik Karlsson. Svensk hockeys framtid

— Dusan Umicevic (@SVTDusan) August 9, 2016
So let's begin in that end. The comparison between Dahlin and Karlsson is understandable. They are both products of Frölunda HC, defensemen, and share a visual similarity on the ice. As with the case for Karlsson, Dahlin's biggest X factor is found in his offensive game and at the same time he stands out from Karlsson in regards to his solid defensive capacity.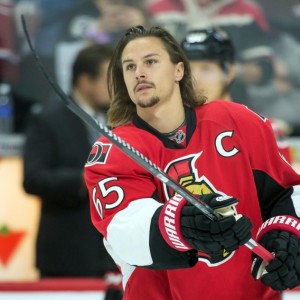 Dahlin is more of a two-way defenseman that takes care of both ends of the ice. In many ways, Dahlin is what everyone refers to when they are talking about the modern day defenseman. Always moving forward, with insane puck handle skill, and that kind of fluid skating ability that we all love to see.
For evidence, just look below at some of Dahlin's moves so far in the SHL.
https://twitter.com/HockeyWebCast/status/798625623665217537
16-year-old Swedish defensive prospect Rasmus Dahlin 😱🔥 pic.twitter.com/RyQkT9O2mO

— Gino Hard (@Ginohard_) November 10, 2016
Possible 1st Overall NHL Draft Pick
These videos, illustrating Rasmus Dahlin's unique talent, have been everywhere on social media. The hype-train has really picked up speed in just a short period of time, but somehow it hasn't gone beyond proportions when it comes to Dahlin. I'm not sure it even can.
One of the people on board is the respected TSN reporter Bob McKenzie. Recently, in his podcast The TSN Hockey Bobcast, he mentioned Dahlin as one candidate with a good chance to be the number one pick in the 2018 NHL Entry Draft. Sure, it's easy to get hasty — many things can and will happen for a young player like Dahlin up until the summer of 2018, but McKenzie and his peers base their projections on what they have seen: Pure talent.
Actually, at this point, it wouldn't surprise me at all if Dahlin, who last season became the second youngest scorer ever in the SHL after Calgary Flames' prospect Oliver Kylington, end up being the first choice in the NHL draft. Congratulations to whichever team gets the privilege to land him on the roster.
A Special Kind of Special
Before we, as promised, begin to discuss what level of potential we're talking about when we talk about Dahlin, I think it's necessary to accept the thought that Dahlin could become the best defensemen in the world. Even better than everyone that some time has been the best defenseman of their time.
Development is unpredictable, but neither Nicklas Lidström nor Erik Karlsson were close to this pro league impact at 16 as is Rasmus Dahlin.

— Szymon Szemberg (@Sz1909_Szemberg) November 12, 2016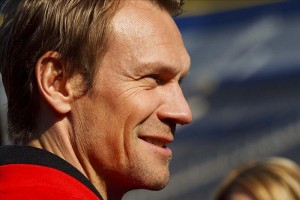 Going from there, to compare the 16-year-old Dahlin with Erik Karlsson or Nicklas Lidström as the players they were at that same age could easily backfire. A player like Lidström, who got drafted in the third round, did develop on other premises than Dahlin. On the contrary of a late-bloomer, Dahlin can rightfully be described as an early-bloomer, and he should be judged in his own context.
That being said, the outcome of Dahlin's future definitely allows comparisons with the Karlsson and Lidström. In all honesty, I can't recall ever seeing such bright, pronounced talent making that great of an impact at a pro level as Dahlin has shown during his career, and it's only just begun.
Yes, Rasmus Dahlin possesses the qualifications to become something bigger than we have seen so far in the NHL, but the road can be both deceptive and long, so let's just hope that the young Swede is ready to walk the miles and climb the hills. He will learn that it's worth it.
Freelance sports journalist settled in Malmo, Sweden. Author on the official site of the Swedish Hockey League. Cover Swedish prospects on their road to the NHL, and Swedish players making it in the NHL.