The 2018 World Junior Championships are less than three days away. While teams have until Christmas Day to finalize their rosters, Finland did not hesitate in releasing theirs — the Finns are one of the first teams to have narrowed their roster to the maximum 23 players. It was released the morning of Dec. 23rd. There are two NCAA players who make the final cut. Likewise, three WHLers and an OHL skater also. There is even a recently established NHL/AHL forward who will be at the tournament in Buffalo representing Finland.
Nuorten Leijonien MM-joukkue on tässä: https://t.co/WOFOZOxAEx #U20fi #NuoretLeijonat #WJC2018 pic.twitter.com/smyHy5RNSx

— Leijonat (@leijonat) December 23, 2017
Looking over the finalized names, the Finns are destined to place much higher at the 2018 tournament. Last year, they barely survived relegation. With the roster that head coach Jussi Ahokas has assembled, the Finns may even have a legitimate shot at a medal in the "City of Good Neighbors".
THW takes a closer look at Finland's 23-man roster:
Goaltenders
Ukko-Pekka Luukkonen (HPK Hämeenlinna), Niilo Halonen (HIFK Helsinki), Lassi Lehtinen (Lukko Rauma)
No real surprise here. Ukko-Pekka Luukkonen will likely receive the bulk of the goaltender duties in Buffalo. The only goaltender selected higher than Luukkonen in the 2017 NHL drafted was Team USA's Jake Oettinger. The Buffalo Sabres selected Luukkonen in the second round and at 54th overall. He is a big body in net at 6-foot-4 and close to 200 pounds. Not only does Luukkonen take up a lot of net, but he is able to get his body in front of pucks too.
Impeccable positioning and speed, he may feed off of a host city crowd that is anxious to support him and get a good look at the Sabres prospect. Separately, he may very well be the best European goaltender at this tournament. He was certainly the highest ranking going into the 2017 draft.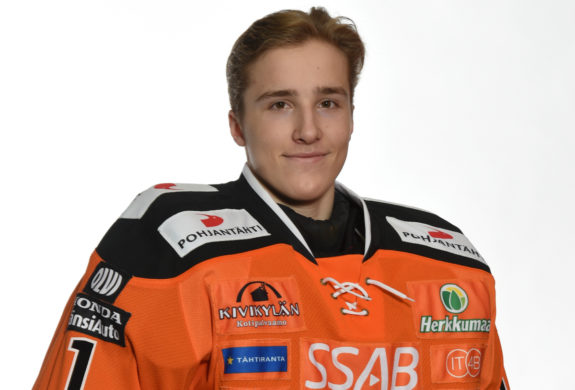 Neither Niilo Halonen or Lassi Lehtinen are bad backup options. Halonen actually gold-medaled alongside Luukkonen at the 2016 U18 World tournament, so the two have some familiarity on the international stage with one another. Halonen has played in 28 games this season with HIFK's junior team and has a .914% through that stretch.
Saying that, Lehtinen also has experience with Luukkonen. Together they won a silver medal for Finland at the 2017 U18 tournament. Lehtinen manned nets for one of the games while Luukkonen backstopped in the other six. He has gotten into one game this year with Lukko Rauma's team in the Finnish elite league and did quite well. A 1.87 goals against and a.917% to Lehtinen's credit.
Defensemen
Miro Heiskanen (HIFK Helsinki), Robin Salo (Sport Vaasa), Eemeli Räsänen (Kingston Frontenacs), Juuso Välimäki (Tri-City Americans), Olli Juolevi (TPS Turku) Urho Vaakanainen (SaiPa Lappeenranta), Henri Jokiharju (Portland Winterhawks), Kasper Kotkansalo (Boston University)
Calgary Flames' top selection (16th overall) in the 2017 draft was Juuso Välimäki. This same defender has been named captain for Team Finland and deservedly so. Välimäki plays junior in the WHL for the Tri-City Americans and has absolutely exploded as an elite defender. During the 2016-17 season he had 19 goals and 42 assists in 60 games as a blueliner. So far this season he has another five goals and 15 assists in 19 games. Excellent size, at 6-feet-2-inches and over the 200-pound mark, Välimäki is easily one of the best defenders for any team at this tournament.
#Flames sign 2017 first-round pick Juuso Välimäki to a three-year, entry-level contract. pic.twitter.com/CzORjbpt5W

— CoastToCoastHockey (@coastocoasthky) July 23, 2017
Kasper Kotkansalo plays for the Boston University Terriers in Hockey East. In 19 games so far in his first season, he has compiled two goals and three assists. Last year he played USHL hockey for the Sioux City Stampede and had a goal and 11 assists in 47 games. Kotkansalo also picked 43 penalty minutes. Though he does not produce much offense, the 2017 third-rounder for the Detroit Red Wings plays a very responsible game defensively.
Robin Salo is the New York Islanders 46th overall pick from this past summer. A mature defenseman, Salo has played in Finland's elite league for parts of the past four seasons. The Sport Vaasa defender has played in 101 games for the Finn's top hockey league, and has garnered a goal and 18 assists. He has also won gold and silver representing Finland at U18 competition.
Forwards
Juha Jääskä Juha (HIFK Helsinki), Janne Kuokkanen (Carolina Hurricanes), Otto Koivula (Ilves Tampere), Kristian Vesalainen (HPK Hämeenlinna), Joona Koppanen (Ilves Tampere), Eetu Tuulola (HPK Hämeenlinna), Eeli Tolvanen (Jokerit Helsinki), Markus Nurmi (TPS Turku), Aapeli Räsänen (Boston College), Joni Ikonen (KalPa Kuopio), Aleski Heponiemi (Swift Current Broncos), Jere Innala (HPK Hämeenlinna), Rasmus Kupari (Kärpät Oulu)
Eeli Tolvanen is one of most promising forwards to make the Finns' final cut. The 30th overall selection in the 2017 NHL draft, the Nashville Predators prospect is currently playing for Jokerit Helsinki in the KHL. Not only that, he is the only teenager on the roster and presently leads Jokerit in scoring with 17 goals and 15 assists in 39 games. When he played in the USHL for the Sioux City Musketeers the two previous year, Tolvanen completely tore it up. Especially for the 2016-17 season when he had 30 goals and 24 assists in 52 games.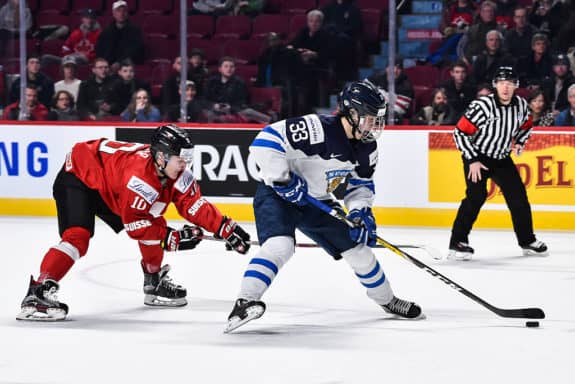 Janne Kuokkanen is the only player on Finland's roster with NHL experience. The Carolina Hurricanes selected him in the 2nd round (43rd overall) in the 2016 NHL draft. Kuokkanen played in four games for the Hurricanes during this current 2017-18 NHL season going pointless. The bulk of his season has been spent playing for their AHL affiliate, the Charlotte Checkers. There he has three goals, 11 assists and is a plus-five in 19 games.
The college kid up front for Finland is Aapeli Räsänen. Although he was a sixth-rounder for the Edmonton Oilers in 2016, he has played quite well for BC. In 18 games for the Eagles so far this NCAA season Räsänen has registered three goals and seven assists. His 31 penalty minutes speak to his physicality.
The Bottom Line
While Finland still may not medal in Buffalo, they should enormously rebound from 2017's debacle. Ahokas is a young coach (only 37) and has assembled a splendid collection of talent. Used wisely, Finland could be in contention for a bronze.
The player to truly watch for is Tolvanen. The fact that he is having such a promising season in the KHL speaks volumes as to what he is capable of doing on the ice. While all of Finland's forwards are very capable and present a nice blend of talent, Tolvanen is the type of player that can be a game-changer. He has a fast, accurate shot and it is a deceptive shot at that too. For fans interested in following the Finns, they will quickly fall in love with the skills of Eeli Tolvanen.
Look for the Finns to take a run at the bronze this time around.
---
All the 2018 World Junior Championship Team Information:
Czech Republic — Team Preview — Roster
USA — Team Preview — Roster
Russia — Team Preview — Roster
Belarus — Team Preview — Roster
Canada — Team Preview — Roster
Denmark — Team Preview — Roster
Finland — Team Preview — Roster
Switzerland — Team Preview — Roster
Slovakia — Team Preview — Roster
Sweden — Team Preview — Roster