The final squads for the 2018 World Junior Championships continue to be released just days before the tournament gets underway. Switzerland's head coach Christian Wohlwend has made his decision and has found the 23-man roster. The one which he hopes will not only get him beyond the middle of the pack but could even vie for a medal. To date, the Swiss have won only a single medal (a bronze) in previous World Juniors. That was way back in 1998. Wohlwend hopes that this particular team he has assembled will make history in Buffalo.
Merry Christmas #U20 pic.twitter.com/cQFmJqIJcf

— Swiss Ice Hockey (@SwissIceHockey) December 24, 2017
No matter what, the Swiss will be a fun team to watch at this tournament. They are fast and fiery, and even have a fair share of weaponry on offense. Of the chosen players selected to wage on-ice war, five of them play junior hockey in one of the Canadian leagues.
THW takes a closer look at Switzerland's 23-man roster:
Swiss Goaltenders
Matteo Ritz (Lausanne HC), Akira Schmid (SCL Tigers), Philip Wuthrich (SC Bern). 
Both Matteo Ritz and Philip Wuthrich make returns for a second go-round, having each been part of Switzerland's 2017 U20 team. However, neither netminder received any game action in '17 as both sat secondary and tertiary to Joren van Pottelberghe. Ritz may get the nod to be the starter this time though. He has tremendous size for a goaltender at 6-foot-3 and over 200 pounds. Wuthrich himself is a 6-foot goalie too.
Hier unser Head Coach Christian Wohlwend und auf der anderen Seite @MySports_CH #U20 #WorldJuniors pic.twitter.com/2Efy1rXAAx

— Swiss Ice Hockey (@SwissIceHockey) December 23, 2017
Akira Schmid is the interesting third possibility in net for this team. While Ritz and Wuthrich are both 19-year-olds, Schmid is a young 17 years and will not turn 18 until May. Still, he is actually the tallest of the three goaltenders at 6-feet-4-inches. In 17 games for the SCL Tigers U20 team, he has posted a 2.52 goals against this season.
It is unlikely that the younger Schmid will receive any playing time in Buffalo. He is likely just along to fulfill the third string duties in case there is any injury, and to gain experience for future U20 tournaments. While Ritz is more of the favorite to be a starter for Switzerland, it is more likely that he and Wuthrich will be a tandem in net with both being utilized interchangeably based upon performance. Both goalies have produced similar numbers at Swiss junior level and in lower-tiered men's leagues in their country.
Defensemen
Davyd Barandun (HC Davos), Tim Berni (GCK/ZSC Lions), Dominik Egli (EHC Kloten), Tobias Geisser (EVZ Academy), Nico Gross (Oshawa Generals), Simon Le Coultre (Moncton Wildcats), Elia Riva (HC Lugano).
A fourth-round selection of the Washington Capitals in the 2017 NHL draft, Tobias Geisser is easily Switzerland's best defender. He is a strapping one at that, standing at 6-feet-4-inches and at 200 pounds. The knock against Geisser is that despite his size, he is not known for playing a physical game. The trade-off is that he makes up for any lack of physicality with his sound mobility and a keen hockey sense. Geisser has a hard shot, and he has the ability to find openings in order for him to get his shot away. He could make or break Switzerland depending on how he performs at this tournament.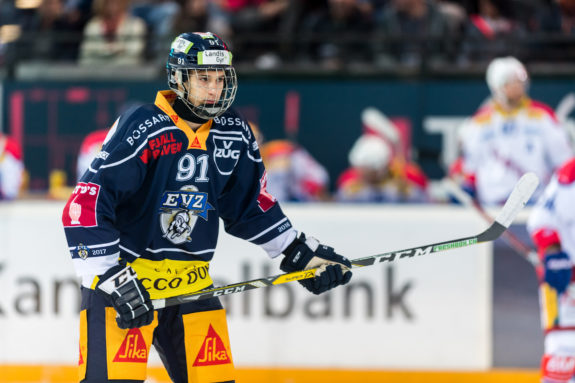 Simon Le Coultre is not a large defenseman by any means, but he does very well at moving the puck up ice and creating plays. Though he is 5-feet-11-inches, he is not even 170 pounds. Obviously, that is rather smallish for a blueliner. Le Coultre's size has not stopped him though in the QMJHL with the Moncton Wildcats. He has had double digits in assists this season and last year too. In 2016-17 he ended up posting three goals and 18 assists for 21 points in 66 games. This year he already has 13 points (three goals, 10 assists) in just 33 games.
The real youngster on Switzerland's back end is Davyd Barandun. At just 17 years of age, he will actually turn 18 during the tournament on January 3rd. Barandun plays in the top Swiss league for HC Davos and is one of the few teenagers in the league. Barandun has gone pointless in his 11 games with Davos this season. However, the experience that he has garnered in Switzerland's top professional league, going up against some players that are 10 to 15 years his senior in some instances, could possibly separate him from the pack in Buffalo. Eligible in the 2018 NHL draft, he may gain more attention by NHL teams as this tournament moves along.
Forwards
Marco Cavalleri (Victoriaville Tigres), Nando Eggenberger (HC Davos), Andre Heim (SC Bern), Ken Hunter (HC Davos), Philipp Kurashev (Quebec Remparts,) Sven Leuenberger (EV Zug) , Guillaume Maillard (Genève-Servette HC), Marco Miranda (GCK/ZSC Lions), Nicolas Müller (Modo Hockey), Valentin Nussbaumer (EHC Biel), Dario Rohrbach (EHC Basel), Justin Sigrist (Kamloops Blazers), Axel Simic (Lausanne HC).
Marco Cavalleri may be a familiar forward to some, but is somewhat of a surprise to make this final roster. The left-handed shot plays in the QMJHL for the Victoriaville Tigres. Size wise, Cavalleri is rather diminutive at 5-feet-10-inches, but less than 150 pounds. Separate from that though, he is lighting-quick. He played briefly with the Tigres last year – just four games. This current season Cavalleri has made 28 appearances and has potted a goal and two assists. But where Cavalleri truly showcased his offensive skills was in Midget AAA playing for Collège Antoine-Girouard Gaulois. In the 2016-17 he scored 17 goals and 20 assists in 39 games.
In this THW writer's opinion, you are going to want to pay attention to Nando Eggenberger. Eligible for the 2018 NHL, Eggenberger is anticipated to be a top-50 selection. He can play either wing which poses some unique options. Eggenberger also have really good size at 6-foot-2 and around the 185-pound mark. Like Barandun, he has played for HC Davos for more than two full seasons. In 55 games he has six goals and three assists. Eggenberger was also part of last year's Swiss World Junior team and has a lone goal in five tournament games.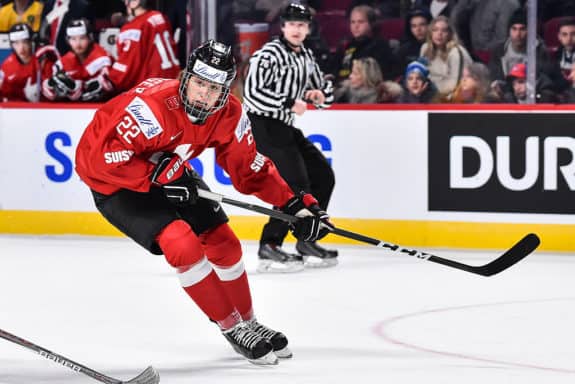 Philipp Kurashev is truly Switzerland's bread and butter when it comes to offense and skill set. This is the guy with the most star power for the Swiss. He plays junior hockey with Quebec Remparts in the QMJHL. At 6-feet and around 190 pounds, Kurashev has scored 29 goals and 56 assists in 98 games for the Remparts. He is anticipated to be drafted among the top 30 players at the 2018 NHL draft. Depending on his performance in Buffalo, his draft stock may go even higher.
The Bottom Line
What the Swiss may lack in size to other teams at this tournament, they certainly make up for it in speed and skill. They are not a powerhouse, in that they do not have the same depth of skill that teams like Canada, USA and Sweden have. But, that does not mean that the Swiss will not pose challenges for other countries. If any team at this tournament is the proverbial dark horse, it would be Switzerland.
➡️CHL Players arrived! #U20
Philipp Kurashev, Justin Sigrist, Nico Gross, Gillian Kohler, Simon LeCoultre and Marco Cavalleri pic.twitter.com/vN82GYMF3c

— Swiss Ice Hockey (@SwissIceHockey) December 13, 2017
Kurashev will need to be firing the puck any chance that he gets. He is arguably the Swiss' most talented forward, which in this case also makes him their most vital one. Eggenberger needs to step up in a major way at this tournament, and show that his top-level experience in his homeland can equate to something more on World Juniors' ice. As previously stated, Eggenberger is accustomed to playing against grown men with years of experience. That could bode well for the Swiss in Buffalo.
In all likelihood, they will finish middle of the pack. Probably around sixth place. That does not mean that they should be underestimated by any team. Because of their speed, the Swiss can make you pay dearly if you are not taking them seriously enough.
---
All the 2018 World Junior Championship Team Information:
Czech Republic — Team Preview — Roster
USA — Team Preview — Roster
Russia — Team Preview — Roster
Belarus — Team Preview — Roster
Canada — Team Preview — Roster
Denmark — Team Preview — Roster
Finland — Team Preview — Roster
Switzerland — Team Preview — Roster
Slovakia — Team Preview — Roster
Sweden — Team Preview — Roster