Switzerland is the consummate dark horse. Often forgotten, but ever capable of being tormenting. The Swiss can be the proverbial thorn in one's side. They have been doing so in what will now be their ninth straight World Junior Championship since 2010.
Housed in Group B alongside Sweden, Belarus, Russia, and the Czech Republic, the Swiss are always, at the very least, plain fun to watch. They have speed, and they certainly have had their fair share of stars over the years. That being said, Switzerland has only ever returned home once with a medal. They won the bronze in 1998 in Finland. Could this be the year that they finally win another? This time they will have the opportunity to do so in Buffalo.
THW takes a look at Switzerland's preliminary roster, and forecasts which players will make the final cut.
Goaltending
Matteo Ritz returns from the 2017 Swiss U20 team to tend goal in Buffalo. He did not see any action as all of the goaltending duties went to Joren van Pottelberghe. Ritz will have every opportunity in 2018 to prove the Swiss crease is his. At 6-foot-3 and well over 200 pounds, he is a sizable goaltender. Playing for HC Sion-Nendaz 4 Vallées of Switzerland's fourth-highest league SRL, Ritz has a 2.33 goals-against average in 18 games this year.
There is a second returning goaltender from 2017, Philip Wüthrich. Like Ritz, Wüthrich did not see any playing time in last year's tournament. Even at 6-foot, Wüthrich is still under 170 pounds. Playing at the Swiss junior level for Bern's U20 team, he has pitched some excellent numbers. He's posted seasons with GAAs of 2.16, 2.09 and 2.95 at the U20 level. In each of those seasons, Wüthrich played at least 10 games.
Madame Plante with Goalie Coach Peter Mettler and Andrin Seifert, Philipp Wüthrich and Matteo Ritz #Goalie pic.twitter.com/mZgdnXRCML

— Swiss Ice Hockey (@SwissIceHockey) November 10, 2017
The third option in net is Andrin Seifert. He has spent the bulk of this season playing in Switzerland's second-tier league for EHC Winterthur. His numbers leave something to be desired for, as Seifert has posted a .848 save percentage and a 5.52 GAA in eight games.
Seifert will likely be the third-string goaltender for Switzerland while Ritz and Wüthrich split the duties down the middle.
Defense
Nico Gross is a returning defenseman from the 2017 World Juniors for the Swiss. He has been playing in the OHL this season and has done a decent job for the Oshawa Generals. In 27 games this year he has contributed three goals and five assists offensively. Not having a birthday until late January, Gross is still only 17 years old even though this will be his second World Juniors.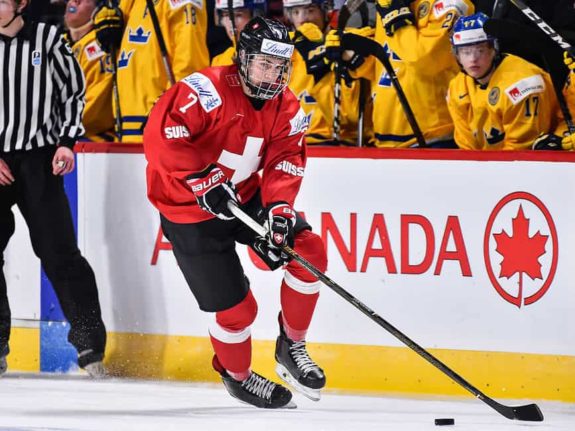 Playing in the QMJHL for Moncton, Simon Le Coultre is another likelihood to make the Swiss team going to Buffalo. During 2016-17, Le Coultre managed three goals and 18 assists in 66 games for an abysmal Wildcats team. While Moncton finished dead last in the QMJHL, he ended up with a rough minus-43. Give the kid some credit though, for such a poor team he put some decent numbers together just the same. This year he has compiled three goals and 10 assists in 31 games.
Tobias Geisser will be Switzerland's most important defenseman for this tournament. Hands down. A fourth-round draft choice of the Washington Capitals this past summer, Geisser has wonderful size and a booming shot. At 6-feet-4-inches, he is an ideal defenseman in almost every way. Playing in the top Swiss league for EV Zug, Geisser has a goal and three assists in 24 games.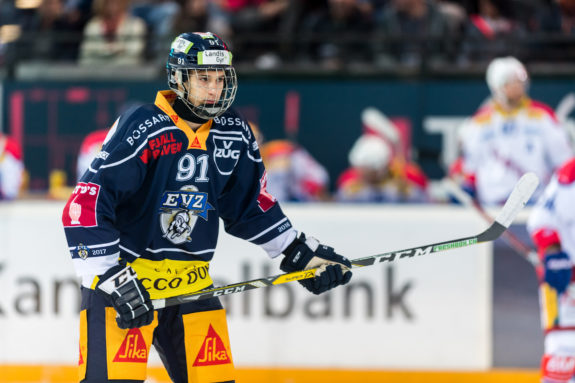 Other defensemen to consider to make Team Switzerland are Davyd Barandun, Tim Berni, Dominik Egli, Colin Gerber, Victor Öjdemark, Elia Riva, and Livio Stadler.
Forwards
Gilian Kohler should easily make the team as one of the more exciting forwards on the roster. Playing junior for the Kootenay Ice of the Western Hockey League, he has scored three goals and five assists in 28 games this season. Kohler is certainly a playmaker. Playing for Biel-Bienne in Switzerland's top junior league, he had 42 assists in 43 games in 2016-17. Having turned 17 in May, Kohler is one of the younger players on this Swiss team, but he is likely to garner a spot just the same.
The Quebec Remparts Philipp Kurashev will be one of the more potent forwards for Switzerland. He is considered to be a top 30 draft prospect for the 2018 NHL draft. In 97 QMJHL games for the Remparts, he has scored 29 goals and 55 assists. Capable of playing wing or center, the 6-foot, 192-pound Kurashev is a sniper and will be one of Switzerland's most enjoyable players to watch.
Repêchage 2018: Philipp Kurashev suit les traces de Nico Hischier https://t.co/WO7MjTl3lW pic.twitter.com/i3LsP3nf9y

— SwissHabs (@SwissHabs) November 30, 2017
Justin Sigrist might be another interesting choice to represent Switzerland in Buffalo. A forward for the Kamloops Blazers in the WHL, he has managed only a goal and two assists in 21 games. But the diminutive forward can also be used interchangeably from center to wing. Standing at 5-feet-11-inches, Sigrist is only around the 160-pound mark. However, throughout his junior career in Switzerland, he has certainly produced. Playing last year with the GCK Lions in the top Swiss junior league, Sigrist 31 points in 41 games, with 22 of them coming as helpers.
One more player worth mentioning is Axel Simic. While he is currently playing for Lausanne HC in the top Swiss league this year, he spent 2016-17 in the QMJHL, splitting the season between the Blainville-Boisbriand Armada and Moncton Wildcats. 23 points in 56 games between the two teams.
The other possible forwards to make the team are Fabian Berni, Marco Cavalleri, Nando Eggenberger, André Heim, Ken Jäger, Sven Leuenberger, Guillaume Maillard, Marco Miranda, Nicolas Müller, Valentin Nussbaumer, Stéphane Patry, Dario Rohrbach, Stefan Rüegsegger, and Dominik Volejnicek.
The Bottom Line
Kurashev will be leading the charge for Switzerland and will be the most fun to watch. Geisser will be the anchor needed on the backend. Besides those two, oftentimes it will feel like a committee approach from Switzerland. But that works. They will be a pesky team. One that could pull off an upset. Enough time has gone by too that they need to and ought to capture some sort of medal.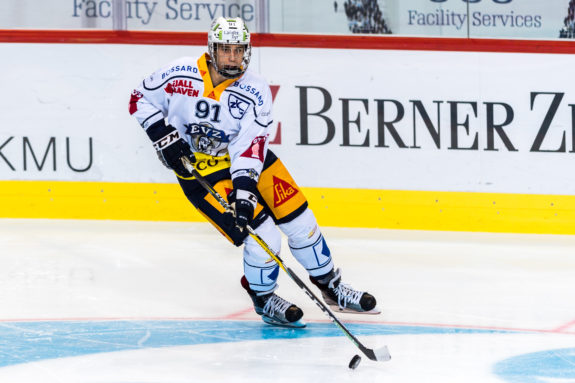 Switzerland is once again that dark horse team. It is their niche, in a way. In all likelihood, they will make some team's life miserable in Buffalo. No matter the outcome, the Swiss will be a most enjoyable team.
Here is THW's prediction as to who makes the final 23-man roster for Switzerland:
Goaltenders: Philip Wüthrich, Matteo Ritz, Andrin Seifert.
Defense: Tobias Geisser, Simon Le Coultre, Nico Gross, Victor Öjdemark, Elia Riva, Tim Berni, Livio Stadler.
Forwards: Philipp Kurashev, Axel Simic, Justin Sigrist, Gilian Kohler, Nando Eggenberger, Marco Cavalleri, André Heim, Sven Leuenberger, Marco Miranda, Nicolas Müller, Stéphane Patry, Stefan Rüegsegger, Valentin Nussbaumer.
---
All the 2018 World Junior Championship Team Information:
Czech Republic — Team Preview — Roster
USA — Team Preview — Roster
Russia — Team Preview — Roster
Belarus — Team Preview — Roster
Canada — Team Preview — Roster
Denmark — Team Preview — Roster
Finland — Team Preview — Roster
Switzerland — Team Preview — Roster
Slovakia — Team Preview — Roster
Sweden — Team Preview — Roster