The NHL Network has been televising the World Junior Championships for 10 consecutive years. They will be doing so again here in 2018 with exclusive U.S. television coverage of the tournament in Buffalo. This comes in addition to providing live game coverage all tournament long, including on-site interviews, highlights, and some of the finest analysis of the games that you will find.
Front and center for the analyst role at this tournament, as he has for all of them since NHL Network has been covering, is Dave Starman. You will not find a sharper, more insightful presenter of knowledge for this tournament than Starman. His delivery is impeccable, and it makes NHL Network's coverage seem to come right off the screen. Starman presents his insight in a way that viewers feel as if he is speaking directly to them. He's charismatic, professional and above all else top of the line in terms of information.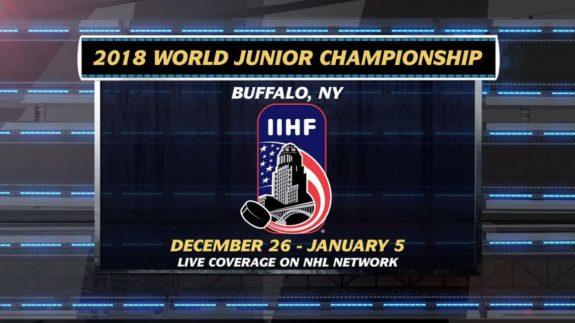 Starman is a renaissance man of sorts. In addition to filling this World Juniors role for the NHL Network, he is a pro scout with the Montreal Canadiens. For 21 years he has been with USA Hockey's coaching education program and is the American Development Model (ADM) Goalie Development Coordinator for all of New York State. Starman has both played and coached professional hockey in the former Central Hockey League. Needless to say, "he knows his stuff."
More importantly though for the 2018 World Juniors, it is how Starman will take that knowledge and bring it home to all of us. THW had the opportunity to catch up with Starman less than a week before the tournament. He shared his thoughts on what we will see in Buffalo, and what to expect from Team USA in particular.
Dave Starman in His Own Words
The Hockey Writers: We are anxiously awaiting the tournament to get underway here in Buffalo.
Dave Starman: It never gets old. This is number 10 for me, and each one of them presents its own unique dynamic. That's why they're so much fun.
THW: That's awesome. I'll try not to take too much of your time, but first and foremost just wanted to thank you for doing this. Sharing your insight. It's really terrific.
DS: My pleasure. I'm always happy to spread the good word when it comes to USA Hockey.
Also, huge thanks to @DU_Hockey and @SCSUHUSKIES_MH for sharing their time this week with Team Starman. Great family experience pic.twitter.com/L5EtWEz9Tz

— Dave Starman (@DStarmanHockey) February 25, 2017
What Starman Enjoys Most About the WJC
THW: Fantastic. So Dave, my first question—you just mentioned a second ago that this is your 10th one for these tournaments. In that time, what would you say you've enjoyed most about the role that you've played in these tournaments?
DS: You know, that's a great question. And I think it's three-fold. I think it's the ability to help teach the game. I enjoy being able to identify a moment in the game where something happens. Whether it be an X's and O's type of thing or a skill display, and I can call down to the producer and I can say, "Hey, mark that play. I want to use it." And then be able to introduce and say, "If you're a young player, take a look at what this defenseman did here because this is a step in your progression as you get older and something that you can learn from." So I enjoy that part of it, as obviously I have a coaching background. That was my identity in hockey for a long time. That would be number one.
Number two is the ability to share with our audience a lot of the great things that USA Hockey has done over the last decade. Starting with the introduction of the American Development Model (ADM). Our philosophy of long-term athlete development. That has swept through our coaching education program and other countries are following suit. It's a wonderful program (ADM) and I think it's helped a lot of coaches. I think it's helped a lot of players. To be able to espouse the hard work of our ADM staff and what they have done to make youth hockey a better place for our players is something that I have enjoyed.
One of the most important lessons a player can learn in hockey is the power of teamwork! #ADM 🏒

MORE: https://t.co/7nNF6Z0hYc pic.twitter.com/9h5PWFcXJm

— USA Hockey (@usahockey) August 16, 2017
The other part of it is that the games have been unbelievable. The ability to see future NHL guys at this stage. A, they're making great plays. B, they're making some youthful mistakes. The pressure that they're under. The grand stage that they are on. I think of that gold medal game in Saskatoon in 2010. I think of that gold medal game last year in Montreal. There have been so many great moments that have come through this. But the ability of these players to literally grow up in front of your eyes through seven games is pretty cool.
How Much Will U.S. Soil Matter to Team USA?
THW: That's fantastic. I don't think you could have answered that question any better. This tournament in particular is kind of a unique set of circumstances in that it's the first time since 2011 that the game is going to be on U.S. soil, and the U.S. is going into it as the defending gold medalists. Do you feel, or do you sense a different sort of vibe about this tournament?
DS: Not in the way that the U.S. is preparing for it as a team. I think that Bob Motzko and his staff have done a really good job of doing what defending champion coaches do at this level. And that is not about defending what you did last year—it's about going out and winning it again. Think about that there will only be five or six guys on the team who were on the team last year. So this is kind of a new group with a new identity. I think that their thought process is more, "Let's just go out and play" as opposed to internally making it any bigger than it already is.
I know that USA Hockey and hockey fans of the United States are looking at this as something really special. Because once again it is the second time they've come home in recent years and be able to defend on home soil. But I think from a team perspective, the game plan is game by game, and then if you get to the gold medal game, go out and win it. But I'm not sure that they're making any different kind of mental preparation because the games are on U.S. soil.
The other thing is that the last time the games were in Buffalo there were more fans from Canada at most of the games than there were from the U.S. because they all came down from over the border to watch the games. They're (the U.S.) the home team, but there are a lot of games that they played in 2011 in Buffalo where you weren't quite sure you were actually in Buffalo.
THW: That's a good way of putting it.
DS: Which was cool. It added a really unique dynamic. It was kind of neat.
Team USA Players to Watch For
THW: Dave, for you personally, is there a particular player for the United States that you're looking forward to watching at this tournament?
DS: "For a lot of reasons—a lot of them. But I'll identify a couple. One is Adam Fox, a defenseman from Harvard. First of all, he's a Long Island kid, and so am I. Always like to see kids from the neighborhood play well and have success. Adam is a really unique player. He's probably smarter beyond his years at times. He is so poised with the puck and makes a lot of things happen when seemingly nothing is happening. Just a very unique, dynamic talent. At this level, he can really do some special things. I thought he played a good role last year, and he'll play an even bigger role this year.
Another one that I'm intrigued to see at this level is Ryan Poehling, for a couple of reasons. One is as you know I am a pro scout for the Montreal Canadiens, and Poehling was our first-round pick last year. Any chance that you get to see the future at a tournament, it's always fun to watch. He's such a dynamic player—he plays so hard. He's got real good puck skill. A great ability to put pucks right on your tape when you might not even think that he knows you're there. He's just a fun player to watch, and I think in this setting and games against other elite teams his A-game could come to the forefront, and we could see some real special stuff out of him.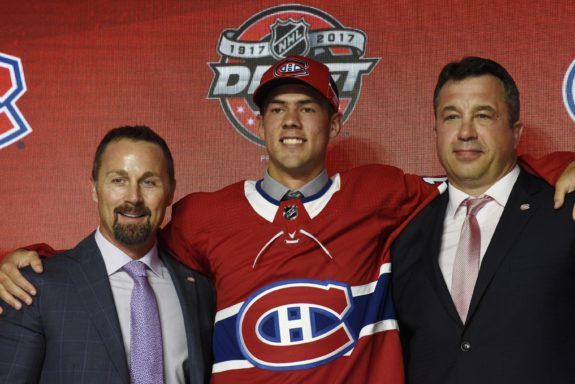 Another guy that I just think is worth watching—he flies under the radar a lot—is Ryan Lindgren. Ryan is your throwback player. He is defense-first, shutdown, tremendous leadership. Has a great ability to hold guys accountable, and provides for that backend a lot of intangibles that you need to win. Starting with grit and the ability to win battles. Ability to move pucks out of the zone. Ability to be physical force. I like a lot of what Ryan Lindgren brings to the table.
Those are just a couple of guys that off of the top of my head I think are very unique.
The Collection of Talent in Buffalo
THW: Most assuredly. It's exciting to see. I guess it is each year, but it seems each year offers this unique collection of talent in one spot. It's pretty incredible.
DS: It really is, and to me the challenge of every World Junior tournament has been which team with all this talent catches fire and chemistry the fastest, to parlay that into a run for a gold medal. It's a fascinating study in short-term team building. Having been through both sides of this, where I've coached teams where you start in September and you finish in March or April, and also you're also coaching short-term tournament teams, the dynamic is so different. You can't build a short-term tournament team the way you would build a long-season team.
I've always believed that you've got to have a couple things happen. Number one is you've got to be able to score. Your power play has got to be good. Your goalies have to be good. But most importantly you've got to find chemistry very, very quickly. You've got to be able to build trust in your locker room very, very quickly among the 20 skaters and two goalies that dress every night. It seems that every year that this tournament gets won, that dynamic is tremendously in play. Most dramatically could be 2011 in Buffalo when the Russians won this whole thing.
So to me, that's what makes this tournament special. That ability to put a team together that quickly and so many different guys. Granted, a lot of these guys played together in the program, but you take so many different entities from so many different schools, throw them all together for three weeks, and see if you can make cake, or if it comes out crumbs."
USA's Three Options at Goaltender
THW: That's a good way of putting it. Can we talk goaltending for a second?
DS: Sure.
THW: You're talking about this collection of talent. There are three elite goaltenders that could potentially take the net for the U.S. In your opinion, who do you see as getting the bulk of those duties?
DS: Again, that's a really good question. I think when you look at the season, let's go one by one. Start with (Jake) Oettinger. You know, Oettinger is a big, athletic kid who takes up a lot of net and plays with a ton of poise and composure. He's got a very young team in front of him at BU. They've struggled to find themselves a little bit, and at times Oettinger has not looked great. But here is a kid who is a tremendous goalie who is going to be a really good pro, and is making a strong case that it should be his net. But remember that he didn't play last year.
THW: Right.
DS: Then you've got (Jeremy) Swayman. Now, here is a kid that's totally under the radar at a program at Maine that has got tradition and is rebuilding, and is unbelievably well-coached. There are some nights where Swayman has held this team in. The series he has just played at Quinnipiac was unbelievable. I mean he literally won one of those games by himself with 50 saves. He is just a picture of all the things that you want a goalie to do right. He's in front of pucks, he's positionally squared, he hits his marks, he keeps rebounds in tight, he's real good with his glove, stick is not sloppy. And he's the guy that is sort of coming in from around the end, and who knows if he makes a really good case to take the net.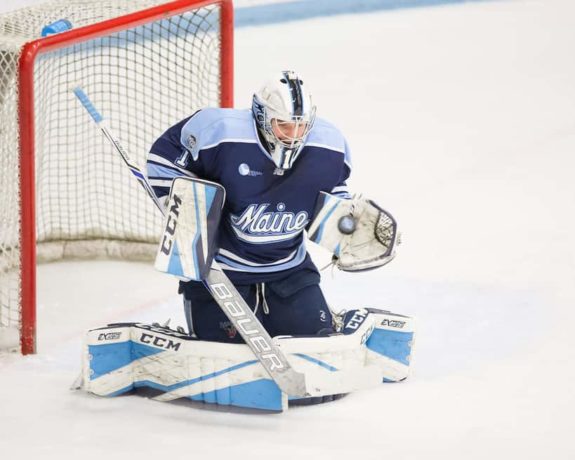 Then you get Joe Woll. I know Joe the best of the three of them. The one thing about Joe that I really like is his game from the time he was at the program until now has really settled down. His economy of movement is better. His athleticism continues to improve. He's not as busy. He's been able to let the game come to him. He is standing up a bit more, and he is chest-up a bit more. Of the three, he might have the best hockey sense in terms of management of the crease, depth in the crease, and how he wants to play situations in front of him.
You can look at all three of them and feel pretty good about who plays on any given night. Woll is the guy who played a game last year and played real well. So you're wondering if that helps him as he moves forward, but I've got to be honest, you've got three kids from Hockey East who can all play. I am as intrigued as you are to see who not only gets Game 1, but most importantly who gets Game 7.
THW: It is pretty exciting at the very least. You're kind of waiting with bated breath to see who it is going to be. I think it is something that most, if not all USA hockey fans are intrigued about. If not the world, for that matter.
DS: Absolutely. Because you've got three good ones.
Brady Tkachuk Likened to the Sandpaper of Greenway
THW: Dave, one question that I am getting asked a lot, and I am just wanting to know your take on it, do you think Brady Tkachuk has a legitimate shot at making the final cut for this team?
DS: I think so. Because you do need some sandpaper in your lineup. And he's got it. He's a kid who's not afraid to hit and he's not afraid to get hit. He makes plays, he's in front of the net, and he goes to hard areas. He is a tremendous puck retriever, he can score, he can skate, and he's a presence in your room. You need those (guys).
You think back on a lot of these teams that have won at this tournament. In fact, in 2010, I think of a guy like A.J. Jenks, or Phillip McRae, or even Danny Kristo gave them a lot of that. So moving forward you think about these players that play big minutes in one place, and he can be a role player elsewhere. You think of 2004 and you think of David Booth, who was a first-line guy at Michigan State, but a fourth-line guy on that 2004 team.
A guy like Brady Tkachuk is a necessary part of all of this, and at this tournament, you can't really hide a guy on your roster. But Tkachuk is a guy, whether you bring him in as your top six or in your bottom seven, Tkachuk can play a role for this team. He's got a great disposition. And the best part about Tkachuk—he understands what this is all about.
THW: That's excellent. Personally, I'm hoping that he makes the final cut because I would like to see him in action at this tournament too.
DS: He could be a Jordan Greenway from last year. He could be the big rig, and Jordan was great last year at that.
Making It out of Group-A Alive and How to Do So
THW: We look at Group A, and obviously Canada is in it. But then you have this trio of dark horses pretty much with Denmark, Slovakia and Finland. What do you foresee as being the U.S.'s biggest challenge ahead of them at this tournament?
DS: Okay, well the Canadians are the obvious one. The Finns are the next obvious one. Now the Finns had a lousy tournament last year. They were so poorly coached, and personnel was not used correctly. A guy like Henrik Borgstrom, who might be one of the top three players in college hockey, didn't see a whole lot of ice time last year. I still cannot figure this one out. I think the Finns are coming in with pedigree. The one thing that the Finns know how to do is play this tournament. They're okay taking a loss. They're okay losing a battle to win the war. They've figured this out, so they can lay in the weeds and having a couple of games that don't look great. Then all of a sudden they get into crossovers and they're dialed in. Don't discount the Finns.
The other two teams, Slovakia and Denmark. I don't want to be disrespectful, but I don't think they're in the same category as the U.S. There's not depth and there's not skill to match the U.S. going 20 skaters deep. For those two games as the first two games, the U.S. will have a chance to work some kinks out and be ready for Games 3 and 4, Canada and Finland. And then head into the medal round.
To me, the biggest challenge is no bad habits through Games 1 and 2. Don't get overwhelmed by the outdoor game in Game 3. Make sure you have found your identity by Game 4. And then get ready to go into the crossovers. But the fact that they're going into the crossovers with their two toughest opponents as Games 3 and 4 I think helps rather than hurts.
What the NHL Network Has Done for American Interest in WJC
THW: Dave, just my last question for you. Obviously like we said, you've been doing this for quite a while now. You're in the USA Hockey coaching program, you've coached at the professional level too. For American hockey fans, what would you say is the biggest reason for them to take in this tournament, whether it's on the NHL Network or it's in person in Buffalo?
DS: Good question. Let me start with one thing about NHL Network. The one thing about NHL Network that I think is really unique here, this tournament was kind of paid attention to in the U.S. but I'm not quite sure about how the popularity was held that it does now. I think that NHL Network should get some credit for that. It kind of flies under the radar.
But with this tournament on the NHL Network, and the availability of the NHL Network for fans to find this tournament easily, and have us calling the U.S. games with the U.S.-based perspective to show the fans what USA Hockey is about. What our American players are about. And introduce them (the fans) to all of these future stars who are from, at times, their own neighborhoods, I think has been one of the best things that has happened for the World Junior tournaments for the United States. It's just added another level to what is being built for hockey in this country, both the traditional areas and the non-traditional areas.
Sorry folks, that was a goal and three assists for Casey Mittelstadt. It was challenging to keep track of all the scoring in this one. https://t.co/LiUG55o2HE

— Amy Moritz (@amymoritz) December 21, 2017
I can't tell you how many friends of mine in the south take pictures of me on screen and send it to me. They say, "Hey, we're watching the game in Atlanta," or "We're watching the game in Boca Raton," or "We're watching the game in Phoenix'." To me, that has proven that this tournament has gripped even the average hockey fan in this country. I think that's awesome.
Getting back to your question, I think the reason that fans should watch this thing is because this is the future of potentially some Olympics teams depending on how this all shakes out down the road. But if not, a lot of these guys that you're looking at are future NHL players.
The Future Stars of the NHL
I'm just looking through the drafts. You've got a first-round draft choice in Kieffer Bellows. A first-round draft choice in Logan Brown. You've got a first-round draft choice in Trent Frederic. A first-round draft choice in Jake Oettinger. You've got second-round picks in Phil Kemp, Ryan Lindgren and Dylan Samberg. You've got guys on this team that are going to play in the league. I have always enjoyed the ability to watch them at the amateur level which I have done now for 14 years of my TV work with CBS Sports Network and the NHL Network. When you're able to see them play in the NHL having seen them at this level, it just makes it more fun because you know what you're getting when they get there.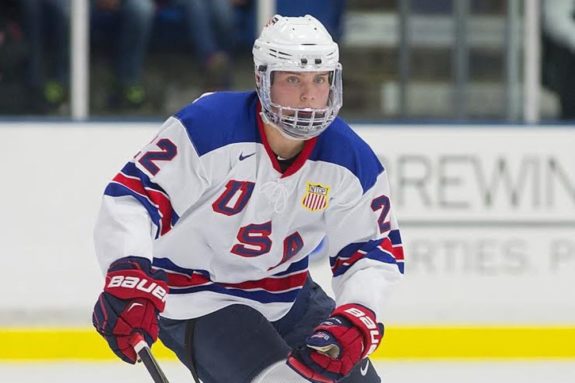 THW: For sure. Again, Dave, thank you so much for your time. You answered each question beautifully for me and gave me just a lot of good stuff to go back with. Is there anything else that you would like to add, or that you would like to include as part of this?
DS: I'll tell you what, one of the fun parts for me has been the amount of people I have gotten to work with. Whether it be on the production side or the management side, or especially on the broadcast side.
Think about some of the people who have called this tournament. Matt McConnell and I did it in year one. Fred Pletsch was on rinkside. Fred, Matt and I had known each other through all of our TV work in the CCHA. Matt and I did CBS Sports Network for four years together and that was cool. I did a tournament with Gary Thorne. I did stats for Gary Thorne when I interned at Sports Channel. Being able to be next to him for one of these things to me was unbelievable.
Working with Steve Mears the last four years. Could you ask for a more consummate pro on the play-by-play side than Steve? And be able to develop a friendship with him. I love the fact that he's gotten to go to his hometown team (the Pittsburgh Penguins) and be able to do play-by-play for them in Pittsburgh.
Good People and Memories Abound
That's been great. The amount of different people on the broadcast side, the amount of production people, and the coaches have been phenomenal. That has been the great part for me. I think as a coach you can learn from any coach. The fact that I have gotten to be in a two-and-a-half-week vacuum with some of the elite hockey minds in our game, and pick their brains and see how they work. See how they run practice and manage teams, and interact with them on a daily basis has just made me a better hockey person. That is something I really, really enjoy.
THW: That's wonderful. It's so nice to hear you say that. Not only am I excited and happy to hear the successes that you have had, but it's through hockey. And it is nice to hear someone appreciate the other opportunities that have stemmed from this as well, and the people you have gotten to meet. Obviously, the hockey community is closely well-knit, and it is just a nice place to be. Anytime you find a story like that, where you have made friends, colleagues, and acquaintances, it hits you right in the heart. It's a really good thing.
We spent many nights together in broadcast booths in the 90s. Now a @CanadiensMTL scout & tremendous TV analyst @DStarmanHockey #Skipjacks pic.twitter.com/XRVbl4iNf5

— Kenny Albert (@KennyAlbert) February 22, 2017
DS: I'll give you the best one. The best one is year one. We're doing a USA-Canada game in the round robin that is a New Year's Eve game. That was the game where the U.S. went up  3-0, then wound up tied 3-3. That was the game where Ryan McDonagh broke his stick trying to make a pass and it wound up on John Tavares' stick. Tavares went in and scored to make it 3-1. Then the avalanche started. I always think of that game as the Ryan McDonagh-game.
But it was in the middle of that game. Apparently, I was getting a little wordy at some point. John Shannon was the director of broadcasting for the NHL Network at that time, he was our executive producer. John, as you know, really helped to create Hockey Night in Canada and was such a force in hockey TV.
So John gets into my yard during a commercial and he says, "Dave, I'm going to give you one piece of advice here – don't tell me who made the watch. I just want to know what time it is." And that quote stays with me everywhere I go. I've got it written down on a little note card. It stays in my bag. It's beaten up, old and torn up right now. It's the one that I wrote in the booth, in Ottawa, right after he said it to me. To me, it was one of the great lessons for me of my career. Trying to help me bottle the egg a bit, and that is, "Don't tell me who made the watch—just tell me what time it is." That is what the fans are interested in.
Watching the WJC on NHL Network
Dave Starman has this tournament down to a science. The World Juniors are very much his baby, and he has fostered it for a decade. This man knows the game of hockey, and he knows the business. He has also learned from the best in the business (for instance, who doesn't think the world of John Shannon?), and very much follows the adage of "never stop learning."
Each World Juniors tournament is still magical to him. Starman talks about the games with the most unbridled enthusiasm. It's contagious in every way.
With the level of talent on the ice and the nations that are involved, taking an interest in the tournament should happen most naturally for all hockey fans. But be certain to watch the NHL Network's coverage of it. Through Starman's insight, you will feel right at home, as if you were having a one-on-one with him. A hockey seer of sorts, you will get caught up in his coverage of the game and will soak it up like a sponge. You will feel that you have the best seat in the house right in your own living room with Starman's words coming through.
He doesn't give you a lot of bluster over who made the watch. Starman just sticks to telling you what time it is.
---
All the 2018 World Junior Championship Team Information:
Czech Republic — Team Preview — Roster
USA — Team Preview — Roster
Russia — Team Preview — Roster
Belarus — Team Preview — Roster
Canada — Team Preview — Roster
Denmark — Team Preview — Roster
Finland — Team Preview — Roster
Switzerland — Team Preview — Roster
Slovakia — Team Preview — Roster
Sweden — Team Preview — Roster
General Manager of the Buffalo Beauts (NWHL). Hockey history writer "The Hockey Writers". Credentialed media for the NHL Combine and 2018 IIHF World Junior Championships in Buffalo, NY, USA. Born and raised in Buffalo, NY. Lifelong hockey fan for over 40 years. Proponent of the women's game.