When Edmonton Oilers defenseman Andrej Sekera went down with a torn ACL last spring, he was given a six-to-nine month recovery timeline. The worst case scenario was that he wouldn't be ready to play until February. If you read a lot of the analytics, Edmonton's defense is hurting right now without him. But the good news for Oiler fans is that Sekera is ready to make his 2017-18 season debut.
There was a bit of foreshadowing on Tuesday when the Oilers waived Nathan Walker and placed Oscar Klefbom on injured reserve, among other moves. According to Bob Stauffer of Oilers Now, those steps were necessary to make room for Sekera, especially if Edmonton wanted to get him into the lineup before Dec. 28.
Between now and then, the Oilers play three times against the St. Louis Blues (Dec. 21), Montreal Canadiens (Dec. 23), and Winnipeg Jets (Dec. 27). There's a high likelihood the Oilers officially activate him ahead of the game against the Blues. In practice, he was skating on a pairing with Matt Benning and was on the first-unit power play.
His addition will lessen the blow of the Oilers shutting down Klefbom for a minimum of seven days to tend to some lingering injuries. It's great news for an Edmonton team that needs to pick up 62 points in their remaining 48 games to have a chance to make the playoffs.
What the Oilers Defense Looks Like with Sekera
The pairings are starting to get some stabilization now with Sekera back in the lineup. As mentioned, he's practicing on a pair with Benning. Darnell Nurse and Kris Russell are on another pair, while Brandon Davidson is with Adam Larsson on the other. Yohann Auvitu and Erik Gryba look to be the odd men out.
OILERS DEFENSE PAIRINGS TODAY WITHOUT KLEFBOM

Brandon Davidson

Adam Larsson

Andrej Sekera

Matt Benning

Darnell Nurse

Kris Russell

Yohann Auvitu

Eric Gryba
With nine defensemen, once Klefbom returns, it'll be interesting to see what Edmonton does with their backend. Both Auvitu and Gryba are waiver eligible, so there's a possibility one of them gets claimed, if and when the time comes. Would they want one of them playing in the AHL, and taking away minutes from the young guys?
The Oilers already loaned Mark Fayne to the Florida Panthers minor league affiliate, the Springfield Thunderbirds, so they'd be back in the same situation if either of Auvitu or Gryba ended up with the Bakersfield Condors. So is it possible we see general manager Peter Chiarelli try to move one of them for a draft pick? It's possible.
OILERS DEFENSE PAIRINGS WITH KLEFBOM

Oscar Klefbom

Adam Larsson

Andrej Sekera

Matt Benning

Darnell Nurse

Kris Russell

Brandon Davidson

Eric Gryba/Yohann Auvitu
Either way, Edmonton's special teams have been ailing without Sekera, more specifically the penalty kill (PK). Last year with Sekera, the team PK was operating at 80.7% (17th). This season it's dipped to 73.0% (30th). Even then, no Oilers defenseman last season had a higher team on-ice save percentage at even strength than Sekera (93.3%).
Oscar Klefbom was the only Edmonton defender who had more points than Sekera's 35 in 80 games last year. In short, Sekera meant a lot to the Oilers, and he's arguably their No. 2 defenseman behind Klefbom when the latter is at his best.
Oilers Gearing up to Make a Playoff Push
It might take Sekera some time to get his legs back under him, no pun intended. Coming back from knee injuries, it's a long adjustment for players. On the positive side, with Sekera, Cam Talbot and, in the next week or so, Oscar Klefbom returning, Edmonton will be all hands on deck. Can this team close the gap heading into January?
It's a tough task, but it's entirely possible as lots of good things are happening right now. The line of Jujhar Khaira, Leon Draisaitl, and Ryan Strome picked up five points in a 5-3 win over the San Jose Sharks this week. Milan Lucic has 18 points in his last 21 games, and Jesse Puljujarvi has six points in his previous eight games.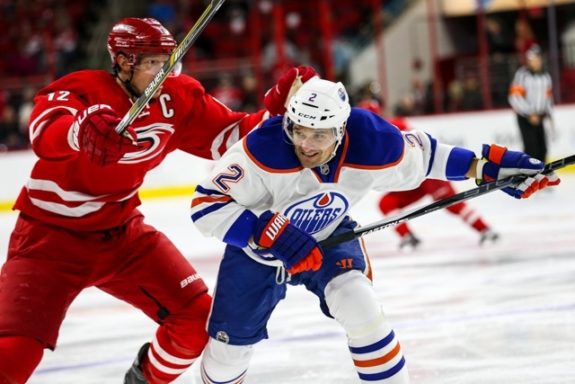 This team has got better on a month to month basis, and now the pieces around Connor McDavid are contributing. The captain has 10 points in his last nine games, which included a four-point night against the Columbus Blue Jackets. To end the month, Edmonton has a favorable four games at home. Edmonton's gone 6-4-0 in the last ten games, but they're 4-2-0 in their previous six.
In 2003-04, Darryl Sutter was the Calgary Flames general manager and coach. He adopted a mentality for his team that they would break each segment of the season into a seven-game playoff series. The Flames focused on winning a short-span of games and ultimately made the playoffs, and lost in the Stanley Cup Final. That might be a mentality to borrow for the rest of the 2017-18 season.
The Flames were also in a similar spot last season as the Oilers find themselves in this season. Calgary was outside of the playoff picture at the end of November, only to claw their way back. So if those dastardly Flames can turn it around, so can the Oilers. To wrap up, Sekera might not be the be all end all answer to Edmonton's woes, but he's a step in righting this ship.
Edmonton Oilers regular contributor providing insight on all things Oilers including club history, prospect profiles, trade breakdowns, and everything else in between. Check back regularly for new and exciting content. Follow on Twitter @SanderTHW.