As the NHL's holiday freeze starts, the Edmonton Oilers have been quite busy. In 24 hours or so, the Oilers have made several moves that affect their clubs at the NHL and AHL levels. For starters, they've played yo-yo with Anton Slepyshev who was sent down and recalled from the Bakersfield Condors. This was because Adam Larsson was activated from the injured reserve (IR) in time to play in Monday's game against the San Jose Sharks.
With Oscar Klefbom dealing with some nagging injuries, the brain trust has decided to shut him down to heal up. Adding to this, Andrej Sekera's return to the lineup is around the corner. Hence the next move, waiving the recently acquired Nathan Walker for purposes of reassigning him to Bakersfield. Walker, 23, was a waiver claim earlier this month, and played two games for the Oilers this season. He went pointless while averaging roughly ten minutes in ice-time with Edmonton. More on that in a second.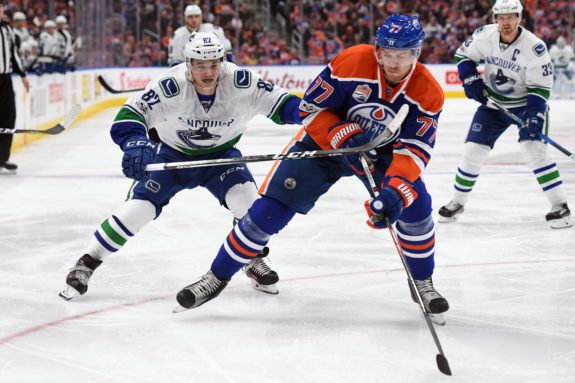 Lastly, Edmonton made two other moves. In one move, they traded prospect Greg Chase to the Florida Panthers for future considerations. In the other, defenseman Mark Fayne was loaned to Florida's AHL affiliate, the Springfield Thunderbirds. All in all, it's a handful of moves that, if Walker is claimed, could put the Oilers at 47 of 50 contracts. This will give some flexibility to make some moves closer to the deadline if the Oilers are in a position to buy.
Andrej Sekera Nearing Return
As Bob Stauffer of Oilers Now mentioned, Edmonton might be planning to play Sekera sooner than expected. If Edmonton plans on activating and playing Sekera before Dec. 28, it would require waiving or placing someone on IR. Walker was waived, and Klefbom was placed on IR. Now the question is when Sekera will play.
He's a welcomed, much-needed addition to the Oilers defense, and was a crucial cog in Edmonton's special teams last season. Justifiably, those special teams haven't been entirely up to snuff this year. The hope is that the special teams get better with Sekera coming back into the lineup.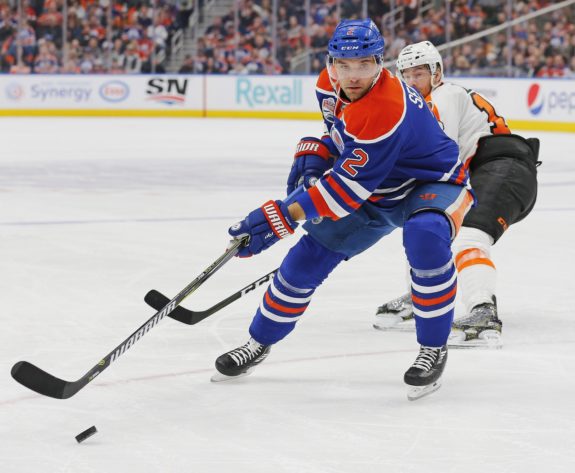 Edmonton's penalty kill at home has been bowling-shoe ugly at a league-low of 58.3%. It needs support while it sits at 72.9% (30th) overall. The power play could also use a boost as Sekera factored into that last year as well.
Edmonton's next three games are against the St. Louis Blues (Dec. 21), Montreal Canadiens (Dec. 23), and Winnipeg Jets (Dec. 27). It's a real possibility that Sekera suits up in one of those three games. He hasn't played since Game Six of the second-round last year versus the Anaheim Ducks. It might take some time to adjust, so don't expect results right away, especially coming off a knee injury.
Quick Hits on Nathan Walker, Greg Chase
Now the big question is if Walker is going to get picked up on waivers. His former team, the Washington Capitals, will be first on the waiver claim list according to Jim Matheson of the Edmonton Journal. Washington drafted Walker in the third round in 2014, and have put several years into his development. He's been a serviceable player for them at the AHL level, and the 23-year-old is a tweener between the two leagues at this point in his career.
We'll likely find out Walker's fate shortly after this post goes live, but it's a possibility. Walker has played just nine games in the NHL, seven of which were with Washington. He was averaging 9:14 in ice-time with the Capitals, and they're still trying to figure out what they have with him. Walker's collected 79 points in 202 games at the AHL level. In Edmonton, he went pointless in both games and was a healthy scratch five times. Will they put in a claim? I'd think so.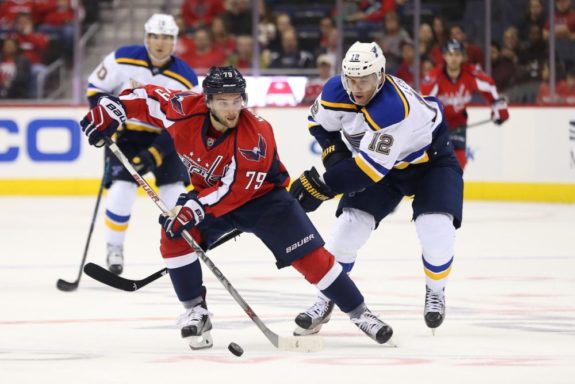 On the flip side, Chase looked like a guy who could be a late round gem for the Oilers a few years ago. A seventh-round pick in 2013, Chase followed up his draft year with an impressive 85 points in 70 games with the WHL's Calgary Hitmen. But something happened after that year, there was a falling out with the Hitmen, and somewhere along the lines, his development stalled.
The 22-year-old has primarily played in the ECHL and has been a fourth-line player for the Condors when he's been with the club. He's a restricted free agent this summer, and for Oiler fans, they should look at this as a contract dump. It's a prospect that hasn't panned out. Edmonton does get some future considerations in this deal, but it's unclear what that is right now.
Mark Fayne & the Bakersfield Condors Defense
The Oilers are still going to be on the hook for Fayne's contract regardless of him being loaned. Unless he's claimed on waivers, which requires a trip to Edmonton first, or a trade, it's unlikely general manager Peter Chiarelli can get rid of his buried $2.6 million cost. The 30-year-old has also played in just six of Bakersfield's 25 games this season.
The belief is that this move will allow the younger guys on defense to continue playing. After losing Ziyat Paigin last month, and now loaning Fayne, the Condors defense isn't quite the logjam it was at the start of the season. Dillon Simpson, Ethan Bear, Caleb Jones, Keegan Lowe, Ryan Mantha, Ryan Stanton, and Ben Betker are the remaining seven-man group now.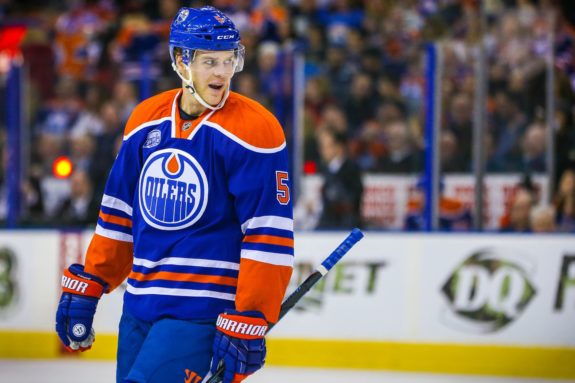 Part of the discussion, as mentioned, was this allows the kids to play. Then again, Fayne was merely a seventh defenseman for the Condors already. Alex Thomas from The Oilers Rig might be on to something. Thomas mentioned that if Fayne was going to spend the year in the AHL, his preference might be to play closer to home. Fayne, being a native of New Hampshire, will be much closer to home now that he's in Springfield.
Not sure how much truth there is to that, but something worth considering. Springfield's defense, like Bakersfield's, is quite young. Fayne will likely continue in his mentorship role, and judging by their depth chart, he'll probably play more than he did with the Condors. Foot speed, a sudden decline in his defensive abilities, and a substantial cap hit was the writing on the wall for Fayne. He played 147 games for the Oilers during his four-year deal.
Closing Thoughts
All in all, things are on the up and up with Edmonton starting to close the gap on a playoff spot. Can this team erase their early season struggles? Time will tell. However, getting reinforcements like Sekera, creating roster space will give their GM some manoeuvrability to improve this roster when the time comes.
This team still needs a top-six scorer. Right now the defense looks stabilized once Sekera and Klefbom return to the lineup. Still, they might need to find a veteran backup in goal due to the recent struggles of Laurent Brossoit. Edmonton's been seemingly stuck at seven points outside a playoff spot since US Thanksgiving. Right now it looks as if it'll take 94 points to make the playoffs in the Western Conference.
With 48 games to go, this team will need to pick up 62 points which will require a .645 winning percentage the rest of the way. Can they do it? It's a tough task, but they'll need to outpace the rest of the Western Conference teams that are in a similar boat to the Oilers.
Edmonton Oilers regular contributor providing insight on all things Oilers including club history, prospect profiles, trade breakdowns, and everything else in between. Check back regularly for new and exciting content. Follow on Twitter @SanderTHW.