Greg Chase is a name not known to many Edmonton Oilers fans.
Not all together surprising with the amount of blue chip, top end prospects taken by Edmonton in recent years that take up much of the spotlight.
The Sherwood Park, Alberta native and Calgary Hitmen forward is starting to put is name on the radar with a breakout 2013-14 WHL season. He's got 25 goals and 50 points in 45 games which leads the Hitmen, and has also helped the team to the WHL's Eastern Conference best record.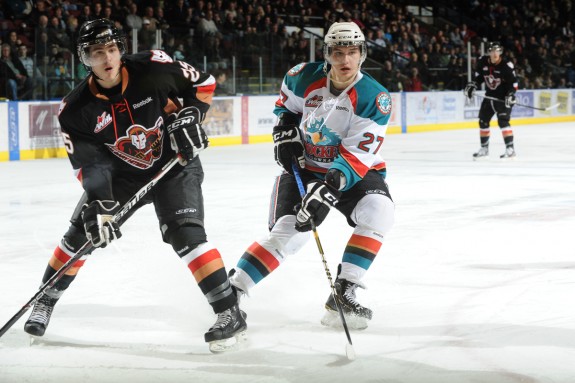 Hidden Gem
Chosen in the 7th round, #188 overall in the 2013 draft, Chase was the last player taken by the Oilers in that draft. Not hard to see why he's flown under the radar.
The Oilers have on their team and in their system some of the best prospects from each draft. Names like Taylor Hall, Ryan Nugent-Hopkins and Nail Yakupov carry the pedigree and prestige as well as talent of first overall draft picks. However for the Oilers to regain respectability in the league let alone some semblance of former glory, they will need some lower round picks to progress and be a pleasant surprise.
Teams that are successful year after year not only draft well at the top end, but also with their depth selections and usually have a few hidden gems jump out to surprise and impress. The Detroit Red Wings are the obvious ones that come to mind and what they've been able to do year after year in the draft.
Recent Stanley Cup champions have had big time stars lead the way but also important role players from their system. Players like Andrew Shaw in Chicago or Dwight King in Los Angeles were key contributors in their Cup runs and were late round selections to name a couple.
The nephew of former NHLer Kelly Chase, Greg has the ability to be that type of player for the Oilers, and certainly would be the definition of a hidden gem.
Click to see THW "The Next Ones" NHL draft prospect profile
Filling A Need
The Oilers have a surplus of offensively gifted forwards. What they lack is size and grit that can contribute in a secondary role. Greg Chase could be a player to fill one of those roles. Projected with third line NHL upside, Chase could be the type of player the Oilers are looking for.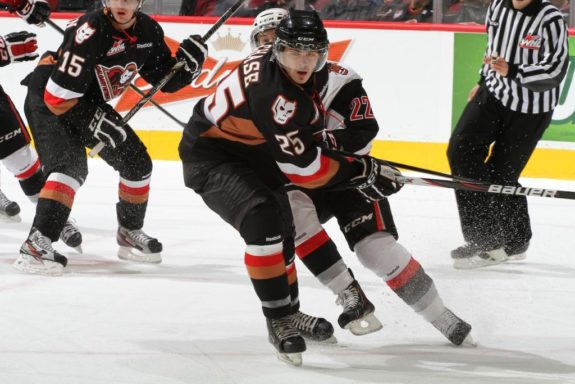 He's an above average skater with good offensive instincts. He also loves to play with an edge, get under opponents skin and has a physical presence. He also impressed current OKC Barons coach Todd Nelson who coached him at the Oilers rookie camp this fall.
"I liked the way he played, he played with sandpaper out there," said Oilers young stars bench boss Todd Nelson. "He has that swagger about him and he was always being vocal on the ice. He was definitely into the game and being competitive."
The Oilers have players like Matt Hendricks and Ryan Jones that play a physical, in-your-face style and are valuable in their role, but provide very little offence. Someone like David Perron is an agitator and can put up points but isn't much of a physical presence.
Chase a Work In Progress
Much is based on Chase's potential. He is still a work in progress and needs to improve his consistency as well as some other areas, but he has gotten better in each WHL season and is one of the best players on his conference's best team. At 6′ and 195lbs he may need to add some muscle, but with a bit of work and continued progression, some may wonder how he ever fell to #188 on draft day.
Two areas the Oilers need help in include secondary scoring and being a harder team to play against. Both Ryan Jones and Ryan Smyth likely won't be with the team past this season so the Oilers will be on the lookout for bottom six players in the Craig MacTavish and Dallas Eakins mold.
He may not be ready next season, but don't be surprised to see him leapfrog some of the players drafted higher than him on the depth chart in the next couple of years and be in an Oilers uniform before them.
_________________________________________________________________________
Carl covers the Edmonton Oilers for THW as well as providing additional prospect coverage. Follow him on twitter @carlTHW, connect on Facebook or contact at carl.maloney@hotmail.com for questions, comments or if you're interested in him writing for you.