Greg Chase THW Close-Up
Date of Birth: January 1, 1995
Place of Birth: Sherwood Park, AB
Ht: 6'0" Wt: 195 lbs
Shoots: Right
Position: Center
NHL Draft Eligibility: 2013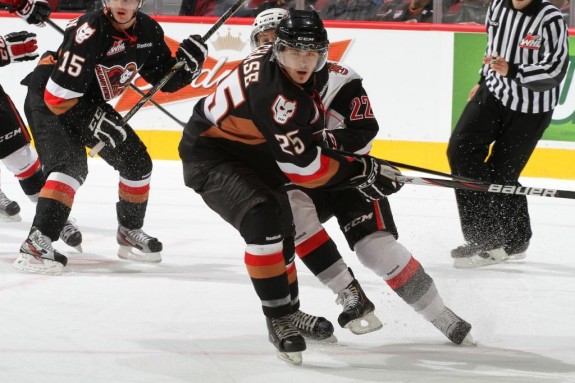 In every draft class, a great deal of attention is paid to the high-end prospects, the guys who had a great deal of flash and pizzazz to their games. So much attention is paid to the higher end of the prospect pool that sometimes very strong players are left as afterthoughts. Calgary Hitmen forward Greg Chase may be one of the better "afterthought" players in the 2013 draft class.
A native of Sherwood Park, Alberta – just outside of Edmonton – Chase has progressed well during his two seasons with the Hitmen. He has made the leap into the team's top-six group and been effective both in even-strength and power-play situations. It's with the extra man (and extra space) that Chase seems to really excel; he's got very good vision and is a strong passer. On quite a few occasions, he's set up very nice scoring plays by head-faking a defender one way and then unleashing a tape-to-tape pass to the other side of the ice. When Chase is on his game, he's visible and creating opportunities on almost every shift.
However, Chase has a few rough spots in his game. He's got a fairly good frame but can get out-muscled in board battles and in traffic. He's a smooth skater but takes a bit of time to get up to top speed. His shot is good but not amazingly accurate yet, although it's clear that he's been working on it.
Moreover, his biggest difficulty is game-to-game consistency. While other players can be found causing havoc for their own team when their games hit the skids, Chase merely disappears when he struggles. The challenge for him will be limiting the disappearing acts to a single game at a time, rather than several-game stretches, as has happened this season.
Greg Chase is not an elite NHL prospect, but he's shown a tremendous amount of potential during his two years with the Calgary Hitmen. If he can eliminate his consistency issues and perhaps add a bit of muscle to his frame, he could turn out to be an excellent project for whichever team selects him.
Scout's Honour:
"I'm not the only one expecting big things from him this coming season.  He's the kind of player you simply notice when he's on the ice.  He's a fairly good skater, has good offensive instincts, thinks the game well and goes out of his way to have a physical presence on the ice." – Cody Nickolet (WHL From Above)
Statistics:
Bio/Interview(s)/Link(s):
International Tournaments:
Chase was a member of Team Pacific at the 2012 Under-17 Hockey Challenge, where he had six goals in five games. He also suited up for Team Alberta in the 2011 Canada Winter Games, winning a silver medal.
ETA:
2-3 years
Risk-Reward Analysis:
Risk 1/5, Reward 3.5/5
NHL Potential:
If he can bulk up a bit and work on his consistency, Chase could easily become a strong third-line forward with second line upside.
Strengths:
Very good passer
Great vision
Willingness to battle for pucks
Plays with an edge
Flaws/Aspects He Needs To Work On:
Developing his defensive game
Continuing to improve his shooting accuracy
Adding some muscle so he can win puck battles
Needs to stay disciplined and not take penalties
Fantasy Hockey Potential:
Offensive 8/10, Defensive 7/10
NHL Player(s) Comparison:
If all goes well, Chase could eventually develop into a Carl Hagelin or Tyler Kennedy type player.
When He'll Go In June:
Chase will likely be chosen in one of the draft's middle rounds, likely in the third or fourth round.
Video(s):