While it may seem like a shock to some, we all saw it coming. We saw it coming from a mile away. The Flyers were for the lack of a better word unprepared for the 2012-13 season.
While the personnel on defense and the turnover with some of the forwards was concern enough, there are a plenty of other factors of why the Flyers are not the same team that put a beat down on the Pittsburgh Penguins in round 1 of the Stanley Cup Playoffs in 2012.
No doubt, the Flyers have their holes this year. But another monster crept up from beneath the surface that did them in like it has some other talented teams in the past. That is inconsistency.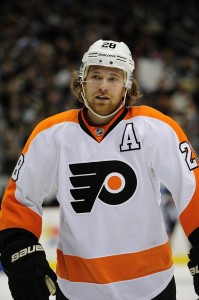 It started with just some holes. The holes transformed into inconsistency. That's how it goes down with the teams that don't make the playoffs at the end of the year. If you look at the NHL from year to year, about half of the teams who miss the playoffs are just bad, and the other half are just too inconsistent. The Flyers had a little of both this season, but in the second half the inconsistency has just made the team really hard to stomach.
You can see the talent there, and it just seems like every game is slipping right through their fingers. Let's take a look at (in no particular order) some of the Flyers links of inconsistency from this abbreviated 2013 NHL season:
1.) Claude Giroux– Giroux had an OK year. Currently he's at 39 points in 41 games at the time of this writing with a -9. He didn't take over games the way we saw him do last year. Say what you want about Jaromir Jagr's departure from the team but the bottom line is the Flyers needed more out of their captain this season. Giroux showed a lot of leadership and fire last year, leading to him being named the next captain. So far, the captain hasn't reproduced that fire we saw last year. He'll need to bounce back next season.
2.) Team Defense – It seems like every time we're talking about a disappointing game or season for the Flyers this category shows it's ugly head. The team defense just wasn't good this year. There's been a few really really bad breakdowns every game the Flyers have played. If you have a Hall of Fame goaltender, an explosive offense with a mediocre defense, sometimes you can escape consequences. The Flyers don't have that.
3.) Goaltending– Bryzgalov hasn't been horrific this year but we have learned that the rumors are true: He's a system goalie. He's never going to be Dominik Hasek or Martin Brodeur and stonewall teams to save a mediocre team in front of him. He's going to go as the team goes. And if the team defense goes bad, so does Bryzgalov.
4.) Coaching – The coaching wasn't the reason this team isn't going to be playing in May, however it wasn't flawless either. As we saw in Carolina, Laviolette isn't much of a long term plan type coach. He is a coach that will not wait more than a game or two for results out of line pairings, etc. Historically he hasn't had as much faith in guy #15 as he's had in guy #1 and rumors of burnout always creep up on Laviolette coached teams. Peter Laviolette is one hell of a hockey coach, but it might be concerning if the personnel is improved and this inconsistency continues into next year. In the past we've seen teams that have loaded up on talent and continued to lose be sparked by a coaching change. I'd imagine Laviolette will be on a short leash heading into next season.
Assuming hell doesn't freeze over and the Flyers miss the playoffs this season, many questions will be answered sooner rather than later. Will Paul Holmgren be back? Will Laviolette be back? If they are, look for aggressive personnel changes early in the summer. The Flyers have rarely been an organization that will take more than one season such as this one on the chin without reacting ferociously.
For everyone else, in a couple of weeks we say let the games begin. And the games for the Flyers management will start shortly after that in July.
Justin Johnson is a Senior Correspondent and has been covering the Philadelphia Flyers for The Hockey Writers since the 2008-09 season. Justin has covered all levels of hockey across the United States and Canada. Justin is a graduate of Rider University in Lawrenceville, NJ and currently resides in Southern New Jersey.