It's clear there are currently many legitimate options in progress that should result in the Coyotes remaining in Glendale where they belong. It would take a monumentally boneheaded set of actions to screw it up, so considering the record or the parties involved in the Coyotes fiasco we know it IS still possible.
Interwebs trolls based in Seattle and Quebec (mostly Quebec) have been drooling over the Coyotes for four years. Their excitement, fueled by their troll brothers from Winnipeg, ramps up near the end of the regular season like clockwork. This year is no exception. Despite the braggadocio, neither of those destinations have anything for hockey but a hole in the ground and a cartoon.
Quebec Isn't Ready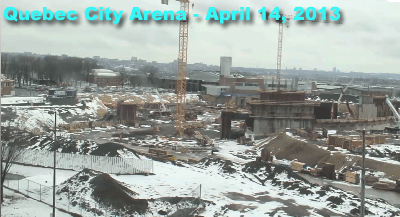 The arena in Quebec City is scheduled to be completed in 2015, with half the $400M expense being borne by the city and the other half by the province.
Recently, Glendale's arena management agreement faced the due process of law whereby citizens drew up two referendums and an initiative attempt to derail the Coyotes deal. They were all defeated, but the people were simply exercising their rights to object to the actions of their government.
To ensure the citizens of Quebec City and Quebec the province weren't afforded the same rights, in September of 2011 the Quebec provincial legislature passed controversial Bill 204 to block ANY lawsuits objecting to any part of their proposed arena agreement that would relinquish control of their government owned arena.
It's ironic that, given the controversy the slap in the face of the citizenry caused, there are frequent chirps directed in French toward the government antics of the City of Glendale.
Quebecor has been anointed as the arena operator; to eventually pay $33M up front, about $3M in rent and 15% of any net profits. Just as in Glendale, Quebecor has to pledge some "community event" dates to their arena owners. Some people object to the deal, but there is no legal recourse for them to pursue.
Seattle Isn't Ready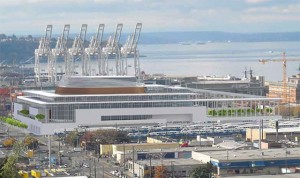 The Seattle arena is on the drawing boards for $490M with $200M of public funding. It appears to be, realistically, contingent on the Sacramento Kings NBA team relocating.
Hopes for a Kings move received a blow a few days ago when  Sacramento interests announced they were matching the Seattle offer, meeting the deadline imposed upon them by the Maloofs (owners of the team). Both sides recently made presentations to the NBA, prompting NBA Commissioner Stern to state the difference between the two offers was no longer an issue.
With the latest announced Sacramento investor promising to be involved in the building of a new arena for the team in Sacramento, the Seattle bid is in serious jeopardy.
So, the scheduled completion schedule for Seattle arena in September, 2015 seems completely out of reach since ground hasn't even been broken and their anchor tenant may remain in Sacramento.
Now Las Vegas has chimed in, again, as an interesting option.
MGM And AEG Partner Up
There have been rumors of the above mentioned Maloof family approaching the NHL for an expansion club for Las Vegas. Since the family owns the off Strip Palms hotel, it might make sense. Gary Bettman is certainly familiar with NBA owners, he may not be anxious to entertain offers from a family with a reputation for douchebaggery. Anything is possible.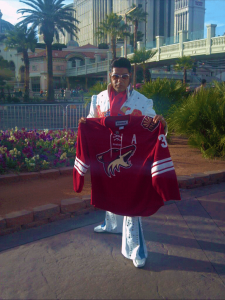 On March 1, MGM and AEG announced their partnership and combined intent to build a 20,000 seat arena in Las Vegas.
MGM Resorts is huge and shares dominance of the Las Vegas Strip with Caesars. MGM had over 9 billion in revenue in 2012 and increased their net profit almost a billion compared to 2010. I'm a Vegas veteran and usually gravitate to MGM properties for lodging and entertainment. (note: One clear exception is the personally recommended Absinthe at Caesars Palace)
AEG owns the Los Angeles Kings and Staples Center among many other things. It's a company that obviously has the chops to run arenas and NHL hockey teams.
Between the two companies, there are essentially unlimited funds to accomplish any task in the sports and entertainment industry. This partnership would present a compelling ownership group for an NHL team.
It's hard to argue with the success of either company. MGM has plenty of experience and success running events in arenas and managing arenas, they even have put on the "Frozen Fury" pre-season hockey game for some time now. So, what would MGM need AEG for?
The most logical argument is they need AEG's expertise in running a professional sports team, an NHL hockey team for example, to make a new 20,000 seat arena on the Strip viable. Putting on a one-time show is substantially different from a 40+ game hockey season and AEG knows how to do it right.
The press release indicates they are well down the path to breaking ground:
Design and planning is well underway and the partners will begin seeking appropriate approvals immediately.
NHL Hockey In Vegas Not A New Idea
Back in 2007, Caesars Entertainment announced their plans to build a similar arena near the Strip (behind Bally's) for an NBA and/or NHL franchise. MGM Resorts opposed the use of public funds for Caesars plans, stating that it would create subsidized competition for MGM's two arenas on the Strip (MGM Grand Garden Arena and Mandalay Bay Events Center). That threat and the ensuing recession that slammed Vegas hard put Caesars arena on the back burner.
It's very unlikely that Caesars would now revive their plans for an arena in the face of the MGM proposal. The inclusion of AEG in the partnership could indicate that some talks have already taken place with a professional sports sanctioning body, the NHL would be only one possibility.
Bloggers and hockey "experts" are arguing Las Vegas isn't a valid hockey market for any number of reasons. Truth be told, their usual ACTUAL reason is "it isn't Canada".
I'll leave it to people who have done actual research and have a track record of success to decide if they think their millions of dollars will be invested wisely. It's the height of arrogance to assume most individuals are better qualified to make a judgment on the viability of a professional sport in Las Vegas than two of the companies that are the best in the WORLD at making those calls.
The Winter Classic was invented in Las Vegas.
The LA Kings defeated the New York Rangers 5-2 in 1991 on an outdoor rink in front of Caesars Palace in the first NHL outdoor game. It was 80+ degrees and the stands were filled to their 13-14k capacity.
[Also: The Vegas Parking Lot Game]
Reinventing Is What Vegas Does
The map below shows where MGM will be building their arena and retail space, in the area between the NYNY and Monte Carlo resorts, with NYNY at the bottom of the map. The MGM sales office for CityCenter is located between the two resorts, so the option of knocking it down for a more lucrative option makes sense.
[googlemaps https://maps.google.com/maps?f=q&source=s_q&hl=en&geocode=&q=monte+carlo+las+vegas&aq=&sll=34.168218,-111.930907&sspn=20.124572,22.609863&ie=UTF8&hq=monte+carlo&hnear=Las+Vegas,+Clark,+Nevada&t=m&fll=36.10343,-115.174162&fspn=0.004811,0.00552&st=107658235038825379151&rq=1&ev=zo&split=1&ll=36.103655,-115.174538&spn=0.001734,0.002784&z=18&output=embed&w=520&h=400]
Having a "dead area" between the two properties on some VERY expensive real estate is costing MGM money.
If you haven't been to Vegas, it's common for people to wander up and down the Strip, visiting places that strike their fancy to drop a few bucks or spend money on booze. Since MGM cut the ribbon on CityCenter, opening Aria and eventually adding more hotel rooms at Vdara, the two neighboring properties have been overdue for revitalization.
Realistic Expectations
All of the above doesn't mean Las Vegas will ever have an NHL or NBA team for their arena. It's an intriguing thought, though.
The "back east" rivalries are at least partially part based on proximity. Having TWO Los Angeles area teams battling it out with a Phoenix team and a Vegas team would be great!
There are over 3 million tourists coming every month, and 65% of them attend shows. There should be enough people to fill the seats of a Strip venue every night assuming nobody local shows up. There ARE local hockey fans in Vegas, though, the Las Vegas Wranglers draw more average attendance than other teams in the "traditional" hockey markets of Elmira, NY and Kalamazoo, MI for example.
Realistically, a Las Vegas NHL team is a long shot. With the booking horsepower of MGM and AEG combined, they could feed a new arena consistently with other shows and "exposition" type things without a professional sports anchor tenant.
While the future of Seattle hockey seems tied directly to an NBA team, Quebec is likely to get a new expansion teams when the time is right. Of course, that was the reasoning when Copps Coliseum was built and it still hasn't happened.