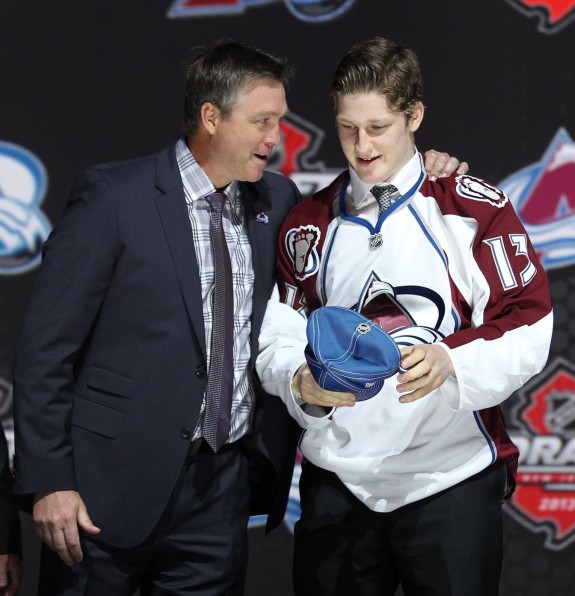 The 2013/14 Colorado Avalanche roster is the result of a change in the direction of  the franchise following the retirement of long time captain and Hall of Famer Joe Sakic in 2009. Since then, the Avalanche have gone through three head coaches and two general managers; struggling to stay competitive with the restrictions of an internal salary cap. Returning as a leader to the front office in 2013, Joe Sakic has led this team out of the basement and back into relevance with help from old pal Patrick Roy. The current Avalanche roster is a perfect storm of high draft picks, bold trades and stingy signings.  Below I will outline how the 2009 draft and Eric Lindros have helped shape this team into a success story.
Avalanche Draft Picks
Paul Stastny C : Drafted 2nd round (44th Overall), 2005
Paul Stastny was selected by the Avalanche in the second round of the 2005 NHL Entry Draft, using a pick from the infamous Eric Lindros trade. He finished second to only Evgeni Malkin in scoring amongst rookies in 2007 and is the longest tenured member of the team. He is having a bounce back year under new head coach Patrick Roy but remains an unrestricted free agent (UFA henceforth) at season's end. However, with Roy also wearing  the VP of Hockey Operations hat and the fact that he has used Stastny against the opposition's best lines on a consistent basis, it seems likely that Paul will remain the longest serving Av' for quite some time. 
Matt Duchene  C : drafted 1st round (3rd Overall), 2009
At the time, Matt Duchene was the highest draft pick in franchise history since the Nordiques selected Lindros in 1991. Growing up an Avs fan, Duchene could not contain his excitement when the Lightning passed on him to select Victor Hedman.
His play has taken a step forward this year and is a major reason why the Avalanche have had such a great season thus far. Duchene's progression has been recognized league wide, proven by the fact he has been chosen to represent Team Canada at the 2014 Olympic Winter Games in Sochi, Russia. Luckily for Avs fans, Duchene signed a 5 year extension in the summer and is a core part of the team moving forward.
Ryan O'Reilly  C/LW: drafted 2nd round (32nd Overall),  2009
Ryan O'Reilly was  the first non-first round draft pick to immediately make the NHL in his post-draft year since 2003-04 (when Dan Fritsche and Patrice Bergeron did it). During the lockout, he was in a contract dispute that led to the infamous offer sheet from Jay Feaster and the Calgary Flames. The Avalanche matched immediately and the winger is set to earn a qualifying offer of 6.5M if they do not reach an extension before hand. O'Reilly is enjoying a career year on Matt Duchene's line and he currently leads the Avalanche in goals, game winning goals, takeaways and time on ice amongst forwards. Despite these stats, his name continues to be brought up in the media as a potential trade target because of his earlier contract dispute. If I'm guessing, VP of Hockey Operations (and Head Coach) Patrick Roy have a good relationship and a fair 5+ year extension will be reached.
Tyson Barrie  D:  drafted 3rd round (64th Overall) 2009
Tyson Barrie is a third product of the important 2009 draft currently on the squad. Of their 7 picks that year,  five remain with the team in some capacity (Stefan Elliot and Kieran Millan the other two). Barrie seems to have finally solidified himself in the Avalanche lineup after bouncing up and down to Lake Erie. The impending restricted free agent has great offensive instincts and in his short stint with the club already holds the franchise record for OT goals among defensemen with three; two of them coming this season.
Gabriel Landeskog  LW: drafted 1st round (2nd Overall), 2011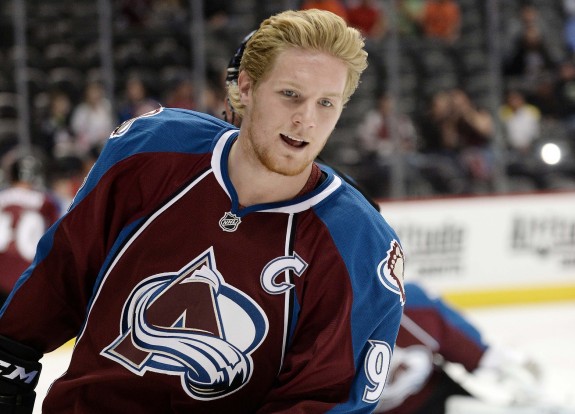 Although it was Colorado's 2nd overall draft pick that selected Gabriel Landeskog in 2011, it was the Craig Anderson trade earlier in the season that allowed it to happen.Anderson went from a 0.897 save percentage (sv%) with the Avs to a 0.939sv% with the Senators and single-handedlyhelped them climb up the standings. Elliott continued to struggle in Denver, and the team finished in the 29th position once occupied by the Senators.   Landeskog went on to win the Calder Trophy and made history the next season when he was named the youngest captain in NHL history.  Like Duchene, the hard working captain signed a long term extension last summer to remain with the club for the next 7 seasons. 
Nathan MacKinnon  C: drafted 1st round (1st Overall), 2013
In a lockout shortened season, the Avalanche finished in last place in the Western Conference and second last in the league, only ahead of the Florida Panthers. However, the Avalanche won the 2013 draft lottery which won them the 1st overall selection and their choice of the prospect crop. Many thought because of their need on defense, the Avalanche would select Seth Jones (selected 4th overall by Nashville)  with the pick, but MacKinnon was too good to pass up.[su_quote url="http://www.youtube.com/watch?v=1axx9Zio3uA"]His will to compete and perform under pressure is what ultimately separated Mackinnon from the pack. "Whatever challenge he's been in, he's risen his game to another level", said Sakic. "He wants to be a difference maker and he is a difference maker[/su_quote]After taking some time to adjust to the pro game, MacKinnon's development has turned rampant and the 18 year old currently leads rookies in most offensive categories.
Free Agent Signings
Patrick Bordeleau LW:  Signed 2011
Bordeleau is one of the best feel good stories in the league. The Minnesota Wild draft pick bounced around six different teams and two different leagues in 2009 before signing with the Av's AHL affiliate Lake Erie Monsters. He has worked his way up through the lineup ever since and his 6'6 frame makes him one of the true heavy weights in the league. The Avalanche re-signed the hulking forward to a three year contract last year.
Marc-Andre Cliche  C/RW: Claimed off waivers, 2013
Though he couldn't find a spot in L.A., the Avalanche jumped on Cliche once he hit waivers. Roy was familiar with him from his time in the QMJHL and he has been leading the Avs in PK time (2:28 per game).
 Cody McLeod  LW: Signed 2006
McLeod is another undrafted player carving out a long career in the NHL. Signed by the Avalanche in the summer of 2006, he is the second longest tenured player on the Avalanche. Cody has been a fixture in the lineup and has blossomed into a leader on the team as he was named one of the alternate captains this season.
 John Mitchell  C: Signed 2012
John Mitchell was signed to a 2 year, 2.2M contract with Colorado on the first day of free agency of 2012. After lack luster years in Toronto and New York, the versatile forward has found a niche on the Avalanche.  He is the only Av' player to have played on every line in every position.With his contract up in the summer, it will be interesting to see if his strong season will draw trading partners as the Av's health up front improves heading towards the deadline.
P.A. Parenteau  RW: Signed 2012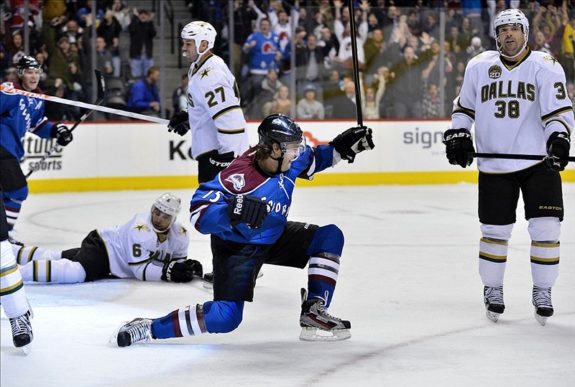 P.A. Parenteau is another journeyman player that has been a late bloomer in the NHL. After being drafted in the 9th round of the 2001 entry draft by the Anaheim Ducks, Parenteau would not play in his first full NHL season until a decade later. He had great success with the Islanders, notching 53 points in his first season and followed that up with 67 points in the 2011/12 season.  That summer, he signed a 4 year contract with Colorado. He has continued his strong play with the Avalanche and has shown he can be a compliment to any of the team's top three centers.
Andre Benoit  D: Signed 2013
Benoit is one of four new defenseman on the Avalanche roster this season. Signed as a free agent in the summer, the 30 year old was impressive in Ottawa last year once the injury bug hit the team. Now in his first full year in the league, Benoit ranks third on the Avalanche in ice time (averaging 20:37) and is one of many newcomers on the blue line getting the chance to prove himself at the NHL level.
Nate Guenin  D: Signed 2013
I doubt both Guenin and the Avalanche front office thought that he would still be in the big leagues come late January.  He has been a favorite of Roy since he was signed: "He was brought in as our first injury call-up, but from the start of training camp right up until the Pittsburgh game he forced us to play him". When the coach told him to get out of his hotel and find a place, the 31 year old was in tears. His play has impressed the club so much that they signed him to a two year extension earlier this month. The 31 year old has bounced around 5 different NHL teams since being drafted but seems to have found a temporary home with the Avalanche.
Jan Hejda  D:  Signed 2011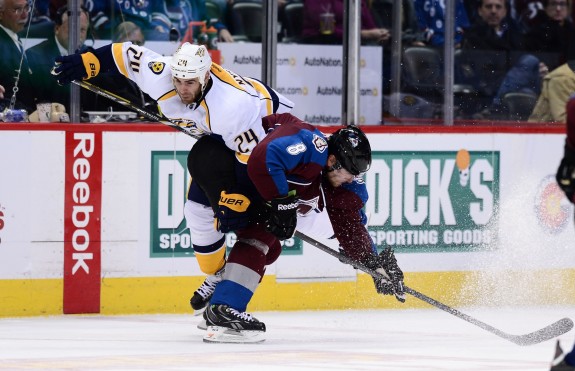 Hejda was signed to a four year contract by the Avalanche on the first day of free agency in 2011 and is having a career year as a 35 year old. Formerly of the Columbus Blue Jackets, the Czech Republic native is leading the team in ice time, hits and plus/minus, making him the official un-sung hero of this season. He has already matched a career high in goals and along with Erik Johnson makes up the team's top pair on defense.
Nick Holden  D: Signed 2013
Nick Holden is another free agent signing from this most recent offseason. He recently had a career best night against Nashville registering 2 goals and 3 points with his bomb from the point. It will be interesting to see where he lies in the eyes of the coaching staff as the team gets healthy.
J.S. Giguere  G: Signed 2011
The former Conn Smythe winner Giguere was the first goalie in Avalanche history to start the season 7-0 earlier this year. He signed a one year extension last season and is a UFA in the summer. The veteran goalie has been a solid backup while in Colorado and is a great mentor not only for Varlamov, but also the Avs' prize rookie MacKinnon as he has welcomed the youngster into his home.  
Player Acquisitions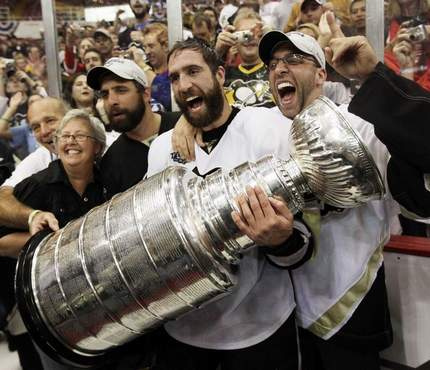 Max Talbot  C/LW: acquired from Philadelphia Flyers, 2013
Talbot was acquired earlier this year from the Philadelphia Flyers for winger Steve Downie. The veteran forward has brought his strong defensive game with him and has stabilized the penalty kill. His Stanley Cup playoff experience will be vital for a young team still learning how to win.
Jamie McGinn  LW: acquired from San Jose Sharks, 2012
McGinn came over in a trade with prospect Michael Sgarbossa from the San Jose Sharks on the 2012 trade deadline in a deal that was a clear win for Greg Sherman and the Avalanche. In return the Sharks acquired T.J. Galiardi and Daniel Winnink, two players no longer on their roster.  The versatile winger  recorded his 100th career point earlier this month and adds some much needed size and physicality to Colorado's top 9.
Alex Tanguay  LW:  acquired from Calgary Flames, 2013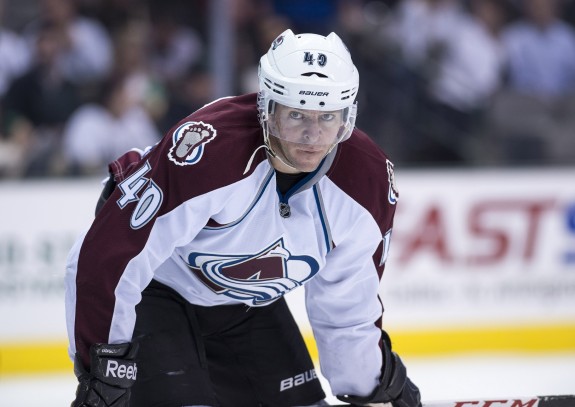 Originally drafted by the Avalanche in 1998, Alex Tanguay returned to the squad this past summer in what was the new regime's first move to start the offseason. Both Joe Sakic and Patrick Roy have played with Tanguay during his last tenure on the team, so they knew what they were getting in Alex. Though Tanguay has only played in 14 games this season, the Avs are 13-1 with him in the lineup.
Erik Johnson  D: acquired from St. Louis Blues, 2011
The former 1st overall selection by St. Louis in 2006 was acquired in a blockbuster deal in 2011 that saw four players and two draft pick switch teams.
The Blues have traded Erik Johnson and Jay McClement to Colorado for Stewart and Shattenkirk. Draft picks also included.

— Jeremy Rutherford (@jprutherford) February 19, 2011
Like many players on the Avalanche, Johnson struggled to find consistency under former head coach Joe Sacco but is now enjoying a career year in 2013/14. He is the only "house-hold" name on the Av's blue line and has been the team's #1 defenseman since he dawned the burgundy and blue. After a knee injury early in his career seemed to stall his development, the 25 year old is playing the best hockey of his career and leads the team in ice time and blocked shots, and is ranked first amongst defensemen with 7 goals and 25 points.
Cory Sarich  D: acquired from Calgary Flames, 2013
Cory Sarich was another piece of the trade with Alex Tanguay that saw David Jones and Shane O'Brien head to cow town this past offseason. Sarich's physical play and playoff experience is what attracted management's attention, and he has formed a nice complimentary pairing for Benoit for most of the year. As an impending UFA, it is unclear what his future looks like in Denver.
Ryan Wilson  D: acquired from Calgary Flames, 2009
Ryan Wilson was signed as a free agent by the Calgary Flames in 2008 and traded to the Avalanche shortly after in an extension of the Eric Lindros deal mentioned earlier. The hard-hitting defenseman has shown some flashes of an offensive game but has struggled to find consistency due to regular trips to the IR. If he can regain some of his previous form he would be a great addition to Colorado's blue line, but at a salary of 2.25M for this year and next his future with the team could be in jeopardy.
Semyon Varlamov G: acquired from Washington Capitals, 2011
After the trade that saw Craig Anderson move to Ottawa, the future in goal for the Avalanche was very uncertain. This prompted GM Greg Sherman to make a bold move and trade a first and second round pick for the former 1st rounder Semyon Varlamov. Varlamov had put up impressive numbers in Washington along with a great effort in the postseason; culminating in this save on Sidney Crosby in the 2009 Eastern Conference Final:
Despite his success in the capital, Varlamov got lost in the shuffle because of nagging injuries and the emergence of Michael Neuvirth and Braden Holtby. Some questioned Varlamov's health, but no one could deny his talent. Despite the play of Erik Johnson and Matt Duchene this season, Varlamov has been the team's MVP this season. Behind a questionable defense, the Russian Olympian has put up an impressive 0.925 sv% and 2.39 GAA so far this season and recently went 16 straight games without a regulation loss (snapped by the Toronto Maple Leafs). With his bargain contract of 2.83M expiring this offseason, the soon-to-be RFA will surely demand a hefty raise in his next deal.