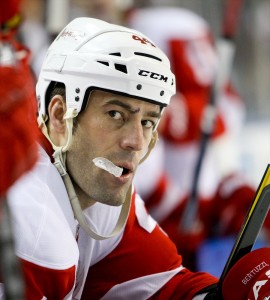 I don't mean to harsh anybody's buzz who is drinking the Todd Bertuzzi Cool Aid, but Big Bert has become a huge defensive liability for the Detroit Red Wings.
His recent stretch of lackluster play has inspired little confidence that he is going to work out of his funk any time soon. Coach Mike Babcock was so frustrated with Bertuzzi's game that he made him a healthy scratch Friday night vs. the Montreal Canadiens.
Babcock confirms Bertuzzi is a healthy scratch. — Ansar Khan (@AnsarKhanMLive) January 24, 2014
Plus/Minus Struggles 
As we sit today Bertuzzi is sporting a team worse minus-16. Some hockey people say the plus/minus stat is overrated, however, I do not fall into this category. Bertuzzi has struggled for the better part of the season and this stat accurately reflects his level of play to this point in the year.
The odds of an opposing team scoring a goal drastically increase when No. 44's skates touch ice. It's hard to believe how much Big Bert's play has dropped off in just a couple of years when you consider only two seasons ago he finished the year a plus-23 for the Wings.
Goal Scoring Drought
19 games and counting.  Tuesday December 10 was the last time Bertuzzi found the back of the net in an NHL game. Overall, he has just 1 goal in his last 27 games for the team.  This lack of production from the Sudbury Ontario native is particularly frustrating for a Red Wing group struggling to keep their heads above water as the injuries continue to mount.
Thoughts that Bertuzzi would pick up some of the offensive slack without two of their top scorers (Johan Franzen & Pavel Datsyuk) in the lineup have never materialized. Consider this: in his 19 games, Darren Helm has more goals than Todd Bertuzzi does in the 44 games he has dressed for this season.
End Of The Road
By no means am I a Todd Bertuzzi hater, but it looks to me that this is the end of the line for him.  He has a lot of hard miles on that old rickety back of his and I just don't think he can do it physically anymore.
Truth be told he was never the same player after the Steve Moore incident and that's pretty understandable. However, I would still love to see him go out on a high note. I'm holding out hope that he is saving his best hockey for the playoffs because there's nobody I'd like to see lift Lord Stanley's Cup more than Big Bert.
Check out our partners at TiqIQ for the best deals on Detroit Red Wings tickets for all 2013-14 games.
Growing up in London Ontario I only had 2 choices: Wings or Leafs. Fortunately, with a little strong arming from my Dad I made the right choice and have been a Wing Nut ever since. My loyalty has never wavered through the good times and bad… even after enduring plenty of ridicule at school because of Borschevsky's goal in '93. My favorite time of year is early spring when playoff hockey begins, playoff beards are sprouted, and the dream of Detroit hoisting Lord Stanley's Cup presents itself one more time.