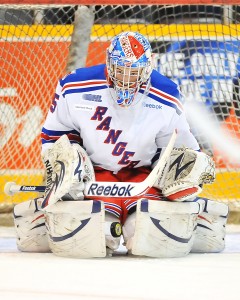 The Norfolk Admirals and the Wilkes-Barre/Scranton Penguins squared off Friday night in an East Division showdown in downtown Norfolk. Prior to Friday's game, Wilkes-Barre/Scranton held a slim      3-point advantage over Norfolk in the East Division standings.
Before the Friday night matchup, Anaheim bolstered their affiliate's blue line by reassigning Sami Vatanen who was recently named to Finland's Olympic roster. In addition to Vatanen, Norfolk added Steve Eminger who has 488 games played in the NHL. Eminger was signed to an American League contract Thursday. Prior to joining the Ducks AHL affiliate, the 30-year-old was under contract with HC CSKA Moscow in the Kontinental Hockey League.
The goaltending matchup included Penguins Jeff Deslauriers who bolstered a 2.36 GAA while the Admirals gave the starting nod to John Gibson who came in with a 2.48 GAA.
The Admirals continued to build on their power play success as Devante Smith-Pelly netted his 13th goal of the year as he tipped in an Alex Grant blue line bomb at the 14:32 mark of the first period.
John Kurtz doubled Norfolk's lead four minutes after the Smith-Pelly marker as a loose puck deflected off Kurtz's skate and hopped over Deslauriers giving the home team the say so heading into the middle stanza.
Six minutes into the second period an all out line brawl broke out between the two clubs resulting from Deslauriers jumping Norfolk's Zach Stortini over a loose puck battle. Following the incident Gibson and Deslauriers skated towards their benches, words were exchanged between the two; however; words were followed by blows resulting in a center ice goalie skirmish in which Gibson got the better of his counterpart.
Lone referee Steve Patafie deemed Deslauriers the aggressor in the goalie dust-up and ejected him for the remainder of the game. Penguin's Eric Hartzell replaced Jeff Deslauriers.
The next goal came with two minutes remaining in the second as Wilkes-Barre/Scranton's Zach Sill buried Brian Dumoulin's slap shot from the point.
Norfolk's Devante Smith-Pelly netted his second goal of the night on the power play as linemate Emerson Etem sauced a picture perfect pass to Smith-Pelly whose shot eluded Hartzell bringing the score to 3-1 in the lighter half of the third period.
David Steckel added insult to injury as he potted an empty net goal polishing the Penguins 4-1.
Following the 4-1 victory Norfolk's Head Coach Trent Yawney talked about his team's performance, "Our power play scored two big goals for us tonight.  They're a tough team to score against at the best of times."
Yawney also said, "They (Penguins)  are a good hockey team. They're well coached and it's usually a goal here or a goal there is the difference. Our goalie made some big saves when we needed them."
Coach Yawney also shared his thoughts on Gibson's skirmish, "We have a team that sticks up for each other and he's no different."
Friday night's game was full of emotions for both clubs which means bad blood may spill over to the Saturday night rematch. Yawney addressed the issue by saying, "Sometimes it does, sometimes it doesn't, but that's not my job."
After Gibson's duel, the fans gave him a standing ovation. The 20-year-old commented on how it felt describing, "It's really great when they stand by us and I think everybody gets excited."
Norfolk cashed in on two out of three power play chances while Norfolk's PK unit erased all five infractions.
Norfolk's John Gibson was credited with the win, although Wilkes-Barre/Scranton's Jeff Deslauriers was ejected he was handed the loss.
The same two teams rematch Saturday at 7:15 at the Norfolk Scope Arena in downtown Norfolk.
VIDEO
If two goalies going at it is all you want to see, skip to the 1:30 mark.
Follow Ted on Twitter @Bauerhockeydude
Ted grew up in Virginia. Warren has a passion for the AHL and dishes out articles about the Norfolk Admirals and the AHL. Follow him on Twitter @bauerhockeydude