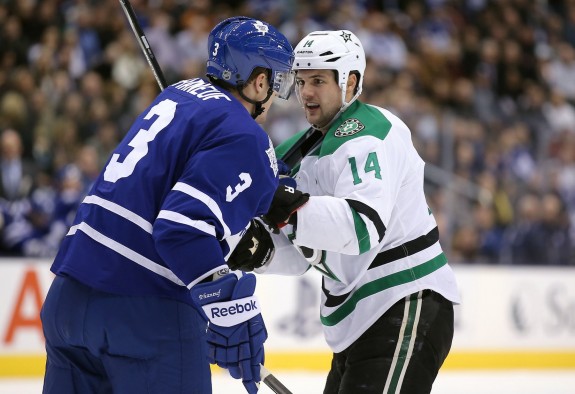 It was a hell of a way to end a season-high six game winning streak for the Maple Leafs.
After a thumping victory over the Phoenix Coyotes on Tuesday, the famous Toronto 18-wheeler, a high-speed juggernaut for most of January, hit an enormous bump in the road Thursday in Dallas and is currently sporting an ugly flat. Leafs fans will be hoping Randy Carlyle is hiding a repair kit in the back somewhere.
It's not a disaster – with those six wins the Leafs are right back in a playoff picture which was beginning to look a little distant after a very average December when the team took 12 points from a possible 28, and floated on the edge of the Wildcard spots.
Noone's throwing this team under the bus here – 9 games in 14 days will produce an understandable level of fatigue – but you have to wonder what it is that makes swerve from all-round solid efforts to absolute laughers in the space of two days.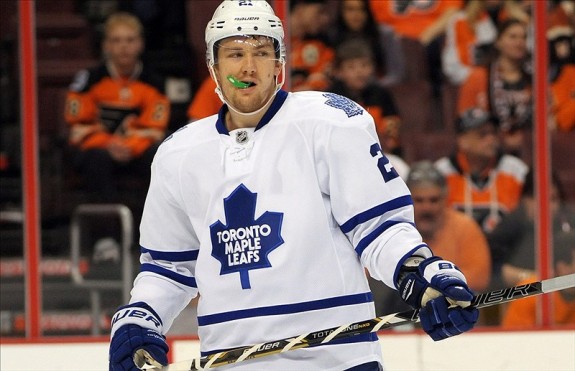 It's been that way all season for the Leafs, to be fair. They'll choose a night to play like a team still raging over the Boston Massacre last season, hit everything that moves, win every corner battle, plant themselves in front of the net and rain down shots, then they'll produce the effort they did against Dallas.
What's behind it? Is it just road-fatigue… or something else? That morning Randy Carlyle, when asked for his thoughts on the stellar form of the top line, replied, "Check the size of their paycheques. Isn't that what they're supposed to do?" Whilst you might not be able to argue with the sentiment, it was an unnecessarily sarcastic answer reminscent of his wearyingly acerbic predecessor.
Perhaps James Van Riemsdyk, Phil Kessel and Tyler Bozak were offended, because they didn't show up that night. "Maybe we were a little overconfident after the way we've been playing lately," said Bozak, who was minus-4 for the evening. "I think we just flush that one."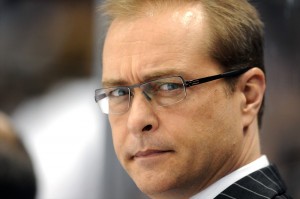 Writing in the Globe and Mail, James Mirtle made reference to how the Jekyll and Hyde Leafs have created two types of Leafs fans –  the boundlessly optimistic and the dismissively cynical. Such is the flip flopping between good and bad performances on the ice, a single Leafs fan would be forgiven for going through both emotions in the space of three games.
As a result, it remains too early to judge this team and you have to expect that the infuriating yo-yo-ing will continue right up until the pit-sweatingly tense few days before the playoffs. The Leafs don't tend do anything the easy way, as any of the cynical camp will tell you.
It'll be interesting to see how the Leafs perform in the deafening madhouse that is the MTS Centre in Winnipeg. The Jets, who have also just had their winning streak snuffed out, will also be looking for a recovery performance and you have to feel there'll be an extra jump in their step when the Leafs come to town.
You'd expect a good contest at the very least – Van Riemsdyk in particular is a joy to watch, especially with a bee in his bonnet – but you never quite know what to expect from mood-swinging Maple Leafs these days.
Check out our partners at TiqIQ for the best deals on Toronto Maple Leafs tickets for all 2013-14 games.