After a tough 5-3 loss to the Syracuse Crunch, the Providence Bruins got back on track Saturday night thanks to a domination performance by one of the AHL'S most lethal top lines. Kenny Agostino, Jordan Szwarz, and Austin Czarnik put together three highlight reel goals in the first period to take the air out of the Giant Center on Bears Hall of Fame night in Hershey.
The trio picked wreaked havoc on the Hershey Bears' defense, making quick passes that led to tap-in goals. Bears goalie Pheonix Copley, one of the AHL's best last season, would eventually take out some frustration by fighting P-Bruins goalie Jordan Binnington in a wild second period. The Baby B's top line is quickly developing a chemistry that will frustrate goalies throughout the league.
P-Bruins – Top Line Dominance
Szwarz and Czarnik are familiar with each other after playing together during the 2016-17 season. Agostino was the MVP of the league in 2016-17 and has an ability to make the players around him better. That was demonstrated during Agostino's goal Saturday night when he made a behind the back pass finding Czarnik in space. Czarnik's return pass to Agostino made for an easy goal and left the Hershey defense looking dizzy. All three goals from a dominating first period are worth watching again.
This is the third season for Czarnik in the Bruins organization, signing with the team after four years at Miami University. He is nearly a point-per-game player in his AHL career and played 49 games with the Bruins last season posting a 5-8-13 stat line.
He has consistently pushed for time in Boston. The diminutive 5-foot-9 forward gives the P-Bruins speed and playmaking ability to compliment Agostino on the top line. Czarnik has proven his scoring ability and should gain confidence in his development playing with Szwarz and Agostino. The P-Bruins top three forwards will create space for each other, leading to more scoring opportunities.
Szwarz joined the Bruins organization after spending the first five seasons of his career in the Coyotes' organization. The Burlington, Ontario native had a breakout season offensively for the P-Bruins in 2016-17.  He has continued to thrive in a top-six role while maintaining the solid two-way play he was known for before joining the organization.
Any player would see increased scoring opportunities playing with Czarnik and Agostino, but Szwarz is taking full advantage with 10 goals through 15 games. He's on pace to easily surpass his career high of 22 goals in 2016-17. If the big club in Boston remains healthy, the P-Bruins' top line has the potential to put up some big numbers and give the team a chance to win every night.
Elite Line Benefits Other Forwards
Opposing teams must carefully prepare every night to match up with a big line like Szwarz-Czarnik-Agostino. This takes some pressure off the rest of the lineup as the P-Bruins are able to get favorable matchups throughout the game.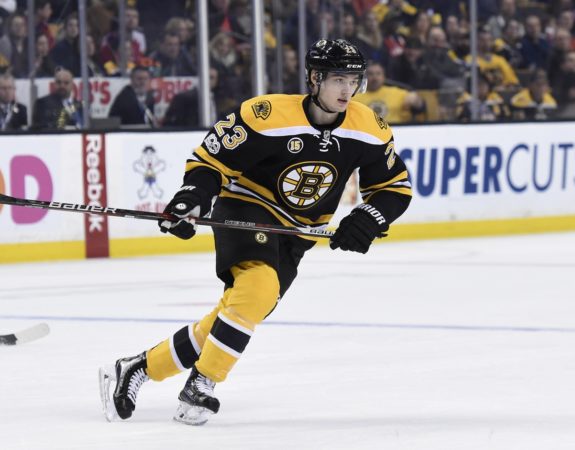 A young two-way center like Jakob Forsbacka-Karlsson will not see an opposing team's top line every night. At the very least, other teams are putting their best defensive center up against the P-Bruins' top line. With Agostino and Szwarz in the lineup more regularly after early season call-ups, Forsbacka-Karlsson's production increased in late November and early December. He's second on the team in scoring with 8-10-18 in 27 games.
Providence will need to rely on two other rookies to provide secondary scoring. First-round pick Zach Senyshyn and Ryan Fitzgerald have also chipped in offensively in their first full pro seasons. Senyshyn's development will be closely watched by Bruins fans, as he was one of three players the Bruins took in the 2013 first round ahead of Mat Barzal and Kyle Connor.
Jake DeBrusk and Senyshyn's teammate Jakub Zboril were the other two players. With the top line occupying the opposition's toughest matchup, a player like Senyshyn will be allowed to develop and gain confidence. The grind of a long pro season is sometimes a concern for rookies, but Senyshyn comes from the Ontario Hockey League where he played 70 games last season, including playoffs.
More Offense to Come
Fitzgerald may be more of a concern over the long-haul, coming from the college ranks where he played four years at Boston College. The college schedule is a little less demanding than juniors in terms of travel and the number of games.
Fitzgerald has missed some time due to a lower-body injury this month but was heating up before. He had seven points in his last nine games before the injury, after getting just four in the first 11 games of the season. Fitzgerald's production could also benefit the team that regularly rolls out a deadly top line.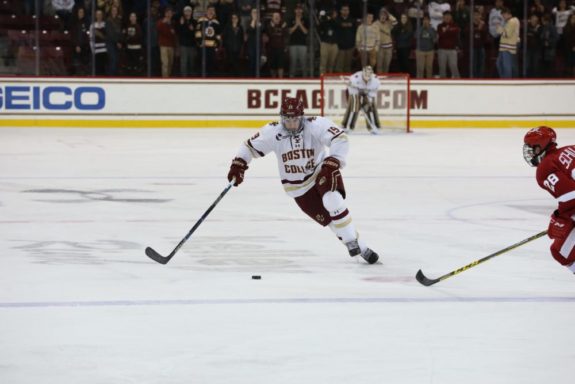 If the teams in Boston and Providence can remain healthy, it should be a fun year for both teams. The P-Bruins have a top line that is worth the price of admission. They are in the middle of the pack in the AHL in terms of goals scored, but that is likely to change if this line stays intact. There could be more 6-2 games on the horizon like there was on Saturday night in Hershey.
A life-long follower of the game of hockey. Communications experience with the AHL'S Portland Pirates, and a former coach at the college club level. Covering the Providence Bruins and prospects.