There have been more lows than highs for fans of the Edmonton Oilers, but after going 7-4-0 in their last 11 games, there's light at the end of the tunnel. Are the Oilers finally turning things around? A massive problem for Edmonton has been their scoring, and it was ranked one of the worst in the NHL partway through November. In the past 11 games, they've scored three or more goals seven times. Their record in those games was 6-1-0. They've also scored six or more goals on four different occasions during that stretch.
The offense has now improved to be tied for the 12th-best in the league (averaging 3.00 goals-per-game). This team is finally getting scoring from the sum of its parts, rather than just a few key cogs. With a 13-16-2 record through 31 games, the Oilers sit seven points outside the Western Conference playoff picture. They're on pace to finish with 74 points, and judging by the points it took to make the playoffs last year, Edmonton will need to make up a difference of 20 points (10 wins).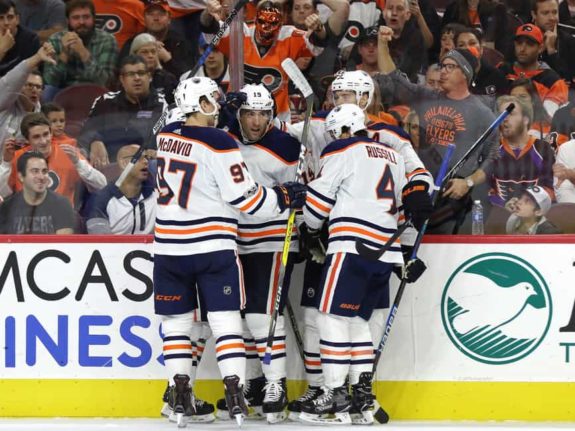 It's possible, but it also means the Oilers would have to play at a .647 winning percentage (W%) for the remaining 51 games. That would be an additional 66 points in those 51 games. If it's going to happen, this team will need all hands on deck. Entering US Thanksgiving, this group was also still seven points out. So yes, they've been playing better, and they've been scoring, but it hasn't narrowed the gap just yet. Do you have faith?
1. Laurent Brossoit & Oilers Backup Goalie Options
A lot has been written about the Oilers 24-year-old backup Laurent Brossoit after he was thrust into the starting duties. Cam Talbot was placed on injured reserve (IR) on Nov. 30, and Brossoit has been a lightning rod for criticism ever since. It started after he got torched for six goals against the Toronto Maple Leafs, and reached near pandemonium after a third-period collapse against the Calgary Flames. Through his first three starts during Talbot's absence, Brossoit allowed 13 goals.
Some were already starting the search for a backup goalie, and it remains to be seen if that's a valid argument still. Chad Johnson, Petr Mrazek, Calvin Pickard, and Michael Hutchinson have all been bantered about. In all fairness, the talk was warranted, after posting a 1-2-0 record, a 4.33 goals-against average (GAA), and a .871 save percentage (SV%) in those three games. Things look to be turning around however after Brossoit has looked remarkably better in his most recent three games.
EDMONTON'S POTENTIAL BACKUP GOALIE OPTIONS

Player
Team
Cap Hit
GP
GAA
SV%

Chad Johnson

Buffalo Sabres

$2.5 M

11

3.64

.883

Petr Mrazek

Detroit Red Wings

$4.0 M

10

3.73

.888

Michael Hutchinson

Manitoba Moose (AHL)

$1.1 M

12

1.82

.947

Calvin Pickard

Toronto Marlies (AHL)

$1.0 M

10

1.77

.935
He's gone 2-1-0, allowed just five goals, and has a 1.67 GAA accompanied by a .947 SV%. Brossoit has also stopped 100 of 108 shots over his last four games since getting burned by the Flames. He looks to have learned from that lesson and has settled in. It's been a night and day difference, but the question is how consistent Brossoit can be during Talbot's absence. This will be one of several keys in narrowing that seven-point gap for a playoff spot. In the meantime, maybe have some patience with the youngster and allow a larger sample size before writing him off.
2. Milan Lucic Has Been Hot in Last 18 Games
Another guy that seems to get a lot of flack is Milan Lucic. The now-29-year-old is in his second of a seven-year deal that pays a total of $42 million over that span. Naturally, there's a group that'll always hate the contract's term. Admittedly, the deal is about three years too long if you look at the typical decline of power forwards. He came out of the gate slow and had just six points in 13 games. At one point he looked like he was about to take a large regression, because, at US Thanksgiving, he was nearly on pace for just 15 goals.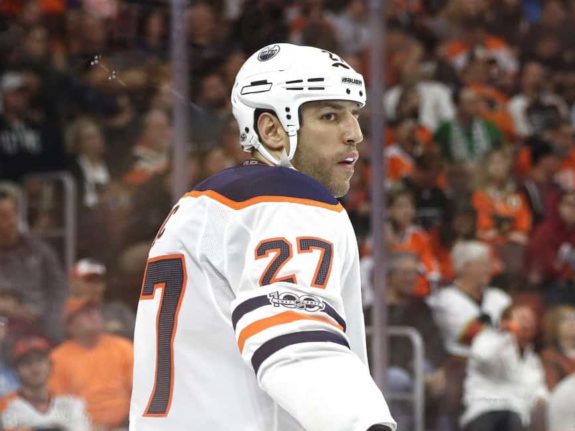 Remember, this was a guy that scored 23 goals last season and was a key piece in Edmonton's top six. Paying $6 million for that kind of production would've been a huge disappointment. However, in the last 18 games, Lucic has scored five goals and 16 points. In fact, Connor McDavid (28) is the only other Oiler who has more points than Lucic (17) since Nov. 1. Give credit where credit is due, and you can't say it's only because he's been playing with McDavid. Lucic has played minutes next to Ryan Nugent-Hopkins and Leon Draisaitl (although minimal minutes) during this time. He's now on pace for 19 goals and  59 points if he stays healthy.
3. Jesse Puljujarvi Making the Most of His Opportunity
When the Oilers rolled into Nationwide Arena a few nights ago to face off with the Columbus Blue Jackets, you have to think Jesse Puljujarvi was licking his chops. If you remember, the 19-year-old was generally seen as the consensus third best player available at the 2016 NHL Draft. The Blue Jackets and their general manager, Jarmo Kekalainen, passed on Puljujarvi. Instead, they selected a center in Pierre-Luc Dubois who was a star in the QMJHL. Chiarelli must've nearly torn a hamstring running to the podium in excitement to snag Puljujarvi.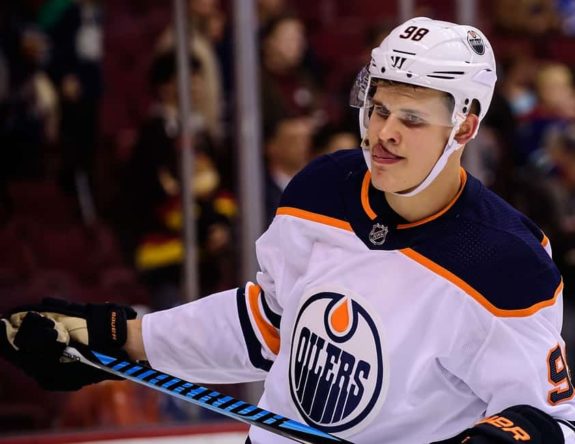 His development has been a hot topic among fans, but during a 7-2 thumping against the Blue Jackets, Puljujarvi was a force. While playing on the Oilers top line with Lucic, and Connor McDavid, the Finnish forward scored a goal, had two points and was a plus three against the team that passed on him. He's been coming along nicely, and his release makes him a dangerous triggerman next to McDavid. His development might not be as swift as Auston Matthews and Patrik Laine, and he may never reach that level. But is it reasonable to think he could be a consistent 30-goal guy next to McDavid in the not so distant future?
Time will tell, but he's getting better every game. He's also been asserting himself instead of drifting to the perimeter which was a problem early on. The Kekalainen storyline aside, in his past five games, he's been one of Edmonton's best forwards. He's scored two goals and is averaging a point-per-game since moving into the top right wing spot.
4. Should the Oilers Send Drake Caggiula to AHL?
If you're looking for a player that might be having the most disappointing season so far, Drake Caggiula might take that notion. It's been a frustrating season for the 23-year-old sophomore who has just seven points in 21 games this season. He's gone cold lately, and has only two points in his last ten games. As of late, Caggiula has been a healthy scratch in two of Edmonton's last three games. Now there's speculation that a trip to Bakersfield might be in the cards for him.
Here's the problem. As per Jim Matheson of the Edmonton Journal, Caggiula can't directly be sent down to the AHL even though he's an entry-level deal. Because he was a college free agent, he'd have to clear waivers, and there's doubt he would clear. If anything, the Oilers might send him on a short conditioning stint to get some confidence back. He's started to shy away and seems to be fighting the puck. The offense just isn't there right now, and neither are the bounces. This will be a storyline to follow over the next week or so.
5. Larsson, Sekera Nearing Return & Defense Questions
Edmonton defense is about to get Adam Larsson and Andrej Sekera back soon. Both are on IR, but the question becomes what the Oilers do once they're back. Their returns and the recent re-addition of Brandon Davidson give the Oilers nine NHL defensemen. We know that Oscar Klefbom, Darnell Nurse, Kris Russell and Matt Benning aren't going anywhere. But Davidson, Eric Gryba, and Yohann Auvitu are going to be battling for the seventh, and eighth defender jobs once the blue line returns to full health.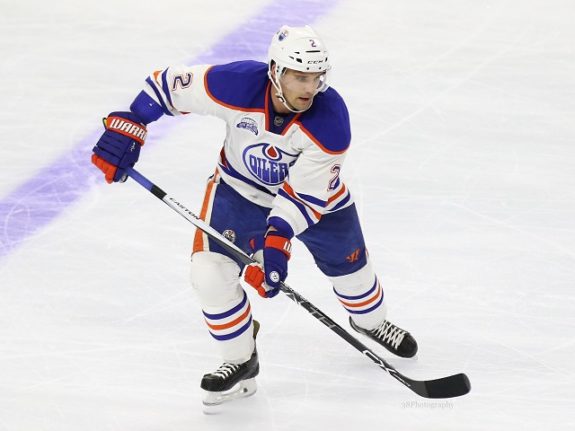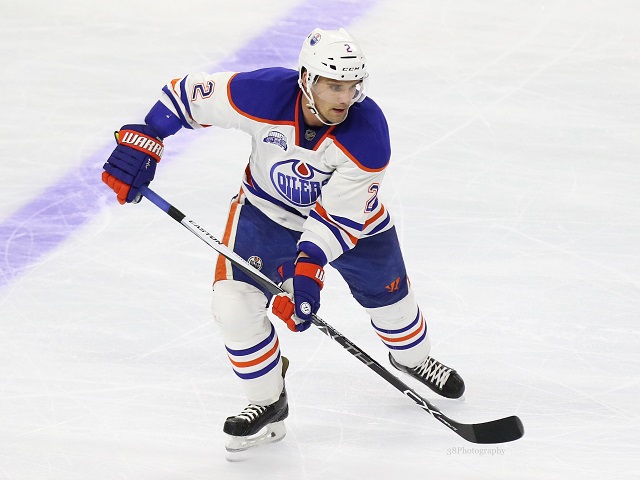 You could make a clear argument that Davidson is better than both Gryba and Auvitu, and gives them a more balanced player. So who do you keep between Gryba and Auvitu? Both have jockeyed in position, but it's looking as if Gryba is getting more minutes and trust from the coaching staff. Since Dec. 1, Gryba (17:59) has been seemingly Edmonton's fifth most used defensemen. Auvitu (14:05) has been their sixth during Larsson's absence. Gryba can also play on the penalty kill and has 279 NHL games under his belt right now.
The flip side Auvitu has played the last three games, while Gryba has sat. One plays defense better than the other, and the other has the puck moving skills the former lacks. Does this lead to the Oilers moving one of the two to clear a roster spot? It's possible, especially considering that Chiarelli likely wants Ethan Bear, Caleb Jones, Dillon Simpson, Ryan Mantha, and Keegan Lowe playing. There's a lot of bodies right now, and the Oilers are up against the 50-player limit. Whatever happens, there's got to be some relief knowing that two of Edmonton's top three blueliners are nearing returns.