A lot of things have been said about Edmonton Oilers prospect Jesse Puljujarvi. The hot topic on Edmonton's prized forward centers around his development, or lack thereof. At the 2016 NHL Draft, the first two names predictably flew off the board. Auston Matthews went first overall to the Toronto Maple Leafs, followed by Patrik Laine going to the Winnipeg Jets. Puljujarvi was the consensus pick to go third.
Many people believed Puljujarvi and the Columbus Blue Jackets were a perfect match. After all, why wouldn't the Blue Jackets general manager Jarmo Kekalainen select his fellow countryman from Finland? Kekalainen instead caused a shockwave when he chose a big, strong, potential first-line center in Pierre-Luc Dubois. The hockey world was stunned, as was Oilers GM Peter Chiarelli who ran to the podium to select the Finnish forward.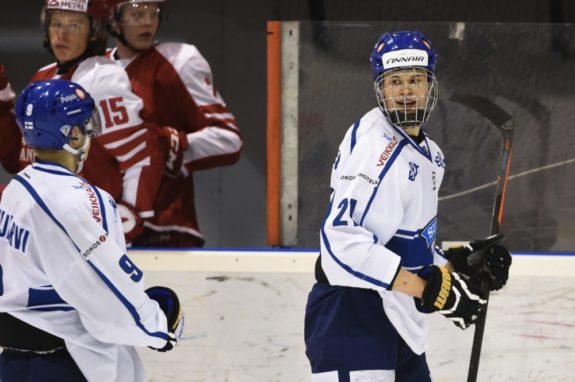 The rumors leading up to the draft were that Edmonton was going to select a defenseman with the fourth selection. Olli Juolevi, Mikhail Sergachev, and Jakob Chychrun were the three big blueliners that year. Instead, Puljujarvi fell into Edmonton's lap, or did he?
Debunking the Kekalainen Story
Thus started a rumor that the Blue Jackets GM knew something about Puljujarvi that soured his taste. After all, Kekalainen's from Finland, and he's bound to have some connections in his native country, right? The words were spreading that Puljujarvi didn't compete the way Laine and Matthews did. Then it was that Puljujarvi's 200-foot game wasn't as rosy as most scouts thought it was. Whatever the reason, the seed was planted that there was something wrong with Puljujarvi.
"I was shocked by Puljujarvi. I just could not see him going anywhere but three. I know there had been talk floated out there of Winnipeg even going with him at two. And Dubois, I know people that had him six, seven on the list. In the Top 10, I know that was pretty unanimous.
There was a lot of shock and awe when the Blue Jackets took Dubois. Even the Columbus media was perplexed over the decision. One theory was that Kekalainen really wanted Dubois, but may have botched a deal with Edmonton or Calgary. Those were the two teams picking after Columbus. The Blue Jackets would've moved down in a trade, and with a handshake agreement the other side wouldn't take Dubois.
Jarmo Kekalainen said he would take the best player available, regardless of position. Then, he turned his back on the best player available and everyone at First Niagara Center knew it.
Regardless it's a lot of conspiracy theories without a whole lot of substance to sink your teeth into. It's quite simple though. Kekalainen really wanted that big first-line center, not a winger like Puljujarvi.
This whole talk might've just been a whole lot of hoopla. Then again it does make a good story, doesn't it?
Patience Is a Virtue with NHL Prospects
Last season, Puljujarvi made the opening night roster in Edmonton. He even scored in his NHL debut. Things were looking up! The 18-year-old would then struggle through the next 13 games with just two assists. This prompted fans to ask if the Oilers should send him to the minors. It was evident Puljujarvi wasn't quite ready for the NHL just yet.
He was playing third or fourth-line minutes most nights, something that wasn't conducive to his success. Ask yourself this; if an 18-year-old is playing 7:21 minutes in ice time (TOI) on some nights, do you think you're going to get results? Adding to that, Puljujarvi was a healthy scratch 14 times by the Oilers. He played 28 of 42 games until he was re-assigned to the Condors on January 5.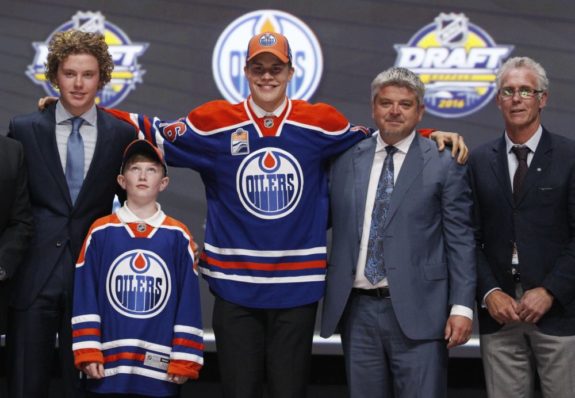 Under the tutelage of Bakersfield Condors head coach Gerry Fleming, Puljujarvi got his development back on track. He was playing top minutes in Bakersfield and finished the year with 28 points in 39 games. If you're familiar with the NHLE calculator, that's the equivalent of 27.7 points. Those are fair numbers for a rookie, but not difference-making numbers, yet. This season, Puljujarvi is a tweener for a lot of people.
Should Edmonton send him back to the AHL for another year? Should he get a look in Edmonton's crowded top nine? When all was said and done, Kailer Yamamoto burst onto the scene and exceeded expectations. Puljujarvi had a decent camp, but it was a numbers game, and Yamamoto and some others outplayed him. Some people have been quick to write off Puljujarvi, but going back to Bakersfield again doesn't mean he's floundering as a prospect, far from it.
Leave Puljujarvi Alone, Let Him Develop
Some of the more asinine comments online were that Puljujarvi was already being labeled as a bust by some fans. Laughable! Leon Draisaitl faced similar adversity during his rise to NHL stardom. Draisaitl struggled like Puljujarvi in his rookie year. He then didn't make the Oilers opening night roster in 2015-16 before emerging as a star and playing the final 72 games that season.
Patience is often a virtue when it comes to NHL prospects, even first round picks. It's clear the Oilers don't have to rush prospects along anymore, and that's a good thing. Edmonton doesn't need Puljujarvi to jump in and save them, and Puljujarvi doesn't need to be with the main club right now. The objective is for this youngster to develop. The only way to develop is to play. If he's not going to play, he's not going to develop.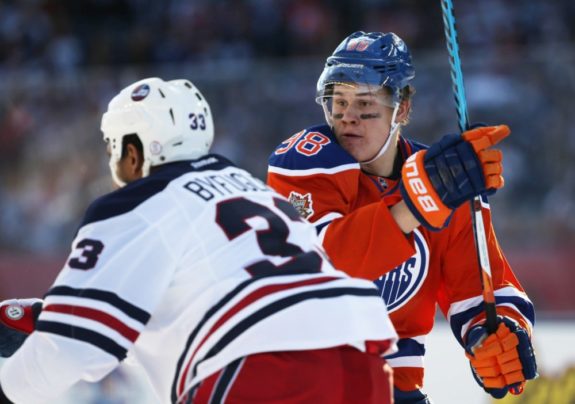 Olli Juolevi is another top-five pick from that 2016 draft that didn't make his NHL team this year either. Juolevi was loaned to TPS in Finland by the Vancouver Canucks. Even Dylan Strome (third overall, 2015) has shown a fair share of struggles at the NHL level. Strome is now penciled into the Arizona Coyotes' roster.
"Jesse needs more time. We expect Jesse, when he arrives and he's ready to play – and the same can be said of Yamamoto – to play in our top nine, minimum. Not on the fourth line. We didn't feel like he won that position and therefore we wanted to get him to Bakersfield and have him start the season there and get him working on his game."
NHL Prospects Mature at Different Rates
The point is, prospects mature at different speeds, and people need to ease off Puljujarvi. He needs to develop into a difference-maker for the Oilers, not just another body on the roster. He needs to mature, work on his offensive game, and build some consistency. Coming into the NHL, there's a different level of desperation and urgency with players. Puljujarvi just doesn't have that gear, yet.
I thought he was playing straighter lines, pursuing the puck better, and making more plays. But he wasn't without mistakes. I told him he needed to clean up his game a little bit, go down there and shove it up my you know what. I wouldn't be adverse to bringing him back, but I want to see his game cleaned up a little bit. I'm happy with the development trail he's on.
If Puljujarvi can play top line minutes and get some power play time, he'll come back to Edmonton a better player. There's already a precedent that's been set. Mikko Rantanen, William Nylander, Logan Couture and Bobby Ryan all went through this before becoming difference-makers at the NHL level.
Leave Puljujarvi down in the AHL as long as it takes so he becomes that type of player for Edmonton.
Let me know your thoughts in the comments below!
Edmonton Oilers regular contributor providing insight on all things Oilers including club history, prospect profiles, trade breakdowns, and everything else in between. Check back regularly for new and exciting content. Follow on Twitter @SanderTHW.