It's an exciting time to be an Edmonton Oilers fan for the first time in a long time. After coming agonizingly close and losing in Game Seven of the second round to the Anaheim Ducks, Edmonton is heavily considered to be a Stanley Cup contender in 2017-18. In their attempt to win their first Stanley Cup since 1990, Edmonton didn't go out and acquire any significant free agents.
The Oilers took a different route to shore up their offensive depth this summer. Edmonton traded a perennial 20-goal scorer in Jordan Eberle for Ryan Strome who has never scored more than 17 goals. To make up the 20 goals Eberle scored last year, Edmonton GM Peter Chiarelli is looking for growth from within the lineup to make up the difference.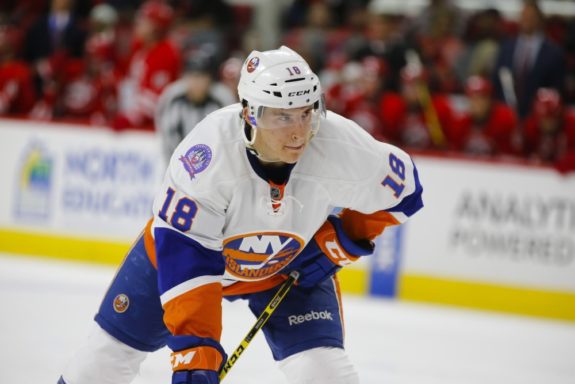 Guys like Anton Slepyshev, Drake Caggiula, and Strome are being counted on to take positive strides in their offensive games. Another key focus is Jesse Puljujarvi, Edmonton's fourth overall pick in 2016. Puljujarvi, 19, toiled in the NHL before finally being sent down to the AHL in January last year.
It was in the AHL that Puljujarvi got his development back on track scoring 28 points in 39 games with the Bakersfield Condors. It was all supposed to be a straightforward camp, with minimal surprises. Strome, Puljujarvi, Slepyshev and Zack Kassian were meant to make up the Oilers right wing depth chart.
Insert Kailer Yamamoto.
Yamamoto Could Crack Oilers Roster
Edmonton's first-round pick in 2017 has been extraordinary throughout camp. He's shown he's been vastly underrated as a prospect all summer since being drafted. The crafty forward currently leads all Edmonton players in pre-season scoring with five goals and six points in four games.
Now mind you, his shooting percentage is at an unsustainable 62.5%, but Yamamoto is making what should've been an easy decision to send him back to junior very difficult now. The expectation before camp was that Edmonton would entertain Yamamoto, and learn about him a little bit as a prospect.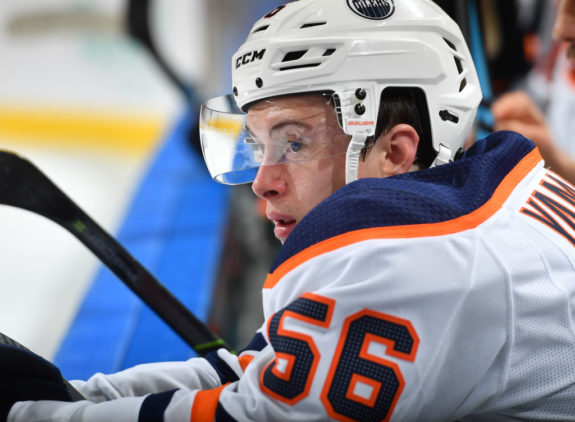 The whole goal was just to see what the future holds and what type of player Yamamoto is. It looks like that future could be a lot closer than people anticipated. Even Oilers head coach Todd McLellan has been impressed. McLellan's stated in multiple interviews that Yamamoto is making every case to stick around and deserves to still be in camp.
Yamamoto a Welcomed Problem for Oilers
The 18-year-old, soon to be 19-year-old on Friday, was supposed to go back to junior. He was supposed to likely be a top-five scorer in the WHL and lead the Spokane Chiefs into the playoffs. He's also expected to be a key piece for Team USA at the upcoming World Junior Championship.
Remember Yamamoto dominated the Summer Showcase alongside Casey Mittelstadt (Buffalo Sabres) and Logan Brown (Ottawa Senators). Yamamoto is doing more than he's supposed to, and it's created a welcomed issue for the Oilers as they construct their roster.
He's given McLellan some options and shown so far that any role he's been put in, any challenge thrown his way, he can exceed expectations. He's proved to play quite well at five-on-five through the pre-season. Yamamoto has already put up two power play goals and shown he can be counted on in the Oilers top six as a special teams player.
McLellan has also tried Yamamoto on Edmonton's struggling penalty kill that is operating at a 75% rate through the pre-season. The belief is that with his abilities as an attacking forward, teams would be leery of letting him run loose with the puck. He's also got a very underrated two-way game.
Yamamoto Exceeding Early Expectations
Yamamoto has given the Oilers a lot to think about. He's performing and passing every challenge thrown his way while some of the others have struggled. Ryan Strome has been all over the place in the pre-season. He looks great one night and then disappears the next night.
That said he's doing what was asked of him. If Strome wants to play on the Oilers top line, he needs to shoot the puck. He's tied for the team lead in shots right now with ten. Strome slid down the lineup to the Oilers third-line alongside Jussi Jokinen and Ryan Nugent-Hopkins recently. Good one night, invisible the next, and that's something Strome needs to improve on.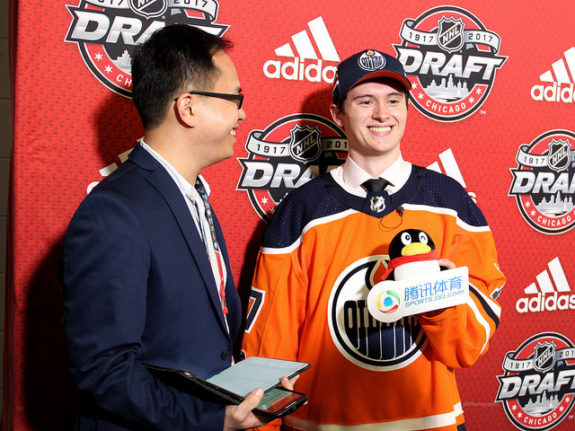 Puljujarvi got a look next to McDavid, but even then it was a mixed bag of results. The 19-year-old has had opportunities on each of Edmonton's three scoring lines, including some time with Leon Draisaitl.  On the flip side, Yamamoto stepped up and showed some early chemistry with McDavid.
He's got a quick release and just sees the play develop light years ahead of how other 18-year-olds do. Yamamoto always finds a way to get open and could be an offensive weapon for the Oilers.
Can Yamamoto Make the Oilers Roster?
The question is if he can maintain this over a full 82-game season. A lot of fans are clamoring for Yamamoto to get a nine-game audition. In my own roster predictions, I was hard pressed to exclude Yamamoto from Edmonton's 23-man roster. It's going to be the most difficult decision for McLellan and Chiarelli and what's the best move for the franchise.
Is it possible that their 2017 first rounder is further along in his development than Edmonton's 2016 first rounder? Puljujarvi already has a year of pro hockey under his belt, while Yamamoto is swimming in uncharted waters. In comparison, Yamamoto reads the play and has better on-ice awareness than Puljujarvi at this stage in their respective careers.
It wasn't supposed to happen this way, but this is a welcomed problem for Edmonton. The Oilers don't need to rush Yamamoto to the NHL level as they have with other first-round picks. Then again, if the kid is passing every challenge thrown his way and exceeding expectations, shouldn't he be rewarded?
Leave your thoughts in the comments below.
Edmonton Oilers regular contributor providing insight on all things Oilers including club history, prospect profiles, trade breakdowns, and everything else in between. Check back regularly for new and exciting content. Follow on Twitter @SanderTHW.