It was days before the expansion draft that the Washington Capitals made a trade for Tyler Graovac, a fourth-line center from the Minnesota Wild. The move was seen as one that would help Washington protect two of three forwards in Tom Wilson, Lars Eller and Jay Beagle. However, for Graovac, the trade went far beyond that; it was an opportunity.
"You read a couple things here and there in the summer, and I've been asked this question numerous times about the expansion draft and coming in and Washington traded for me for a reason," Graovac said. "My biggest vision is opening eyes and saying, 'Wow this kid was more than what we expected,' and I kinda want to be a little bit of that diamond in the rough."
A 2011 seventh-overall pick, Graovac also mentioned that he has been looking to be more than just a long-term prospect and that each year, he comes in with the goal of simply elevating his game to the next level.
"[It's] trying to be better than the next guy and better than the next guy and better than the next guy until you're that next guy and trying to stay on top," Graovac said.
Making the Cut
After a series of cuts this past week that saw players like Riley Barber, Jyrki Jokipakka and Connor Hobbs being released from the Washington roster, Graovac is still with the team and is closing in on a spot on the opening night roster. The 24-year-old is coming off a strong showing with the Minnesota Wild and their AHL affiliate in Iowa; in 52 NHL games, he put up seven goals and nine points, and in 26 AHL games, he racked up 10 goals and 15 points.
A versatile forward who can play either the center or the wing, the 6-foot-5, 208-pound forward is able to play a strong, physical two-way game. He is the tallest Capital still with the team heading toward the end of camp, which he says somewhat helps his game.
"I think it definitely opens the ice when you're skating out there," Graovac said. "When you have the size and if I can show my speed and keep my feet moving it's definitely an eye-opener."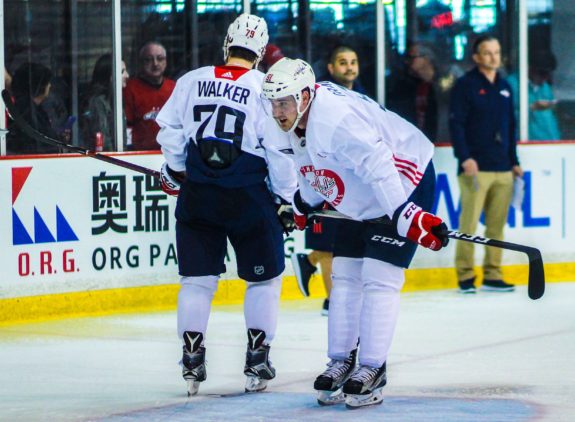 When it comes to standing out from other Capitals forwards at camp so far, the Brampton, Ontario native thinks that it comes down to increase his overall value.
"I just want to show my size and my speed, and I think that's something that the lineup needs," Graovac said. "If I can PK and really fill those spots, not only fill them but like take charge with it, I think that will open a couple eyes. Just show all aspects of my game. I have versatility; winger, centerman, PK, wherever you need me, I'm going to do the best I can in that spot."
Tyler Graovac – Taking Center Stage
Emerging as one of the top up-and-coming prospects at camp, Tyler Graovac also mentioned that he has learned a lot from the veterans and star players in the dressing room.
"They communicate really well," Graovac said. "Really nice guys and they keep the room very positive. It's only been a weekend at camp, but you can see the leadership in the room. Very positive, and the communication is always there and it's really nice to be part of that group."
Out of the players that he has specifically looked up to, he said it's hard to truly target in on one player who he has truly clicked with, simply because he has gotten the chance to be around many different role models.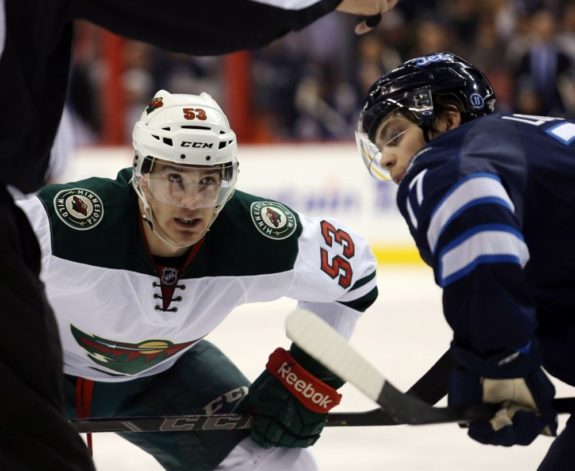 "I've been fortunate enough to play with so many almost-legends in the league," Graovac said. "Last year I played with Mikko Koivu and Eric Staal and kind of look up to them and you come into these kinds of rooms and you see Backstrom and Oshie and Ovechkin and even a guy like Beagle."
When it comes to Beagle, a potential fourth linemate this coming season, Graovac mentioned how he is fortunate to play with a player whose style is similar to his.
"I matched up against him last year," Graovac said of Beagle. "[He's a] fourth line guy and knows his role and just battles. You can really learn a lot from these guys and that's something I've done over the past couple of years that's helped me."
Taking the Pressure Off
Considering the high-stakes situation at camp, it can be tough to unwind, especially after a tough morning practice and the uncertainty that comes with trying to earn a spot on the opening night roster.
"It's really nice to have such hard practices in the morning, then you have the rest of the day to almost recharge for the next day," Graovac said.
To regain that energy and to take his mind off camp, he and his roommate, Pheonix Copley, have many remedies, including museum visits and Ben and Jerry's.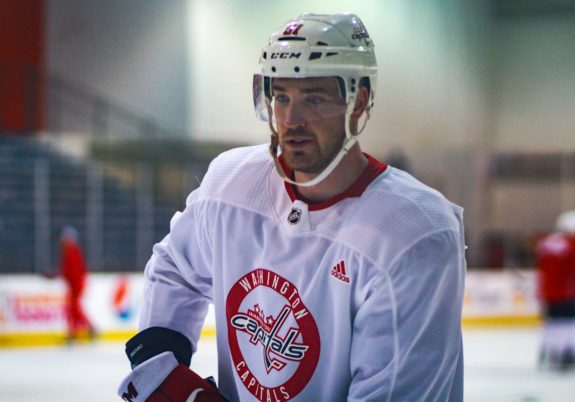 "My roommate and I like those Epsom salt baths, so we have those in our room there and a little bit of ice cream and just some TV, and watch some football and get ready for the next day."
Ultimately in the end, though, he is focused on making the team, and he said that he sees himself on the Capitals' main roster to start the season. And though his best performance of camp came in a 4-1 loss to the St. Louis Blues Friday, he has been putting in work and effort at camp and hopes he can stay consistent and show that effort night in and night out.
"It's kind of a vision I've had all summer," Graovac said. "For me, my number one thing is giving everything I have and showing everything I have and just trying to get that opportunity, but I have a lot of work to do. The biggest thing is you can show it one night but if you can't show it other nights, then you're gonna be crossed off. I'm just trying to get started here and the hard work is just kind of beginning."