Toronto Maple Leafs hockey is almost back. The team is in the middle of their preseason schedule and has looked impressive over the course of their last three games. The roster is starting to come together and there are still spots up for grabs. However, they are being contested each day as the exhibition season winds down.
Three players who have looked excellent over the course of the preseason are Auston Matthews, William Nylander and Mitch Marner. They are Toronto's big three and as such, they are a huge influence on how and where this team will go.
All had fantastic rookie seasons in the NHL last year. Now expectations are higher, teams know who they are and the pressure has been turned up. With all that in mind, we dive in to try and predict what their point totals will be for the 2017-18 season.
Mitch Marner
Magic Mitch has all the tools to be an elite player in the NHL today. He's got outstanding vision, passing ability and a nose for the net. He works hard and is often rewarded for defensive plays by getting a scoring chance somewhere down the line.
Last year, Marner finished the season with 19 goals and 42 assists for 61 total points. He was able to attain that number while playing 77 contests.
Mitch Marner out muscles Shea Weber and dishes it to JVR for the great scoring chance. pic.twitter.com/3h3ZBr9nCi

— Flintor (@TheFlintor) September 26, 2017
One of the biggest factors is his linemates and his familiarity with them. Marner will be playing with Tyler Bozak and James van Riemsdyk once again to start the year. This line found great success together last year and I expect it to continue into this campaign.
Marner's point total for the 2017-18 season will rise. I predict that he will have 24 goals and 47 assists for 71 total points. The former London Knight will once again be the catalyst on his line and should see significant minutes on what looks to be an incredibly lethal Leafs power-play.
William Nylander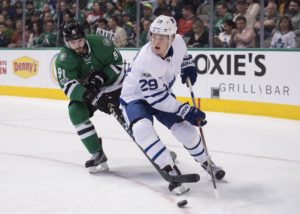 Another highly talented young gun, Nylander is also going to have an excellent second season for the Maple Leafs. There are a couple of factors to consider.
Nylander has an amazing skill set. He's got fluid skating, excellent vision and is comfortable passing the puck or taking the shot himself. We've seen him use both of those skills to great effect over the course of the season.
Nylander had a solid campaign and racked up 22 goals and 39 assists for 61 points in 81 regular season games. He then went on to represent Sweden at the World Championships where he put on an absolute clinic.
Entering the 2017-18 season, the former eighth overall pick also has some familiar linemates. The first is the gritty Zach Hyman. The second is one of the next great talents in the NHL in Auston Matthews.
Passing to a player the caliber of Matthews can only pay dividends, which is why Nylander's point total will rise. He will score 30 goals and will add 45 assists for a total of 75 points. Nylander will also be playing for a contract and that incentive should help him produce a nice stat line for the year.
Auston Matthews
The brightest star on a Leafs squad stacked with talent, Matthews is prepared to once again take the NHL by storm. The rookie pivot came into the league and immediately made his mark with a four-goal game against the Ottawa Senators.
At the end of the season, Matthews accumulated 40 goals and 29 assists for 69 points. The American-born center has been lighting up the preseason and looks hungry and focused for his second season in the NHL.
Through the legs, then he bats in the backhand. Auston Matthews is ready. pic.twitter.com/LZUSZbLavu

— Flintor (@TheFlintor) September 25, 2017
Matthews will continue to play with Nylander and Hyman, but will also see significant time on the power-play. It's also a possibility that Mike Babcock gives Matthews and Mylander a shot with Patrick Marleau on a line that would be explosive if it comes to fruition.
Predicting the point total for Matthews is difficult. I think he'll score less goals but will have more assists and therefore a better statistical output compared to last year.
Matthews will score 38 goals and add 42 assists for an even 80 points. He'll still be an elite goal scorer, but the plays he makes will be finished off by his linemates which will give him more apples over the course of the year.
My name is Anthony Fusco. Through school, I completed a joint degree involving an Honours B.A. in Journalism from Wilfrid Laurier University and a Videography and Broadcasting degree through Conestoga College.
I currently work for the University of Toronto as a Varsity Sports Announcer and for the Toronto Maple Leafs as part of their game presentation squad.
I'm also the play by play voice of the Kelowna Falcons, a baseball team located in British Columbia.
My goal is to one day be a hockey broadcaster.