As a rookie looking to make a name for yourself in the NHL, you hope for every opportunity to prove yourself to the coaches of your organization. In training camp, those opportunities can be limited – some guys may only see action in one or two preseason games, and may be limited to lower line roles in those appearances.
Others, who are tagged as "NHL ready" despite their age, may be given top-line minutes to prove they've earned the label. Anders Bjork, a 21-year-old rookie out of the University of Notre Dame, had that opportunity in Monday's preseason clash against the Blackhawks, and he lived up to the hype.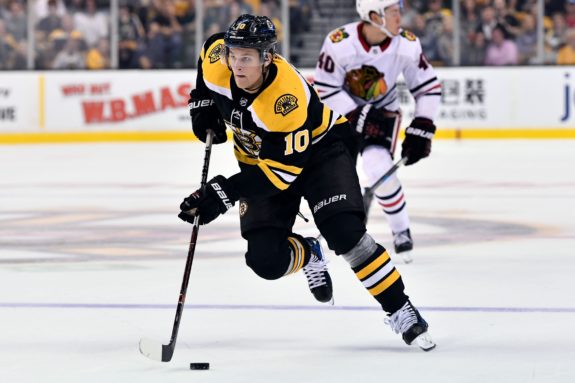 Anders Bjork in Camp
Heading into training camp, Bjork was hyped up as the top forward prospect in the Bruins organization. So far, he's proven his supporters right.
The Mequon, Wisconsin, native netted his second preseason goal on Monday while playing on Boston's top line, beating two-time Stanley Cup champion Corey Crawford with a one-time snap-shot in the first period.
After the game, line-mate Patrice Bergeron, one of the NHL's most talented forwards, had nothing but praise for the former Fighting Irish standout.
"He's got that speed and the smart to get open and find the openings in the quiet ice," Bergeron said of Bjork, per Mass Live. "It was a great play by him just to get open and for me to see him. He made it really easy. He skates well, he made some great plays, we just need to keep talking and finding each other more and more on the ice."
Bjork excels in an aggressive system where he can use his speed and natural talent to force turnovers and create scoring chances in the attacking zone. It's a style of play that fits in very nicely with Boston's dynamic Bergeron-Marchand top-line duo, as was evident in Monday's game.
"I noticed it in practice – I know it's practice but still – we were doing a lot of forechecking drills and we were finding ways to get the puck back by all of us," Bergeron said after the game, per Mass Live. "Reading the play and being aggressive and he's really good at getting the puck back, by being strong on his stick but also moving his feet and reading the play and getting to where the puck is going to get to. He had a few of those tonight, he keeps that going I think our forecheck is going to be good."
Bjork, too, seemed to be comfortable settling in alongside Bergeron and Marchand and noted that the trio has been building some chemistry from their time together in camp.
"I think we had more ice time together, which helped us get more comfortable and helped me kind of learn their chemistry a bit more," Bjork said, per Mass Live. "Obviously, they have a ton of chemistry and they're very easy to play with, of course, but you know, it's nice to get more shifts with them and kind of pick up on their patterns and stuff like that."
Earning His Spot
Bjork has been on Boston's radar since before he was drafted in 2014, but it wasn't until recently that he's surged through the ranks as one of the organization's top prospects. Now, he has a chance to compete not only for a spot on the Bruins' opening night roster but also for a spot on the team's top line.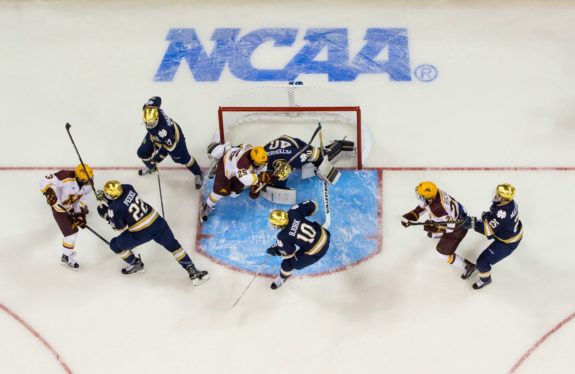 It wasn't good fortune that gave the fifth-round pick a chance with Boston's best – he earned it with his outstanding career at Notre Dame. In his three seasons of college hockey, he tallied 109 points in 115 games, 52 of which came during his junior campaign, when he sported the "A" for the Fighting Irish.
The Bruins hope that Bjork can carry some of that production to the professional game, and head coach Don Sweeney is doing a lot to help the rookie succeed. Sweeney even hinted at him sliding onto Boston's second power play unit.
"Anders, historically, has been more like where [Ryan] Spooner is — half-wall," said Cassidy, per the Providence Journal. "So we may see [Bjork] over there on the second unit."
Anders Bjork is gonna be fun to watch pic.twitter.com/2rgEWnQvVk

— Marina Maher (@marinakmaher) September 18, 2017
There's a lot for a coach to like about the 21-year-old's game. In his limited showing thus far, the six-foot forward has already demonstrated a good hockey IQ, a natural scoring ability, and the pace to push the play up the ice. But, it's his willingness and ability to battle for pucks that has really impressed Cassidy in camp. All of that, Cassidy believes, demonstrates that Bjork is ready for NHL action.
"Yes. He sure does [look ready] to me," said Cassidy, per CBS Boston. "Again, competition will stiffen for him and we'll keep evaluating that. He's got skill, speed, and he's got courage. He gets to the dirty areas. He's hard to play against. And there's second effort on pucks, it's not one-and-done with him.

"For a young kid that's special, I think, to be able to hang in there and battle for those turnovers. That's usually the part of the game you've got to continue to grind on [young players], but he's got a lot of that."
If he does earn a spot on Boston's power play unit, especially if it's in combination with top-line minutes, then the winger will have every opportunity to produce for the Bruins right from the get-go.
Bjork will likely suit up for at least one more preseason game, giving him one more opportunity to prove his place among Boston's best.
Cam is a Broadcast Journalism student at the University of Maryland. He's the Boston Bruins Beat Writer at The Hockey Writers, and is an avid college hockey fan. Find him on Twitter @CamHasbrouck!