When the Boston Bruins host their 2017 training camp, many young faces will be getting their best opportunities to earn a roster spot. After qualifying for the playoffs for the first time in three years, the Bruins now have their sights set on something a little bigger. This was always the plan when Don Sweeney took over as the team's general manager – a soft rebuild that would see a replenished prospect pool compete for jobs. With the pieces in place and the process accelerated, many prospects will get a chance to shine with the Bruins in 2017-18. With such a loaded prospect pool, however, it begs the question; who are the Bruins top four prospects of 2017?
Charlie McAvoy Leading the Prospect Charge
While choosing a top-four wasn't easy, there was absolutely zero doubt as to who the Bruins top prospect is heading into the 2017-18 season. While many might already be considering Charlie McAvoy to be a guaranteed roster lock – and there's no reason to believe he won't be after his stellar playoff performance, he still fits the criteria required to be considered a "rookie" and subsequently, a prospect. With three assists in six playoff games against the Ottawa Senators – the first six games of NHL action in his career, McAvoy never looked out of place. At 6 foot 1 and 211 pounds, McAvoy has legitimate NHL size. His skating ability, vision, hockey-IQ and crisp passing place him securely into the new mold of mobile defenders that are taking the NHL by storm, and he has as good a chance as any rookie next season to take home the Calder Trophy.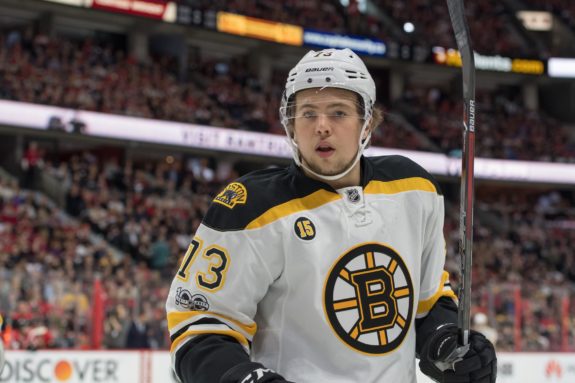 From his debut, it was clear that McAvoy was special. Logging 24:11 of ice time in his first taste of NHL action. McAvoy didn't record a point. In fact, he didn't even record a shot on goal. Despite this, his clean, hard passes and ability to read plays made him a clear standout as he aided an ailing Bruins blueline, eventually leading to a 2-1 victory. In the subsequent games, McAvoy took on an even bigger role. Double-shifting and averaging over 26 minutes of ice time at just 19 years old, it was clear that the Bruin newest weapon was already garnering the trust of his coaching staff and teammates. When the Bruins take to the ice in 2017, McAvoy will officially be making the jump from prospect to player as he aims to be the cornerstone of the Bruins team for years to come.
Anders Bjork Making an Impact
The biggest name heading into the 2017 offseason for the Bruins was Anders Bjork. After being drafted in the fifth-round of the 2014 NHL Entry Draft, Bjork took his talents to the University of Notre Dame. In 41 games in his rookie season, Bjork scored seven goals and 22 points. His second season saw improvements in every statistical category, however, as he scored 12 goals and 35 points in 35 games and displayed a tendency to dominate the game at times. In his third season with the Fighting Irish, Bjork broke out even further, crushing his career highs in goals (21), assists (31) and points (52) in jut 39 games.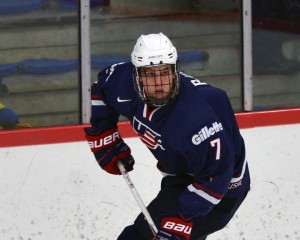 Earning an opportunity to play for the United States National Team at the 2017 World Championships, Bjork was beginning to garner attention on a larger scale than just the collegiate audience. Though the Bruins ultimately convinced the 20-year-old to sign his entry level contract, it wasn't always a certainty that he would be joining the Bruins so early. Due to his exposure at the international level and the NHL's decision to forego Olympic participation in 2018, Bjork was seen as one of the potential front-runners for a roster spot with the United States Olympic roster. Choosing the Bruins and the NHL over Notre Dame and the Olympics, Bjork now has a chance to make an impact early and earn himself a roster spot with the 2017-18 Bruins.
An Opportunity to Earn a Spot
If the Bruins' development camp is any indication, Bjork has a chance to make a splash from day one in Boston. For anybody who saw him on the ice throughout the two days he attended, it was clear that Bjork looked like a dominant player who could make an impact at the NHL level. Fueled by the Bruins need for a top-six left winger to skate alongside David Krejci next season, Bjork showed NHL form from the very start. Whether it was his impressive offensive instincts, showing creativity and the ability to score high and low or his accountability and ability away from the puck, Bjork simply looked good. If he can repeat that performance at training camp and in the preseason, the Bruins could be looking at their prime candidate to fill that top-six hole.
Jakub Zboril Looking to Turn the Page
It's been a long road for Jakub Zboril. Though he was only drafted two years ago with the 13th pick in the 2015 NHL Entry Draft, he's already experienced his fair share of adversity. Whether it was failing his conditioning test (along with fellow first-round picks Jake DeBrusk and Zachary Senyshyn) or having a down year just one season after being drafted, Zboril was forced early on to wear blinders and work hard to fulfill his potential as a top-15 draft pick.After scoring an impressive 13 goals and 33 points in 44 games in his rookie season with the Saint John Sea Dogs of the QMJHL, Zboril looked like he could be a legitimate two-way force.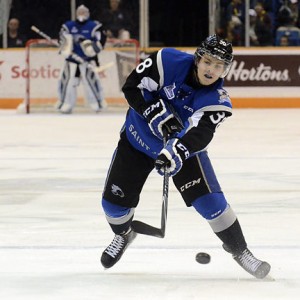 At 6 foot 2 and 185 pounds, Zboril possesses mobility, grit and the ability to recognize an offensive opportunity as it develops. Still, that didn't make him immune to a disappointing sophomore season in the QMJHL when he scored just six goals and 20 points in 50 games. Though the defense was still solid, the drop-off in offensive potential from his first season was a red flag to anybody paying attention. Rectifying things come the playoffs, however, Zboril scored two goals and 10 points in 17 games, finding his offensive game while still logging tough minutes defensively. A bounce-back year in 2016-17 for Zboril, the Brno, Czech Republic native scored nine goals and 41 points in 50 games and looked as good as he's ever looked last year.
Using Brandon Carlo as Motivation
It was a sign of improvement for the first round pick who is just waiting for the opportunity to earn a roster spot at the NHL level. Looking to earn that opportunity sooner than later, Zboril is using young Bruins blueliner Brandon Carlo – a player drafted 24 picks after Zboril in 2015, and the Bruins need for a left-shot defenseman as motivation to compete for a roster spot. With a trip to the Memorial Cup Finals last season, Zboril is just itching to play meaningful hockey again. While the preseason may not mean anything in the grand scheme of things for team success, it certainly means something for players looking to make the jump to the NHL. If Zboril can compete hard in the preseason and earn a roster spot, he'll get a chance to play meaningful hockey from the second he makes his NHL debut.
Zachary Senyshyn's Upside is a Difference Maker
Rounding out the top-four for the Bruins is Zachary Senyshyn. A polarizing figure from the day he was taken with the 15th pick in 2015, Senyshyn, like Zboril, has had to wear blinders as he's worked on developing himself into an NHL talent. Considered to be a reach at pick No. 15 with some of the available talent left on the board, Senyshyn drew the ire of Bruins' fans before they ever really got a chance to know him. With Don Sweeney just starting in his tenure as the team's general manager, murmurs were already starting to spread about how he may not be the man for the job. Standing by his decision, however, Sweeney's choice of Senyshyn has proven to be a good one two years later.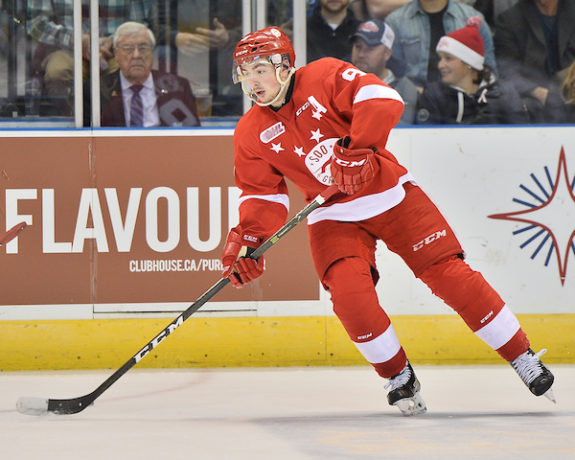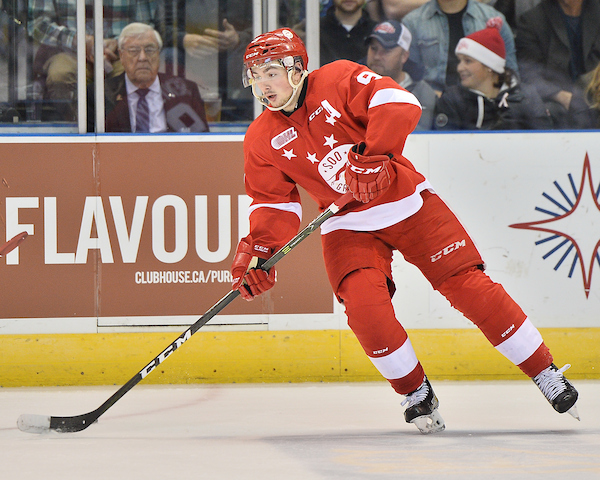 A fourth-line player and one of the youngest skaters on his team in his draft year, Sensyshyn still managed to score 26 goals and 45 points in 66 games with the Sault Ste. Marie Greyhounds in 2014-15. Earning more ice time and a bigger role with the team in his sophomore season, Senyshyn improved upon his draft year totals with a breakout year featuring 45 goals and 65 points in 66 games – 19 goals and 20 points more than he posted in the same amount of games one season prior. It was a welcome jump for the 6-foot-3, 196-pound winger who was looking to prove the Bruins right. In the 2016-17 season, Senyshyn scored 42 goals and 65 points in 59 games and continued to demonstrate his tremendous blend of size, skill and speed.
Learning on the Job
Though the Bruins don't really have a right wing prospect outside of Senyshyn who projects to make an impact at the NHL level, the 20-year-old has a chance to prove his worth in training camp with the Bruins ahead of the 2017-18 season. Skating in four playoff games in 2017 in the AHL, Senyshyn didn't look as good as many would have hoped. Still, thrusting him into the mix in a deep playoff run on a team that had already gelled and competed at such a high level throughout the entire season and playoff run to that point put Sensyshyn in a difficult spot.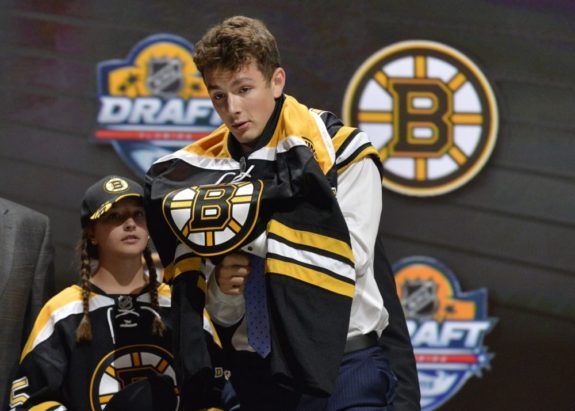 With a full offseason to improve and prepare, the Bruins top right wing prospect could find himself in a bigger role with the team's AHL club next season, though he'll also be given every opportunity to compete for an NHL roster spot from the get-go as well.
For the Bruins, it's an interesting situation to be in. Prospect pools don't often culminate into high-impact NHL players all in the same season. Many of the Bruins top prospects have an opportunity to make the team's roster next season – beyond just the names mentioned above. In a salary cap era so highly dependent on entry-level contracts to offset bigger cap hits, the Bruins could be set up for years to come with the current pool they've compiled.
Honorable Mentions: Jakob Forsbacka Karlsson, Danton Heinen, Matt Grzelcyk, Jake DeBrusk, Rob O'Gara, Ryan Lindgren, Trent Frederic, Ryan Donato, Jesse Gabrielle
Brandon Share-Cohen has covered the NHL and various professional sports for seven years. Working with The Hockey Writers, Brandon works extensively on covering the Boston Bruins in addition to his role as the News Team Lead.