The Winnipeg Jets are off to one of the hottest starts in franchise history. I know this because I spent the last three hours combing the record books. Looking at those books reminds me of one of the only complaints Jets fans have about their team. When the Jets moved from Atlanta, Winnipeg inherited all of their team history. Gone were names like Teemu Selanne and Dale Hawerchuk, part of Phoenix history now.
They were replaced by names like Ilya Kovalchuk and Kari Lehtonen, players who meant nothing to the city of Winnipeg prior. When Jets fans look at these records there are no memories, no attachment. They serve only as a reminder of the years without NHL hockey. To make us all feel better, let's look at the current records, and review which current Jets are going to break them.
Goals in a Season
Current Record
Ilya Kovalchuk actually owns this record twice. He managed 52-goal seasons on two separate occasions. The Russian winger accomplished the feat for the first time in the 2005-06 season in only 78 games. With 46 assists that season, he led the Atlanta Thrashers in points. However, the Thrashers still missed the playoffs, and Kovalchuk missed the Rocket Richard Trophy as Jonathan Cheechoo potted 56 goals that season.
He reached the 52-goal plateau again two years later in the 2007-08 season but again it wasn't enough, as Alex Ovechkin took the Richard Trophy that year, winning his first of six, with 65 goals. Kovalchuk played one more season in Atlanta before heading to New Jersey and later to the KHL. Though a return to North America has been rumored, Kovalchuk only spent a year and a half in the league once the Jets returned. Jets fans have no attachment and younger fans have no memory of Kovalchuk at all.
Future Record
In the 2016 NHL Draft, the Jets cashed in on the lottery, winning the second overall pick, with which they chose Patrik Laine. Though he didn't put up 72 goals in his rookie season like another Finnish Winnipeg Jet, 36 was a pretty good rookie campaign. Laine is off to a good start this season with 15 goals in his first in 31 games. It may not be this year, but if any current Jet can break Kovalchuk's record, look towards Laine.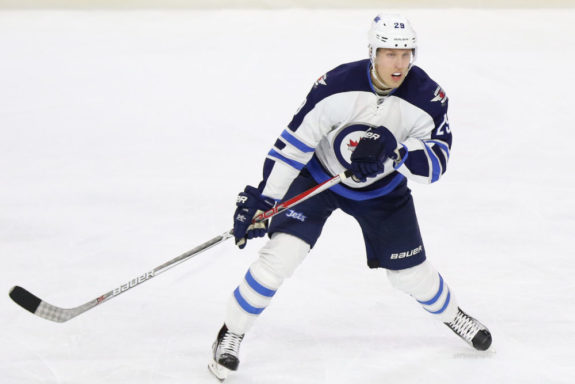 Games Played
Current Record
At least this category has some current Jets at the top of the list. Chris Thorburn is the current leader playing in 709 games. He will be passed this season by both Bryan Little (703) and Tobi Enstrom (695). With many other current Jets on this list, expect this record to fall many times over the years.
Future Record
At this point, Mark Scheifele is the odds-on favorite to be the long-term record holder. Currently sitting at 333 games, Scheifele has already been anointed the next Jets captain. The first draft pick after the team relocated, Scheifele has developed into one of the NHL's top players. Locked up until 2023-24, and so far very durable, Scheifele will be a member of the franchise as long as he wants to be.
Points in a Season
Current Record
Marian Hossa is a player Jets fans are familiar with, but more so as a member of their Central Division rivals, the Chicago Blackhawks. Hossa was a prominent member of the Atlanta Thrashers between 2005 and 2008 – he put up some great numbers in those years, including a franchise record in points in 2006-07 when he scored 43 goals and 57 assists totaling 100 points, good enough for sixth in the league.
The 100-point campaign was a career-high for Hossa. He has only managed more than 70 points in a season twice since. The Slovakian has been successful since leaving the franchise, including three Stanley Cup championships, making him a Hall of Fame candidate.
Future Record
The most points any Winnipeg player has had since Hossa left is Mark Scheifele's 82 scored last season. He is one of two Jets this season on pace to break the record, the other being Blake Wheeler. The duo has led the Jets' top line for much of the last few seasons. It appears both have finally broken into the NHL elite. They've led this year's team to the top of the NHL standings, and both appear at the top of the leaderboard in most offensive categories.
Mark Scheifele and Blake Wheeler are both currently top 5 in NHL scoring. Are the @NHLJets legitimate Cup contenders? pic.twitter.com/cSlzfYAfiC

— Sportsnet (@Sportsnet) December 4, 2017
Scheifele is on pace for over 103 points while Wheeler is en route to just north of 106. This will be Scheifele's record at some point. Between him and Wheeler, as well as Patrik Laine and Nikolaj Ehlers, this record is not meant to remain Hossa's.
Born and raised Winnipeg sports fan and contributor with The Hockey Writers.