If you're an Edmonton Oilers fan, you should already be familiar with the saga surrounding prospect Tyler Benson. He's had a tough go as of late, and injuries have limited him to just 63 games over the past two seasons. Those same injuries were a reason he went from being projected as a first-round pick, to falling into Edmonton's lap with the 32nd selection in 2016. Now in his final year of junior with the Vancouver Giants, Benson has been playing like a man on a mission.
It's interesting how quickly you can get tagged with the "injury-riddled" label. Benson's play recently gives hope that all those injuries didn't hinder his overall development. Benson missed the first 13 games of the season recovering from sports hernia surgery, and obviously, there was concern about how much time he'd miss this year. He's responded early with 12 goals and 29 points in 19 games.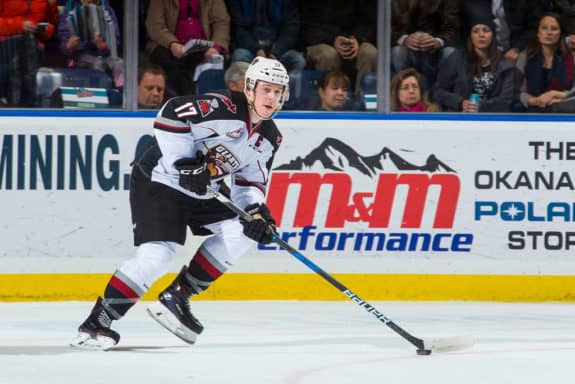 It seems everyone this summer was overly cautious with rushing Benson back. He sat out the World Junior Summer Showcase, despite attending with Team Canada. He didn't skate during Oilers rookie camp, and essentially stayed out of main camp as well. He's finally healthy, and things are looking up. If he played the same number of games as teammates Ty Ronning and James Malm, Benson would be leading the Giants with 48 points right now. While carrying an impressive 1.52 points-per-game (P/GP), he recently went through a stretch that saw him score 23 points in 12 games.
Still, this wasn't enough for Benson to make a late impression on Team Canada's management team for the WJC. It's disappointing, but in the long run, having a healthy Benson playing anywhere is a plus for the Oilers. He turns pro next season and could be a much needed offensive addition to the Bakersfield Condors (AHL). Outside of him, let's take a quick snapshot of how the rest of Edmonton's 2016 prospects are doing. Are any of them World Junior worthy?
D Markus Niemelainen
Drafted: 3rd Round, 63rd Overall
Niemelainen took a step back last year and moved to Finland after playing two seasons with the Saginaw Spirit. The 6-foot-6, 205-pound defender has one assist in 17 games with HPK and was loaned to LeKi in the Mestis. Despite being a returning member of last year's entry for the WJC, Niemelainen may not make the final roster for Team Finland this time around. He hasn't had a great year overall and looks like his development has taken a step back this year. There's still buzz about him being a steady two-way defenseman, but there's reason to question where his NHL upside lies.
D Matthew Cairns
Drafted: 3rd Round, 84th Overall
Cairns has bounced around the last two seasons and has played in the OJHL, USHL, BCHL and now the NCAA. He's playing at Cornell University this season and looks to be out with an undisclosed injury currently. The 19-year-old has played just one game this season but is described as another puck-moving blueliner and a decent skater who could have NHL upside. Most of all, he's got size and strength. He put up 16 points in 18 games in the BCHL last season. He was the second of three third-round picks in 2016 and might be the furthest behind in development right now after Filip Berglund (91st) and Niemelainen as mentioned above (63rd).
D Filip Berglund
Drafted: 3rd Round, 91st Overall
Berglund's the mid-range pick you want to keep track of. He's done reasonably well this season transitioning to Sweden's top league and has six points in 18 games for Skelleftea. His game is starting to blossom. He's got an absolute cannon from the point, can help on the power play, and is even that elusive right shot defenseman teams covet. At 6'3″ and 209 pounds, this is a blueliner the Oilers will want in North America soon. He's not exactly on Team Sweden's radar right now, which is puzzling, but with his size, mobility, and shot, you'd have to question that decision. His two-year extension expires this summer, so it's possible for Berglund to be in Bakersfield next season.
G Dylan Wells
Drafted: 5th Round, 123rd Overall
Along with Benson, Wells is the only other player from this draft class currently signed to an ELC. The most significant criticism with Wells is consistency – he looks great one night, and bad the next. If you remember, he was invited to Canada's Summer Showcase camp, however, he played himself out of a spot. His numbers (3.39 goals-against average, .903 save percentage through 26 games) suggest he's your average to above average starter in the OHL. In 11 of those 26 games, he's allowed four or more, so make with that what you will. Team Canada named Michael DiPietro, Carter Hart, Samuel Harvey, and Colton Point to their preliminary roster. He'll need a strong second half in 2017-18 to get himself back on track.
LW Graham McPhee
Drafted: 5th Round, 149th Overall
The son of Vegas Golden Knights general manager George McPhee, Graham has had a good year with Boston College so far. His ten points in 18 games are almost equal to what he put up regarding points last year in 39 games. Scouting reports describe him as a defensive winger, but he's starting to show some offensive abilities. It could be a few years until McPhee joins the pro ranks, but it's unclear what his ceiling is. Could he eventually be a bottom-six guy for the Oilers? Time will tell, but he's showing responsibility on both sides of the rink. Still, you'd probably consider McPhee a long-shot and a project player overall.
C Aapeli Rasanen
Drafted: 6th Round, 153rd Overall
Rasanen, like Berglund, is another European pick to watch. He was a seventh overall pick in the KHL draft but elected to come to North America and grind it out in the USHL. This season he's joined McPhee with Boston College (NCAA) and has ten points in 18 games. He scored a point-per-game at last year's WJC with Finland, and is coming along nicely as a prospect. Rasanen was named to Finland's preliminary roster for the upcoming WJC. He's a right shot center, very strong on the puck, and excellent hockey sense. Keep tabs on this kid because he could be a late round gem for the Oilers.
D Vincent Desharnais
Drafted: 7th Round, 183rd Overall
Edmonton likes drafting defensemen with size, and Desharnais is another 6-foot-6 addition. The problem is, his upside as an NHL defender might be wishful thinking. He's strong, but he's slow. He's got a cannon, but outside of that, his skill set is quite limited. Desharnais didn't stand out much during Oilers development camp, either. He's in his third year at Providence College, so there's the possibility of him turning pro relatively soon. Edmonton's got a logjam on defense, but their prospects have stalled outside of Ethan Bear and Caleb Jones. At this stage, they'll need guys like Desharnais to fill the gap, but his development doesn't leave a favorable impression.