If you're an Edmonton Oilers fan you know a few things when it comes to their history at the NHL Entry Draft. For one, the Oilers never seem to hit on anything outside of the first round and they have a horrendous record when it comes to developing and cultivating talent.
Insert Tyler Benson.
A week ago, the Oilers signed their 2016 second round pick (32nd overall) to a three-year entry-level contract (ELC) with a $870,000 cap hit. Pretty standard stuff, but the difference is that Benson is a prospect that'll buck the trend and could be the best forward prospect in their system right now.
There is a lot to be excited about, and at one point Benson was being talked about as a top-ten pick in that draft, but he fell due to an injury. That scared off enough teams that he fell into the Oilers lap at 32nd, just like how Jesse Puljujarvi was gift wrapped to the Oilers at fourth overall last year.
Oilers Best 2nd Round Pick in Years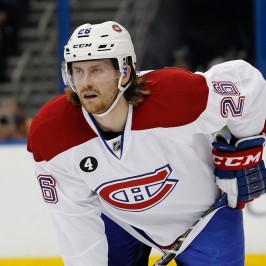 If we run through the name of Oiler second round picks since 2006, you'll see Benson is the best of the lot and could very well be a key piece in the Oilers future, nuzzling comfortably into the second-line left wing spot in the top-six.
From a true optimists perspective, Benson could be the Oilers best second-round pick since Jeff Petry in 2006. A decade later, Petry is a bonafide top-four NHL defenseman.
| | | | |
| --- | --- | --- | --- |
| Draft Year | Overall | Player | Amateur Club |
| 2006 | 45th | D Jeff Petry | Des Moines (USHL) |
| 2009 | 40th | C Anton Lander | Timra IK (SEL) |
| 2010 | 31st | R Tyler Pitlick | Minnesota State – Mankato (WCHA) |
| 2010 | 46th | D Martin Marincin | Slovakia U20 (Slovakia) |
| 2010 | 48th | L Curtis Hamilton | Saskatoon (WHL) |
| 2011 | 31st | D David Musil | Vancouver (WHL) |
| 2012 | 32nd | L Mitch Moroz | Edmonton (WHL) |
| 2013 | 56th | C Marco Roy | Blainville-Boisbraind (QMJHL) |
| 2016 | 32nd | L Tyler Benson | Vancouver (WHL) |
Anton Lander has been a fringe NHL prospect or fourth-line forward. Tyler Pitlick finally stepped out and has shown he can be an effective third-line winger, when healthy. Martin Marincin is a struggling defender in Toronto's depth chart. Curtis Hamilton, Mitch Moroz and Marco Roy's development stalled in the minor leagues and David Musil's best case scenario could become a No. 6/7 NHL stay-at-home defenseman.
Benson Has Favourable Long Term Projections
If you read the scouting reports on Benson, nine out of 10 reports were surprised he fell out of the first round altogether. The captain of the WHL Vancouver Giants plays a well-balanced game.
He can be physical, hard to knock off the puck, can score goals with his quick release and make smart plays with the puck. He's got a very strong hockey IQ and almost got exceptional-status to play in the WHL as a 15-year-old at one point.
It was a shock that he didn't make Team Canada for the World Junior Championships this year and was regarded by many to be in contention for a bottom-six role with the team. It wasn't meant to be, but it's not something to dwell on.
Just ask Alex Dibrincat who's averaging a goal-per-game with the OHL Erie Otters and was left off Team USA for the same tournament. Sometimes players find themselves outside the mix. It's not a shot at the player.
What Does It All Mean?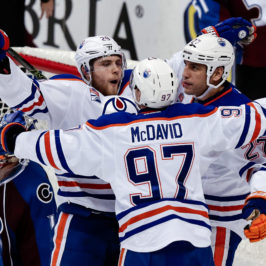 The Oilers just signed a very well balanced forward with a great complimentary skill set for Connor McDavid, Leon Draisaitl, and to a lesser extent Milan Lucic, Jordan Eberle and even Jesse Puljujarvi. He's a guy that'll create space for everyone else and projects as a solid top-six forward.
He might not be a 30 goal, 60 point scorer, but looking at a 15-20 goal scorer and a 40-55 point producer might be a realistic expectation for Benson. Right now with the Oilers long term forecast, Benson has an opening on the left side slowly appearing when he's ready to make the jump eventually.
I'm not saying Benson is going to be an NHL forward next year, but in two to three years time, Benson will look excellent skating with a bigger Oilers forward group with the likes of Leon Draisaitl and Jesse Puljujarvi (when his game starts coming together).
Say what you want about the Oilers drafting abilities, but they might've finally hit on a keeper during the second-round.