The Edmonton Oilers have opened their summer player development camp in Jasper, Alberta for July 1-5. The Oilers have a total of 36 prospects attending the camp including 20 drafted prospects, 13 invitees and three players signed since the spring. Each of Edmonton's 2017 draftees will be in attendance. The only player who will not participate in on-ice drills is defenseman Ethan Bear.
Bear, 20, just wrapped up his junior career with the WHL's Seattle Thunderbirds and was named the league's best defenseman last season. Edmonton's fifth-round pick in 2015 is out with a hand injury but should be ready for the main camp this fall.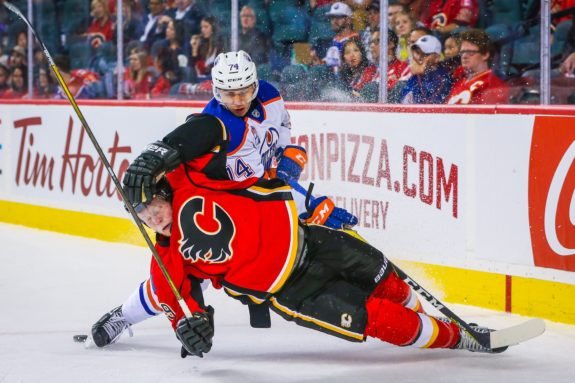 While Bear won't participate on-ice, the Oilers will have several notable prospects at camp. Kailer Yamamoto (2017 first-round pick), Tyler Benson (2016 second-round pick), Caleb Jones (2015 fourth-round pick) and Dylan Wells (2016 fifth-round pick) will all be on-ice. Yamamoto and Benson project to be a key piece of the Oilers offensive ranks in years to come.
Meanwhile Jones, the younger brother of Columbus Blue Jackets defenseman Seth Jones, is getting ready for his first pro season. Jones, 20, is projected along with Bear to join the AHL Bakersfield Condors.
Wells, on the other hand, is returning to the OHL's Peterborough Petes. Some believe Wells might be one of the top five goalies in the Ontario league and could be Team Canada's goalie at the upcoming World Junior Championships. The 19-year-old had a 0.916 save percentage in 52 OHL games last season.
Development Camp News & Schedule
For development camp, the roster will be divided into two teams — Gretzky and Messier. Each team will have three on-ice sessions throughout the camp, and separate on-ice sessions for the forwards and the defense. There will also be one scrimmage between the two teams during the first four days of camp. In total each prospect will skate five times. The camp will end on July 5 with the annual Billy Moores Cup.
An interesting note is that Hayley Wickenheiser will serve as a guest coach at the camp.
All on-ice sessions and the Billy Moores Cup will be held at Jasper Arena.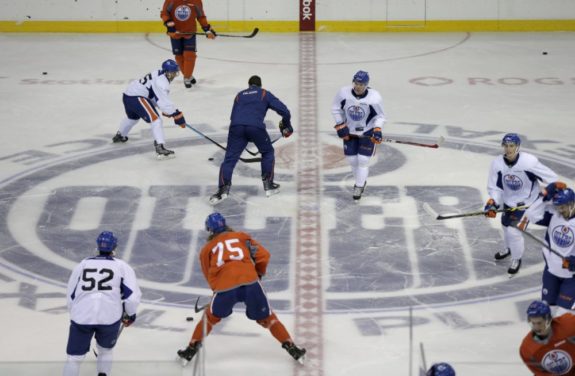 Here's the full camp schedule:
July 1 – 9:30 am – Media availability (Oilers Hall of Fame)
July 2 – 9:00 am – Team Gretzky on-ice session
July 2 – 11:00 am – Team Messier on-ice session
July 3 – 9:00 am – Team Messier on-ice session
July 3 – 10:15 am – Team Gretzky on-ice session
July 3 – 11:30 am – Scrimmage (Both teams)
July 4 – 8:00  am – All Forwards on-ice session
July 4 – 10:00 am – All Defensemen on-ice session
July 5 – 9:00 am – Team Messier on-ice session
July 5 – 10:15 am – Team Gretzky on-ice session
July 5 – 5:15 pm – Billy Moores Cup
Development Camp Roster
Team Gretzky is highlighted by Wells, Benson, Yamamoto and recent college free agent signing Joe Gambardella. Team Messier is highlighted by Jones, Stuart Skinner (2017 third-round pick), Aapeli Rasanen (2016 sixth-round pick) and Ostap Safin (2017 fourth-round pick).
Skinner, 18, plays for the WHL's Lethbridge Hurricanes and could one day develop into the Oilers future starting goalie. Rasanen, 19, had the best faceoff percentage at the 2017 WJC's with Finland and was named one of their top three players at the tournament. Rasanen has committed to Boston College next season.
Safin, who plays in the Czech Republic, was recently drafted by the QMJHL's Saint John Sea Dogs in the CHL Import Draft. Where Safin plays next season is still up in the air.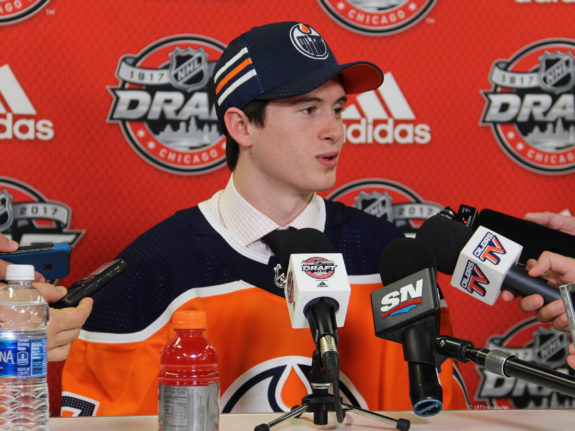 Regardless when it comes to the invitee's several names stand out. Sahvan Khaira, 19, is the brother of Edmonton's Jujhar Khaira. The younger Khaira who stands 6'3″ and 218 pounds, plays for the WHL's Swift Current Broncos. He's currently undrafted.
Then there are the twin sons of former Oiler Peter Klima. Kelly and Kevin both play for the QMJHL's Chicoutimi Sagueneens and had 49 and 36 points respectively last season. Todd McLellan's son, Tyson, has also been invited to camp. Tyson McLellan, 21, is an undersized forward at 5'9″ and 165 pounds who played for the University of Denver last season. McLellan had 25 points in 46 games last year.
Team Gretzky

Team Messier

G Miroslav Svoboda

G Dylan Wells

 

D Matthew Cairns

D Sahvan Khaira (invitee)

D Ryan Mantha

D Markus Niemelainen

D Dmitri Samorukov

 

 

F Tyler Benson

F Joe Gambardella

F Kelly Klima (invitee)

F Kevin Klima (invitee)

F Kirill  Maksimov

F Tyson McLellan (invitee)

F Graham McPhee

F Evan Polei (invitee)

F Ethan Szypula (invitee)

F Kailer Yamamoto

G Stuart Skinner

G Shane Starrett

 

D Mark Auk (invitee)

D Filip Berglund

D Vincent Desharnais

D Caleb Jones

D Philip Kemp

D Ziyat Paigin

 

F Skyler Brind'Amour

F Matt Butcher (invitee)

F William Graber (invitee)

F Davis Koch (invitee)

F Jake Lucchini (invitee)

F Adam Muir

F Steven Owre (invitee)

F Aapeli Rasanen

F Ostap Safin

F Brandon Saigeon (invitee)