When Olympic hockey comes around every four years, Canadians trade in their toques, parkas, and double-doubles for a cozy spot on the couch watching their nation dominate the international stage. While the answer of whether or not the NHL will play in the 2018 Winter Olympics in South Korea is still very much up in the air, hockey fans and media alike can't stop studying the thought of what Team Canada's roster might look like.
This hypothetical roster will be looking to win their third straight Olympic gold medal and create history. While we are going to continue to see proven winners like Sidney Crosby, Jonathan Toews and Shea Weber headline the roster, new faces will also make an appearance. Connor McDavid is already a lock, while Mitch Marner and Jonathan Drouin have the skill-sets and dynamite legs to make a case for themselves. One name that simply does not get enough attention is Mark Scheifele, and that might be because people just don't know how good he can be yet.
Humble Beginnings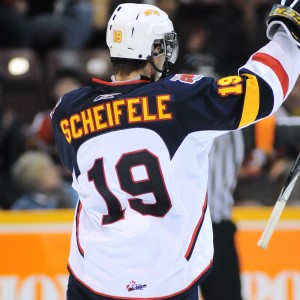 How high is Scheifele's ceiling? Well, top-10 in league scoring all season is a pretty good indicator. After Scheifele was drafted seventh overall in the 2011 NHL Entry Draft, he spent two seasons in the Ontario Hockey League (OHL) with the Barrie Colts. Scheifele's coach in junior was former Jets superstar Dale Hawerchuk, who had glowing reviews of the Kitchener, Ontario native.
When general manager Kevin Cheveldayoff announced the selection of Scheifele, many fans were not familiar with the name, and who could blame them? Only two years before hearing his name called on stage in St. Paul, Minnesota, he fell to the seventh round (134th overall) in the 2009 OHL Bantam Draft. He joined Cheveldayoff and Executive Chairman Mark Chipman among others on stage with a smile on his clean-shaven face and slipped on a temporary, plain black NHL jersey because the team didn't have a jersey nor a logo yet. In fact, just prior to the Scheifele selection, the team announced that they would be bringing back "Jets" as the team name. The last selection under the name "Jets" was a player that went on to play over 1,500 games with the franchise (and counting): Shane Doan.
Scheifele is an honest, character kid who has earned every bit of what he has achieved in his young NHL career. He was cut twice from the big team but came back better and stronger each season. A student of the game, Scheifele is the perfect face of a blue-collar franchise like the Jets. This is the youngster's first season with a letter on his chest as an alternate captain, and I would be shocked if that is the only letter we see on his jersey during his career with the pressure-packed Jets franchise.
https://twitter.com/MikeKellyNHL/status/834187050022797313
Where Does Scheifele Rank?
Scheifele has already proven himself as a number-one center and in the Western Conference. Though the Eastern Conference is strutting their stuff this season, the West has traditionally been the tougher conference in recent years. In Winnipeg's Central Division alone, Scheifele is tasked with going head-to-head against the likes of Jamie Benn, Patrick Kane, and Vladimir Tarasenko. That's not to mention also matching up against opponents' top defensive aces such as Roman Josi, Ryan Suter, and Duncan Keith, again in the Central alone. This is not including the road trip through California, or rather "death valley," where teams will play Ryan Getzlaf with Anaheim, Anze Kopitar with Los Angeles, and Joe Thornton with San Jose. All are 6 foot 3 or taller with over 700 points each.
Scheifele currently sits sixth in league scoring with 62 points in 60 games played, including a career-high 37 assists, placing him eighth in the league in that category. Scheifele, 6 foot 3 to his own credit, is mostly viewed as a playmaker, yet it appears he is destined to sit right around the 30-goal mark again this season. His shooting percentage (20.2%) in ranked fifth in the league for players with over 50 games played, and he sits tied for thirteenth in goals with 25.
All-Around Player
Scheifele's overall game is extremely solid and he plays equally as well at both ends of the ice, which is why head coach Paul Maurice and the Jets use him in all situations. Despite his two-way prowess, he is the first to admit his faceoffs need work, as they currently sit at 44.2%, the seventh-worst in the league for centers who have taken 500 or more faceoffs. With his willingness to improve, I have no doubt that stat will only go up.
What makes Scheifele's two-way impact so good is his ability to hold on to the puck. The 2012 World Junior alumni sees a ton of ice, as he ranks 12th in time on ice per game (TOI/G) among NHL forwards but is tied for the second best giveaway/takeaway differential in the league at plus-24.
At just 23, Scheifele should absolutely be in the discussion when talking about the NHL's elite. Scheifele will be blessed with the opportunity of playing between two unbelievable talents in their own respects, Patrik Laine and Nikolaj Ehlers. The trio has a chance to become one of the most dynamic, punishing lines in the league. With the vision and smarts from Scheifele, the strength and shot of Laine, and the hands and creativity of Ehlers, this team is going to be just fine. And for Team Canada? Steve Yzerman and management better save a spot for the new Golden Jet because he's still getting better.