The annual NHL Entry Draft is an event defined by immense anticipation and excitement.
For a handful of teams, the Draft presents the unique opportunity to drastically improve an organization's roster in the blink of an eye. Whether it be adding crucial scoring depth, a top defenceman or a potential goaltender of the future, the event and the incredible talent which it consistently offers has become a suspenseful staple within the NHL calendar.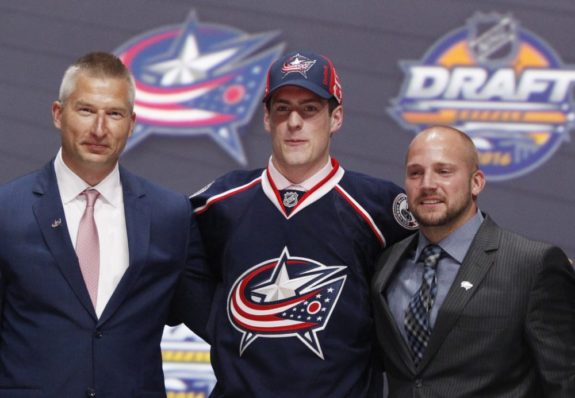 In 2017, the case appears no different, as a wealth of highly skilled young players stands poised to enter the league. At the top of the list are Nolan Patrick and Nico Hischier, two elite forwards who have battled for the number one position throughout the 2016-17 campaign and are both equally deserving of the distinction.
However, despite possessing its fair share of lethal talent, the 2017 Draft Class simply does not have the same depth as witnessed in years passed. In fact, following the top-two choices no selection is definitively set in stone, as the order in which players are picked will largely boil down to the positional preferences of a given team.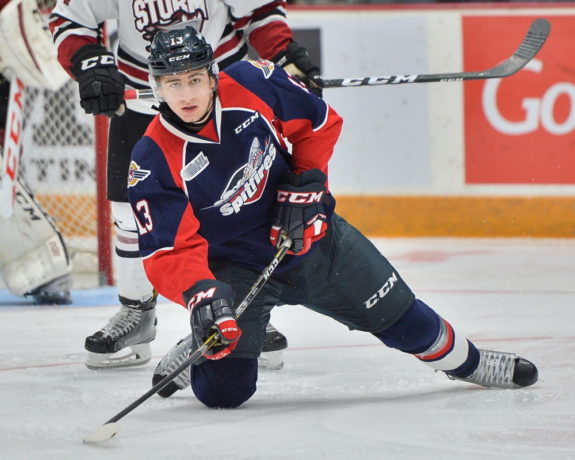 So, although it goes without saying that the 2017 Draft will be exciting, it appears as though the 2018 NHL Draft is destined to be much more exhilarating, as the wealth of high-end talent within the Draft Class is seemingly endless. Further, the battle to become the first overall selection will not be fought by a mere two players but, rather, upwards of five, as the 2018 event possesses skaters of a variety of positions with the potential to become legitimate NHL stars.
With this being said, let's take a look at 10 of the top prospects poised for selection in the 2018 NHL Draft.
Rasmus Dahlin – D
Age: 17
Height/Weight: 6'1″/165
2016-17 statistics: 26GP: 1G, 2A, 3Pts (Frolunda HC – SHL)
How good is Rasmus Dahlin?
Well, during the 2016-17 season, Dahlin made his professional debut with Frolunda HC of the Swedish Hockey League. Although his point totals weren't necessarily astonishing, the fact that he reached the SHL at the young age of 17 years certainly was, as Dahlin took to the ice as the only 2000-born skater in the entire league.
A crafty two-way defender, Dahlin has drawn incredible praise as the result of his lethal all-around game. A smooth and agile skater, Dahlin has speed to burn and loves to jump up in the play, however, he also uses his impeccable footwork to consistently fend off attacking forwards. In addition to his strong defensive play, Dahlin loves to throw his weight around and is by no means afraid of ruffling his opponents' feathers.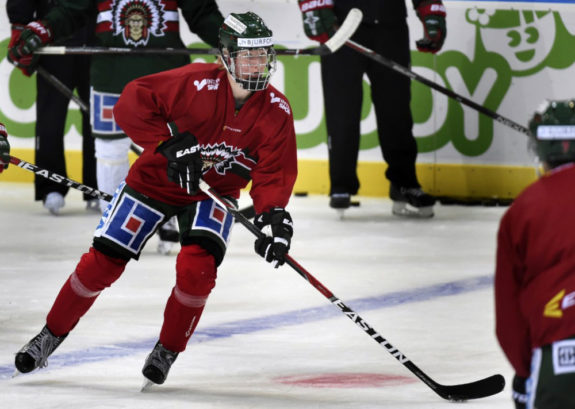 Capable of playing in all situations, Dahlin is particularly potent on the power play where his intelligence and creativity allow for offensive opportunities to abound. While he doesn't have an overpowering shot, Dahlin aims instead for accuracy and has the valuable ability to put the puck on net through traffic.
Having drawn comparisons to Erik Karlsson, Dahlin could very well be a top-five pick in the 2018 Draft, if not higher. While he first began to draw worldwide praise following his impressive display at the 2017 World Junior Championship, expect to hear Dahlin's name rather frequently throughout the 2017-18 season, as his talents are certainly worth discussing.
Quinn Hughes – D
Age: 17
Height/Weight: 5″9'/170
2016-17 statistics: 65GP: 10G, 43A, 53Pts (U.S. National U18 Team – USDP)
An innate playmaker, one would initially assume that Quinn Hughes is a forward given his sparkling offensive totals. However, Hughes is, in fact, a defenceman and an incredibly promising one at that.
Committed to the University of Michigan for the 2018-19 season, Hughes has long been a standout within the United States Development Program. A terrific skater with quick feet and excellent vision, Hughes' game has become well-regarded due to both his creativity and ability to transition the puck from the defensive to the attacking zone.
Capable of firing a crisp and accurate pass through traffic, Hughes can force the puck up ice and hit his forwards with seemingly impossible passes. Whether it be a timely saucer pass, a bank off of the boards or a dish straight up the gut, chances are the puck will get where it's going if Hughes has it within his possession.
Perhaps more importantly, however, is Hughes' composure with the puck. Although he is only 17 years old, Hughes is tremendously composed and seemingly never makes a poor pass or loses possession. Utilizing excellent body positioning, Hughes can protect the puck and move it to his forwards not only with relative ease but also consistency.
Projected to be made a high first round pick in the 2018 Draft, Hughes will be a solid addition to an NHL team looking for a sound puck-moving defender. Somewhat undersized, bulking up and becoming stronger will be key to Hughes' future professional success.
David Levin – LW/RW
Age: 17
Height/Weight: 5'10″/170
2016-17 statistics: 66GP: 18G, 35A, 53Pts (Sudbury Wolves – OHL)
David Levin's road to the NHL has been long and winding, yet by the time his name is called in the 2018 NHL Draft it will undoubtedly have been worth enduring.
Born in Tel Aviv, Israel, Levin played inline hockey until the time he was 12 years old. In order to follow his dream of playing in the NHL, Levin moved to Canada shortly after and joined the Don Mills Flyers – a minor midget team playing within the Greater Toronto Minor Midget Hockey League. Following an incredible season in 2014-15, Levin was, amazingly yet deservedly, selected first overall in the 2015 OHL Priority Selection by the Sudbury Wolves.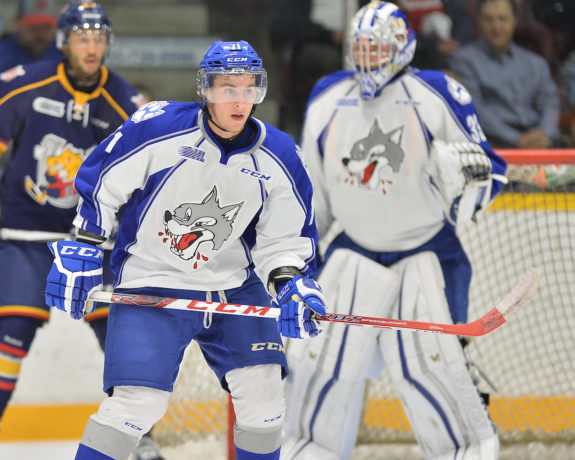 A highly competitive and driven forward, Levin's game is based on strength and offence.
Very strong on his feet and a quality skater, Levin can use his body to protect the puck or accelerate quickly in order to beat opposing defenders wide. Further, as a pass-first player, Levin can distribute as well as shoot the puck with authority, while his sensational puck-handling skills combine to make him an all-around threat in the offensive zone.
While he is still learning the game, Levin had displayed the capability to adapt quickly as well as learn the tendencies of opposing players – an ability which often allows him to read the play before it develops. Described by Wolves head coach David Matsos as "a franchise player… an impact player right now at 16" during his rookie OHL season, Levin has all the makings of a future NHL star given the time to adequately develop his tantalizing skill set.
Ryan McLeod – C
Age: 17
Height/Weight: 6'2″/190
2016-17 statistics: 68GP: 9G, 33A, 42Pts (Mississauga Steelheads – OHL)
Although he was originally drafted by the Flint Firebirds in the 2015 OHL Priority Selection, Ryan McLeod was immediately traded to the Mississauga Steelheads – joining his older brother and New Jersey Devils prospect Michael in their hometown.
A pass-first player whose game has grown tremendously during his first two years of OHL action, McLeod's style is based on his sensational skating abilities. In fact, McLeod was voted as one of the OHL's best skaters in the 2016-17 Coaches Poll, as his blinding speed and ample agility combine to make him a shifty and creative threat.
In addition to his mobility, McLeod is a phenomenal passer who sees the ice extremely well. Capable of making long distance passes or saucering the puck to a teammate at the back door, McLeod loves to gather assists and, as such, they comprise the vast majority of his point totals.
Projected to be a top-ten selection in 2018, McLeod's confidence grew substantially this past season and allowed him to become an even more lethal and capable threat – 20 points in 20 playoff games being the major indication of which. As such, McLeod's third OHL campaign should display even greater progression and solidify the Mississauga, Ontario, native as one of the game's top young talents.
Allan McShane – C
Age: 17
Height/Weight: 5'11″/190
2016-17 statistics: 62GP: 17G, 27A, 44Pts (Erie Otters/Oshawa Generals – OHL)
When Allan McShane was drafted by the Erie Otters in 2016, he stood poised to strengthen an already powerhouse Otters squad. Boasting the likes of Dylan Strome, Alex DeBrincat, and Taylor Raddysh, McShane found himself in the perfect situation to further develop his game.
However, everything changed when McShane – a major piece of Erie's future – was traded to the Oshawa Generals in a deal which sent Anthony Cirelli south of the border. Loading up for a Memorial Cup run, the Otters moved McShane in order to achieve short-term success rather than maintain long-term sustainability.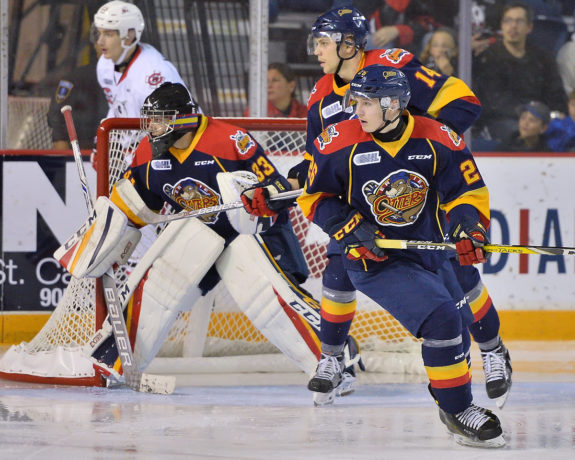 A talented playmaker who has a nose for the net, McShane has the ability to both pass and shoot the puck. Although he will typically opt to pass – one of his strongest abilities – McShane will also drive to the net in search of rebounds. Further, having developed incredible eye-hand coordination, McShane will frequently deflect puck directed on net from the points.
In addition to his offensive skills, McShane is, like the majority of the top prospects eligible in 2018, an excellent skater with oodles of speed and agility. Although he doesn't have blinding speed, McShane is quick enough to put opposing defenders on their heels and has the ability to know exactly when he has done so. An intelligent player, McShane uses this knowledge to drive to the net or to instead stop up early and find a teammate trailing the play.
Set to open the 2017-18 OHL campaign with the Generals, McShane should continue to develop nicely and especially so given the mix of young and experienced talent home to Oshawa. Although he likely won't be a top-five choice in the 2018 Draft, McShane has tremendous upside and has yet to reach his immense potential.
Ryan Merkley – D
Age: 16
Height/Weight: 5'11″/165
2016-17 statistics: 62GP: 12G, 43A, 55Pts (Guelph Strom – OHL)
The first overall choice in the 2016 OHL Priority Selection, Ryan Merkley made a significant impact in his first season with the Guelph Storm. In fact, the young blueliner was so impressive that he captured the 2016-17 Emms Family Award as the OHL's rookie of the year.
Simply put, Merkley is a lethal offensive threat from the blue line. A tremendous skater who utilizes his edges well and has sensational mobility, Merkley traverses the ice with ease and can slip a check with a quick turn or fake.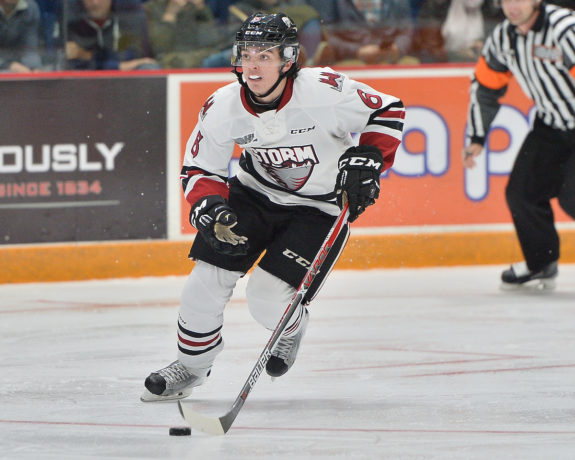 In combination with Merkley's outstanding skating are his fantastic hands and vision. Always aware of where his teammates are on the ice and capable of navigating through the offensive zone with ease, Merkley can elect to pass the puck or instead dangle his way to the net. Although he is a pass-first style of player and as a result tallies far more assists than goals, Merkley's growing confidence has not only resulted in more daring plays but also a much more frequent ability of finding the back of the net.
Given his sensational rookie season, exactly how the 2017-18 OHL campaign will unfold appears quite clear. Improving on a game by game basis and especially so within his own zone, Merkley will surely become a top-five selection in 2018 if he can strengthen his all-around game. Eerily similar to the Senators' Karlsson yet of slightly smaller stature, Merkley is undoubtedly one of the most exciting players eligible for next year's NHL Draft.
Andrei Svechnikov – RW
Age: 17
Height/Weight: 6'2″/190
2016-17 statistics: 48GP: 29G, 29A, 58Pts (Muskegon Lumberjacks – USHL)
Although the 2016-17 season marked his first campaign in North America, Andrei Svechnikov acclimated quickly and let his play do the talking.
A native of Barnaul, Russia, Svechnikov joined the United States Hockey League and the powerhouse Muskegon Lumberjacks and was an instant offensive force. Despite his young age of 16 years, Svechnikov led the Lumberjacks in both goals and points as a rookie, while he also recorded the sixth-most penalty minutes on the team.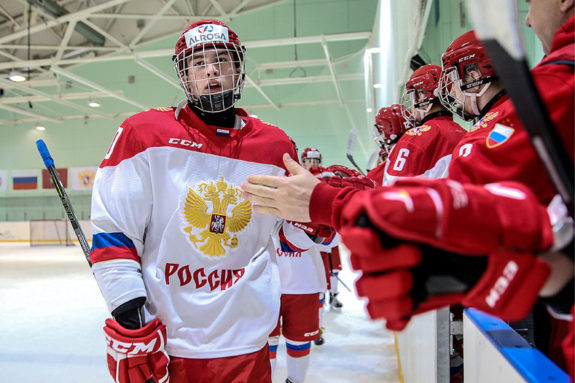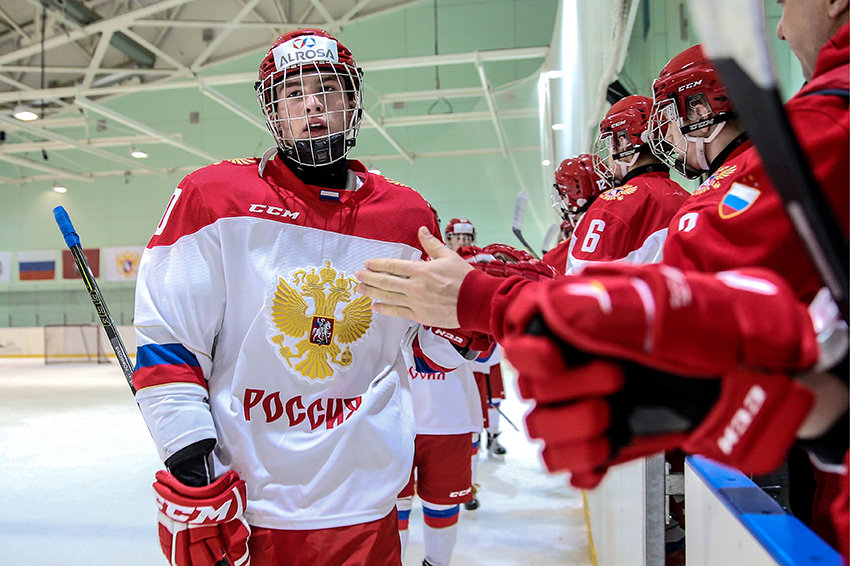 In fact, physicality and grit are merely one aspect of Svechnikov's game and a major reason why he is so successful on the ice. A strong skater of great size, Svechnikov's play revolves largely around his speed and ability to protect the puck. More than willing to drive hard to the net and able to maneuver in close to the goal, Svechnikov has breakaway speed and the puck skills necessary to find the net. Further, with his long strides and strong legs, Svechnikov can easily fend off opposing defenders throughout his drive to the goal.
With one successful USHL season under his belt, Svechnikov will look to further develop his overall game en route to the 2018 NHL Draft. Although he is a terrific playmaker as well as a goal scorer, Svechnikov's play within his own end as well as without the puck needs improvement, however, it goes without saying that the young Russian is a phenomenal talent with massive upside.
Brady Tkachuk – C/LW
Age: 17
Height/Weight: 6'2″/195
2016-17 statistics: 61GP: 25G, 29A, 54Pts (U.S. National U18 Team – USDP)
Are you a fan of Calgary Flames forward Matthew Tkachuk's game? Do you love his unique mix of physicality, grit and high-end skill? If you answered yes, then you will undoubtedly be a fan of Brady Tkachuk, the younger brother of the aforementioned Matthew and the son of long-time NHL star Keith Tkachuk.
Much like his older brother, Tkachuk loves to mix it up physically and aims to wedge himself deep under the skin of his opposition. Already of great size, Tkachuk loves to throw his weight about and especially so when it has the ability to knock his opponents off of their game.
In addition to his physicality, Tkachuk is a tremendously skilled forward who can pass the puck with ease as well as rifle the puck into the back of the net. Blessed with great hands, Tkachuk can handle the puck well below the goal line and can maneuver in and around the goal mouth with ease. Capable of bulging the twine from a tough angle or making a finesse pass to a teammate, Tkachuk is a persistent and consistent threat.
Team captain of the United States' U18 National Team in 2016-17, Tkachuk is committed to Boston University and will, in all likelihood, begin to play with the team to begin the 2017-18 campaign. However, Tkachuk, like his older brother, was also a late-round draft choice of the London Knights, meaning he could alter his route and head north to the OHL should he decide to do so.
All in all, Tkachuk is a unique yet effective threat who will undoubtedly catch the eye of numerous NHL organizations come the 2018 NHL Draft. Although he may not be as skilled as his older brother, Tkachuk is undeniably skilled and of great potential.
Joseph Veleno – C
Age: 17
Height/Weight: 6'0″/180
2016-17 statistics: 45GP: 13G, 27A, 40Pts (Saint John – QMJHL)
Joseph Veleno, a native of Kirkland, Quebec, began his QMJHL career by achieving a feat not even Sidney Crosby was able to accomplish.
On June 4, 2015, Veleno was officially granted exceptional status by Hockey Canada, an exception which ultimately provided the budding young star with the opportunity to enter the CHL one year early. The first Quebec-born player to ever receive the honour, Veleno was subsequently drafted first overall by the Saint John Seadogs where he remains to date.
Through his first two seasons with the Seadogs, Veleno has continued to develop into a reliable and versatile centre. A strong two-way player who focuses equally on both the offensive and defensive zone, Veleno is capable of not only playing but succeeding in any situation on the ice.
In terms of his individual skill-set, Veleno is an exceptional playmaker with excellent vision. Capable of finding a fellow teammate with an accurate or seemingly impossible pass, Veleno can generate offence from a dead play and handles the puck with great composure. While he will elect to pass on most occasions, Veleno can also beat opposing netminders with his highly underrated release and at times overpowering velocity.
Further, Veleno is an exceptional skater whose game is founded largely upon his mobility. Much like Merkley with the Storm, Veleno uses his edges well and can be extremely deceptive – especially so in the offensive zone. Capable of cutting into and out of traffic, Veleno can take a quick step in order to move into a shooting lane or stop suddenly and hit a trailing teammate with a crisp pass.
When the 2018 NHL Draft rolls around, Veleno will be a wanted man.
Filip Zadina
Age: 17
Height/Weight: 6'0″/200
2016-17 statistics: 20GP: 9G, 9A, 18Pts (HC Pardubice U20 – Czech U20)
Never heard the name Filip Zadina before? Well, by the time the 2018 NHL Draft gets underway, Zadina could very well be a household name.
A native of Pardubice, Czech Republic, Zadina has quietly yet steadily developed into a lethal offensive performer with ample room to grow. A fantastic skater with oodles of confidence and composure, Zadina isn't afraid to hold onto the puck while he searches for the perfect moment to strike. Having developed sensational puck handling skills and a nose for the net, Zadina can meander through his opposition before either passing or firing the puck on net.
An electrifying player to watch who never fails to surprise, Zadina's creativity and awe-inspiring actions have made him a truly entertaining player to watch. Always involved in the play and never far from the puck, Zadina drives possession and has the unique ability to create something out of nothing.
Having cracked HC Dynamo Pardubice's roster in 2016-17 at 17 years-old, the 2017-18 Czech Hockey League season will be one of massive opportunity for Zadina as he will once again be provided with the opportunity to play against experienced professionals. Although he managed just two points in 25 games with HC Dynamo Pardubice last year, Zadina is far too talented to once again be held off of the score sheet for a considerable period of time.
As such, given his immense skill, look for Zadina to be made a high selection in the 2018 NHL Draft. Although his development may fly well under the radar in his draft year, don't be surprised if an NHL team jumps up in the first round to secure Zadina's services – he's just that good.
Brett Slawson is a four-year veteran of The Hockey Writers who covers the Toronto Maple Leafs, NHL prospects, and the OHL's Mississauga Steelheads.
Contact Brett on Twitter @brettslawson92, or by email at brett_slawson@hotmail.com.