The Oshawa Generals were busy on Monday, sending two star players to contenders.
The Generals started by sending captain Anthony Cirelli to the Erie Otters on Monday morning in exchange for 16-year-old forward Allan McShane, a second-round pick in 2022, a second-round pick in 2023, a fourth-round pick in 2018, a conditional sixth-round pick in 2019 and a conditional second-round pick in 2024.
Soon after, Oshawa traded star defenceman Mitchell Vande Sompel to the London Knights for 17-year-old defenceman Ian Blacker, a second-round pick in 2017, a second-round pick in 2019, a third-round pick in 2018 and a conditional third-round pick in 2024.
Generals trade Anthony Cirelli to Erie-Read more here: https://t.co/PzPafyl3Gh pic.twitter.com/o2Y3iBIb0R

— Oshawa Generals (@Oshawa_Generals) January 9, 2017
Generals trade Mitchell Vande Sompel to London Knights- Read more here https://t.co/qpKeockWOs pic.twitter.com/syrWFwwlyv

— Oshawa Generals (@Oshawa_Generals) January 9, 2017
Heart-and-Soul of Oshawa
The 19-year-old, 6'1" 184lb Cirelli had been a great story for the Generals. He was passed over twice in the OHL Draft but kept pushing and signed with Oshawa in the summer of 2014 as a free agent.  Cirelli worked hard and dedicated himself to the club, becoming a heart-and-soul player. It paid off when they named him captain this season. He had also taken over offensively with 33 points in 25 games. In 155 career games, the center has 47 goals and 81 assists for 128 points.
Cirelli, a Tampa Bay Lightning prospect, was also a notable member of the silver-winning Team Canada during the 2017 World Junior Hockey Championships in Toronto and Montreal. In the 2015 Memorial Cup, he had two goals and an assist including the overtime winner against Kelowna in the finals.
Here is a clip of the Memorial Cup winner:
Vande Sompel, a London native, was the Generals' first-round pick in 2013. The 5'10", 190lb offensive defenceman was drafted by the New York Islanders in 2015. In 36 games for Oshawa this season, he has 16 goals and 19 assists along with 35 penalty minutes. He has 156 points in 187 career games for the Generals.
Returns Prepare Oshawa for Future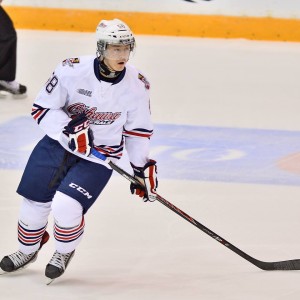 The return for the Generals ensures success both now and in the future. McShane was the Otters' first-round pick in 2016 and is a highly-touted prospect for the 2018 NHL Draft. Despite being a rookie, though, has impressive numbers with seven goals and 16 assists in 33 games.
He joins fellow 2016 first-round pick, forward Danil Antropov, who has 14 points in 39 games for the Generals this season.  McShane and Antropov were minor midget teammates with the Toronto Marlboros in 2015-16.
Blacker was originally drafted by the Knights in the fourth-round of the 2015 OHL Draft. He was considered a top-10 prospect but wanted to try the college route, though they were able to sign him in May. The 6'3″, 175lb defenceman had no points in 23 games this season for London, but he'll get more playing time on a younger Generals' team.
Oshawa sits in first place in the OHL's Eastern Conference, though they are just two points up on the Peterborough Petes. They could have been buyers but they have bigger goals. Their aim is for a championship season in 2017-18 and they are one of two finalists in the OHL to host the 2018 Memorial Cup along with Hamilton.
With Peterborough acquiring forward Nikita Korostelev earlier in the season, it made more sense to sell off some assets. Now, Cirelli and Vande Sompel get a chance for a Memorial Cup this season and the Generals get pieces that will be key to their future.