Goaltending has been a heated topic in the city of Boston, Massachusetts in recent months.
It started with the Boston Bruins' loss of 23-year-old Malcolm Subban to the Vegas Golden Knights via waivers in October. Then there was 'The Great Goalie Debate' in recent weeks: Tuukka Rask and Anton Khudobin split the crease with five starts each in Boston's past 10 games.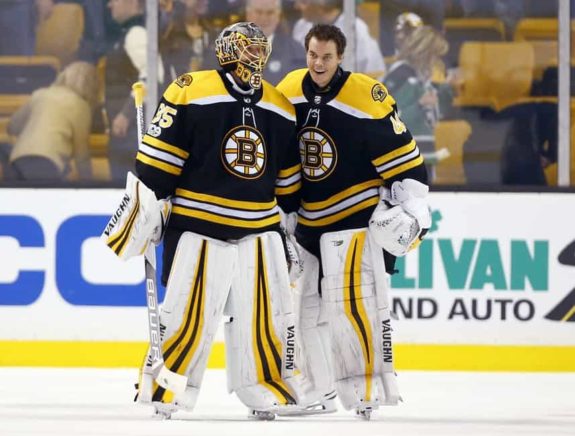 So, when I walked into Frank Perriotti Jr. Arena in Hamden, Connecticut on Friday to see the Bruins' 2017 fourth-round pick, Jeremy Swayman of the University of Maine Black Bears, take on the Quinnipiac Bobcats, I was excited to potentially report some good news on the Bruins' goalie front. Luckily, the Anchorage, Alaskan did not disappoint.
Maine's Swayman Records 95-save Weekend
You read that correctly—the 19-year-old freshman goaltender recorded 50 saves on 54 Bobcat shots on Friday night before registering another 45 saves on Saturday. Both games mark the two highest save totals in a single game of Swayman's college career thus far.
The two wins resulted in a 7-3-1 record on the season, and with a .926 save percentage (SV%) on Friday night and a .938 SV% on Saturday, Swayman maintained a .926 SV% overall.
Friday night's affair ended the 6-foot-2-inch, 183-pound goaltender's seven-game streak with only two goals against—a schedule that included reputable opponents Minnesota-Duluth, Boston University, and Providence.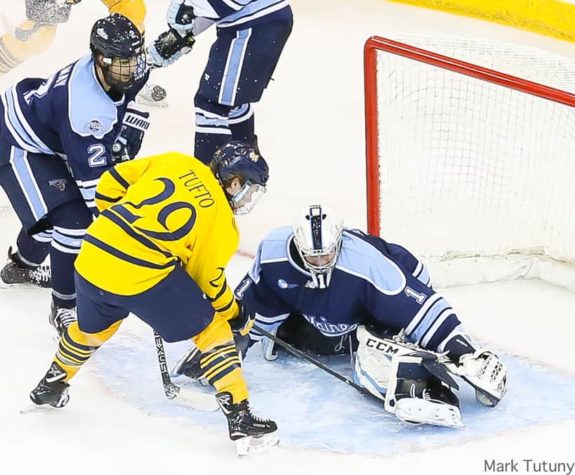 The most impressive aspect of Swayman's 50-save performance was his ability to battle back. With seemingly no support from his defense, the Black Bears goaltender gave up three goals on 23 shots in the first period compared to Maine's measly four shots on goal. Quinnipiac has been notorious for high shot totals this season, though their offense has struggled to execute. It had seemed as if they were ready to break out of their slump heading into the second period with a 3-1 lead.
But Swayman stayed strong and kept Maine in the game, whose power play registered two goals at the hands of Tim Doherty and Detroit Red Wings draftee Patrick Holway in the second period to tie the game at three apiece heading into the third frame.
Just under three minutes into the third period, Quinnipiac's Thomas Aldworth skated through two Maine defenders to the front of the net. The puck was knocked off his stick but glided right to the ready-and-waiting Karlis Cukste, who fired the gift past Swayman into the back of the net, making it 4-3 Bobcats with 17:10 to go.
Still, Swayman refused to back down, registering 30 saves on 31 shots in the game's final 40 minutes. With under 10 minutes to go, Maine's Eduards Tralmaks tied the game, 4-4. Then, the Black Bears caught fire.
Five minutes later, Maine scored not once, not twice, but three times in just 1:12 of game time, finally repaying Swayman for his tremendous effort and poise between the pipes.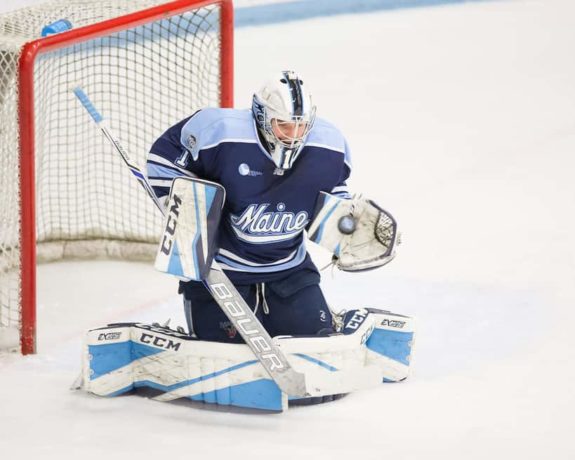 On Saturday night, Swayman was once again bombarded, registering 37 saves on 38 Quinnipiac shots through the first two periods. Maine entered the third period with a 3-1 lead that quickly evaporated thanks to Tanner MacMaster's two goals over 12 minutes apart.
But Swayman kept his head and continued making saves. Eventually, Maine's Patrick Shea notched the game-winning goal with 24 seconds remaining in the game and Cedric Lacroix added an empty-netter with just one second left, giving Swayman the 5-3 win.
Bruins' Prospect Flying High
The 50-save win on Friday was just another chapter in Swayman's stellar college hockey season to date.
It all started when the freshman stole the starting role from junior goaltender Rob McGovern. Since then, he has not looked back and is a solid 5-1-1 in his last seven appearances. And for the agile and active goaltender, the good news just keeps on coming.
#NHLBruins draft picks Ryan Lindgren & Jeremy Swayman on U.S. WJC prelim roster

— Mark Divver (@MarkDivver) December 5, 2017
Per The Providence Journal's Mark Divver, Swayman recently earned a spot on Team USA's World Junior Championship preliminary roster. He joins fellow NCAA goaltenders Jake Oettinger and Joseph Woll, who regularly start for Boston University and Boston College respectively. If you were looking for more good news, that means Boston has a stake in every horse in the race when it comes to Team USA's goalie invitees.
Training camp will take place for Swayman and his fellow Americans in Columbus, Ohio between Dec. 15 and 19 and in Jamestown, New York between Dec. 20 and 23. The camp will include pre-tournament matchups against Belarus and Sweden.
Given Swayman's ability to elevate his game at the college level, a solid performance on the international stage could give the Bruins' prospect an extra confidence boost heading into to his second semester. It will also give spectators an idea of how Swayman stacks up against some of the best prospects in ice hockey today.