The selections of Urho Vaakanainen and Jack Studnicka in the first and second rounds of the 2017 NHL Entry Draft allowed the Bruins to select a goaltender with their fourth round pick.
With the 111th overall pick, the Boston Bruins selected goaltender Jeremy Swayman of the United States Hockey League. The 18-year-old was born and raised in Anchorage, Alaska.
With the Sioux Falls Stampede of the USHL, Swayman put up a goals against average of 2.90 and a save percentage of .914 during the 2016-17 season. His record of 7-18-3 is not impressive but reflects team performance more than Swayman's individual play.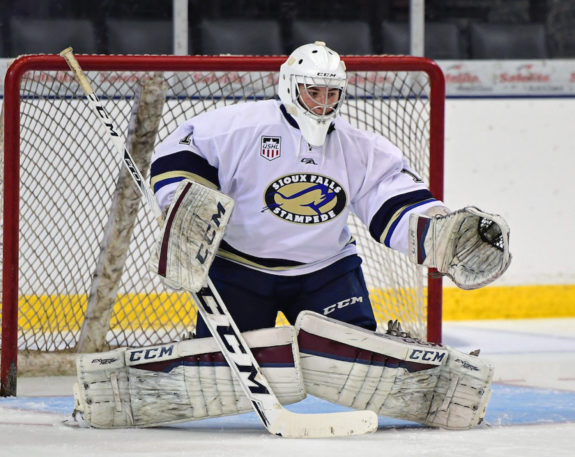 Swayman has shown that he has a tremendous upside. He displays great net coverage with his amazing ability to mirror the puck and travels from post-to-post seamlessly. He is also not afraid to play the puck, whether behind the net or placing his stick in the opponent's passing lanes.
"I'm just kind of an active goalie, challenging the player instead of staying back in the crease," Swayman said according to nhl.com.
If you ask this writer, that sounds pretty similar to Tim Thomas who took home the Conn Smythe Trophy en route to winning the Stanley Cup with Boston in 2011.
Swayman and UMaine
Swayman has committed to the University of Maine where he is expected to make an impact in a struggling hockey program.
The Black Bears finished the 2016-17 campaign with a record of 11-21-4. This includes 1-6-1 record in the month of February. UMaine went 6-6-2 against non-conference opponents but were 5-15-2 against introconference opponents.
Swayman is excited to be playing in New England:
I'm going to be playing the Boston Universities and all the UMass Amherst and Lowell guys, so I'll be there quite a bit. I'll be performing for the guys that picked me so I'm very excited.
If you're worried about him playing amongst older players, don't be. With a late 1998 birthday, he has been playing with players bigger and stronger than him his whole life. Swayman, who rests at 6'2" and 187 pounds, still has some growing to do. Considering he was only 5'7" when he entered the USA Hockey National Camp, it's safe to say his father's height of 6'6" is not out of reach.
Bruins Goalie Prospects
Though Swayman was not the best goaltender available in the draft, the Bruins needed to add depth to the crease. Central Scouting ranked him as the 12th-best North American goaltending prospect in the draft.
He will join a group of goaltenders in Boston's prospects pool that are average at best. Malcolm Subban, a 23-year-old and 24-year-old Zane McIntyre are the most notable on that list. While Subban has failed to impress, McIntyre is on the cusp of breaking into the NHL. Both goalies seem to be close to their ceiling.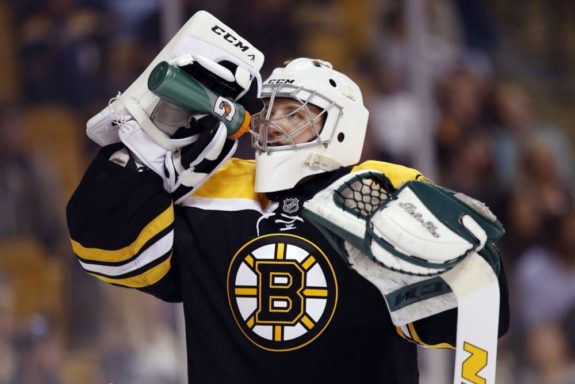 McIntyre produced a 2.57 goals-against average and .906 save percentage during the Providence Bruins' playoff run last season. His eight appearances at the NHL level resulted in a 3.97 goals-against average and a .858 save percentage.
Subban had a save percentage of .937 and a goals-against average of 2.12 through three appearances during Providence's playoff run. His two appearances at the NHL level resulted in a total of six goals against, however.
Daniel Vladar, a 19-year-old drafted 75th overall by the Bruins in 2015, is also a member of that prospect pool. Vladar was a member of the USHL's Chicago Steel and also played with the ECHL's Atlanta Gladiators for a portion of the 2016-17 season. During this time, Vladar put up a .887 save percentage and a 3.89 goals-against average.
In eight appearances with the Providence Bruins last season, Vladar posted a record of 4-0-1 with a goalsagainst average of 2.62 and a save percentage of .921.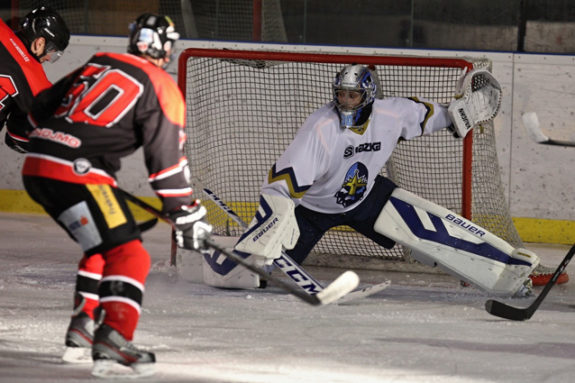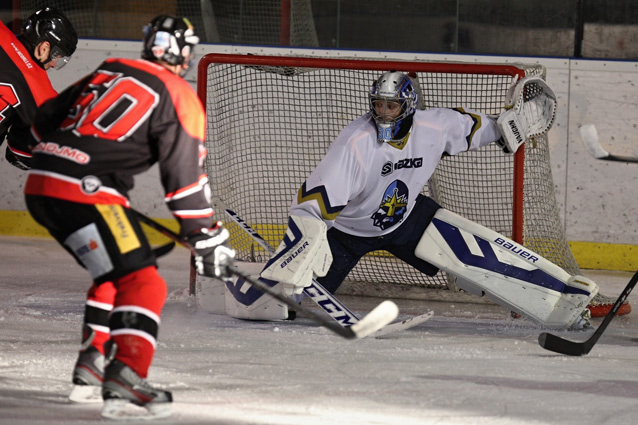 The Bruins, of course, have an elite starter in Tuukka Rask. Rask is a 30-year-old now and is under contract through the 2020-21 season. Sweeney proved that he has his eye on the team's future when he selected Swayman in the fourth round.
It is not likely that the Bruins have an elite goaltender in their prospect pool. While Subban and McIntyre could rise to become backup goaltenders, the ceilings of Vladar and Swayman are virtually unknown. There's a chance that they could one day be NHL starters but their paths are dependent on their progress at the junior level.
Whether or not any of these four goaltenders pan out, the Bruins added some much-needed depth in the crease during the 2017 NHL Entry Draft. Those in New England should do their best to check out the Bruins' newest goaltender, Jeremy Swayman, during his collegiate tour of the region with the University of Maine.
I cover the Boston Bruins and NCAA Hockey here at The Hockey Writers. Born and raised 10 miles north of Boston, I developed a love for the game of ice hockey at a very young age. There's really nothing better than this sport, though steak is a close second.